218,000 people voted early in Denton County, just slightly more than in 2018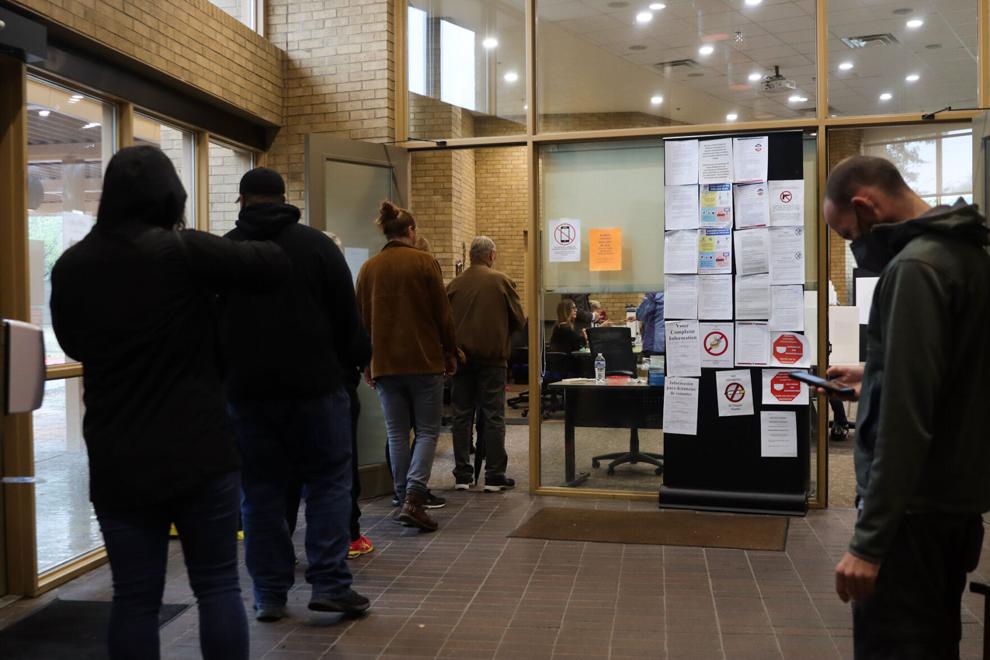 Denton County saw a slight increase in the number of ballots cast during early voting compared to 2018's midterm elections — and a large increase in the number of registered voters.
The Denton County Elections Administration said Monday that 607,858 people are now registered to vote in the county. That's nearly 100,000 more registered voters than four years ago when Denton County had 511,497 people registered to vote, according to the Texas Secretary of State's voter registration figures.
About 1,500 more voters cast ballots between during early voting, Oct. 24-Nov. 4, for a total of 218,077, compared to the 216,541 people who voted early in the November 2018 general election.
Several important items are on the ballots for Denton County voters, including the Proposition B marijuana reform ordinance for Denton residents and the recall election of Denton City Council member Alison Maguire for District 4 voters, whom Maguire now represents, a Denton County trial court ruled in mid-October.
The Fort Worth appellate court could rule differently at a later date since Maguire and her attorney, Richard Gladden, recently appealed the trial court's decision.
"There is no way to predict accurately how long it will take for the Court of Appeals to issue its ruling on the appeal," Gladden said in an email last month. "However, I do not expect that to occur before January 2023."
Decriminalize Denton's Nick Stevens wrote an op-ed last week for the Denton Record-Chronicle to explain what the marijuana reform ordinance is intended to do, as well as why organizers sought to pass it: eliminate all citations and arrests for low-level cannabis amounts, prohibit the police from using cannabis' odor as probable cause for search or seizure, and free up valuable resources and time for law enforcement.
"A year ago, Denton City Council discussed decriminalizing misdemeanor amounts of marijuana in the city," Stevens wrote in his essay. "With one exception, our City Council members voted against it. Why would our city leaders actively fight against a policy position that 85% of Texans support? This is when I, and dozens of other Dentonites, got to work. We refused to take 'no' for an answer."
Tuesday's results will determine if the rest of Denton agrees with them.
Another important issue affecting Denton County voters in this election cycle: Transportation Road Improvement Program 2022, also known as TRIP-22, a road bond that will fund additional improvements to Interstate 35E, I-35 north of Denton and I-35W, as well as widening FM1385, FM2931 and Loop 288 West.
Denton County Judge Andy Eads pointed out in an Oct. 22 op-ed for the Record-Chronicle:
"Our communities are linked by many arterial roadways such as these that have been operating at or above capacity rates for years, as well as small asphalt and substandard roads under stress from increased heavy truck and local traffic," Eads wrote.
As for a breakdown of early voting numbers, provided by the Denton County Elections Administration, a day-by-day comparison reveals that over a 12-day period more people showed up on the first day of early voting in 2018 — 19,044 — than they did in 2022 with only 17,416.
Halloween Day, however, saw a larger turnout than 2018 with 17,238 people casting ballots in 2022 compared to the 13,269 four years earlier.
This increased turnout continued with 28,426 voters arriving on the final day to cast early ballots Nov. 4, compared to the 24,699 at the same time in 2018.
For those who are voting on Election Day, polls are open from 7 a.m. to 7 p.m. Voters are required to vote at their assigned polling locations, which can be found on votedenton.gov. Click here for a full list of polling locations in the county.

CHRISTIAN McPHATE can be reached at 940-220-4299 and via Twitter at @writerontheedge.