Hundreds gather in cold for 40th annual Denton Turkey Roll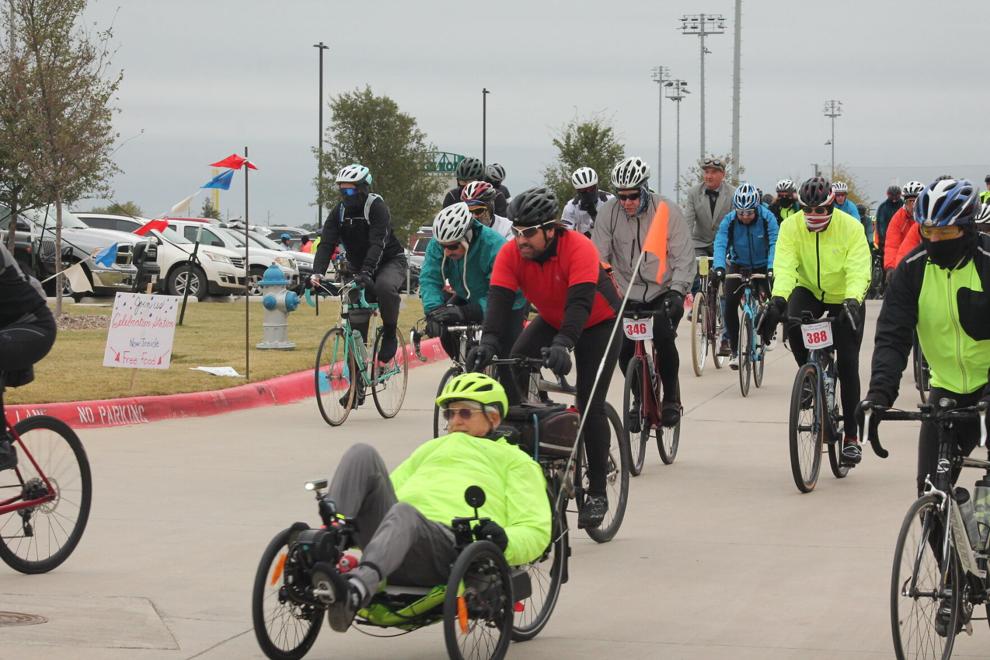 Hundreds of bikers withstood the cold and waited at the start line for the official race start of the Denton Breakfast Kiwanis 40th Turkey Roll Bicycle Rally. Race officials rang their bells and rolled out on the streets as the event started at Denton High School on Saturday morning.
It has become an annual tradition for the Denton Breakfast Kiwanis Club to host its Turkey Roll Bicycle Rally for the community to support its youth Key Clubs program.
Denton Kiwanis volunteer Daniel Clanton said it was his first time coordinating the event and said about 600 people participated this year.
Clanton knows the community is strong and has shown it by participating in the Turkey Roll for 40 years.
"That means that we're going strong that the community is involved, and we're glad that they welcome us to do this," Clanton said regarding the 40th annual of the Denton Turkey roll.
Joe Holland, Denton's justice of the peace for Precinct 1, said the club started the Turkey Roll when he was its president.
Holland said the club has held meetings on the Turkey Roll since about February and said it's a tremendous amount of work from those who organize the event.
"We needed a fundraiser, and I have a lot of experience with bicycles and bicycle rallies and stuff like that," Holland said. "And so, we put it together, and 40 years later, here we are."
Kiwanis Club member Jack Becker has been a member since 1986. He said the money raised during the Turkey Roll has been between $15,000 and $20,000 annually in the last 10 years. He expects about the same amount this year.
Becker said the money goes to support youth group charities, including spotlight scholarships, youth training camps and youth leadership training.
Becker said that in the last 15 years, he has overseen registration, and the Turkey Roll shifted to online registration.
He said they used to get about 200 riders when they didn't have online registration, but as soon as they got to the online registration, participants shot up to about 500 a year, with last year having about 1,000 riders, a record for the club.
Becker said youth club members also get involved to volunteer with the Turkey Roll and other events hosted by the club.
"So, they're [youth members] learning about volunteering, and that's critical today," Becker said. "We need youth volunteers."
Last year the Turkey Roll started at Immaculate Conception Catholic Church and had an estimated 1,000 riders. While the 2022 ride's numbers did not amount to last year's record-breaking riders, Clanton said the weather may have been a factor for participants.
"We always try to shoot for 1,000 every year, and when we don't make it, that's fine," Clanton said.
Clanton said they decided to ask the school to host and agreed to do so and noted that it's another example of community helping each other out.
Clanton thanked the riders who came out to withstand the cold to support the club and community and said, "This is fantastic, and we have a great community and group of people."
JUAN BETANCOURT can be reached via Twitter at @jbetancourt_15.