Former Denton High teacher now Dallas poet laureate pens poem about Uvalde to raise gun violence awareness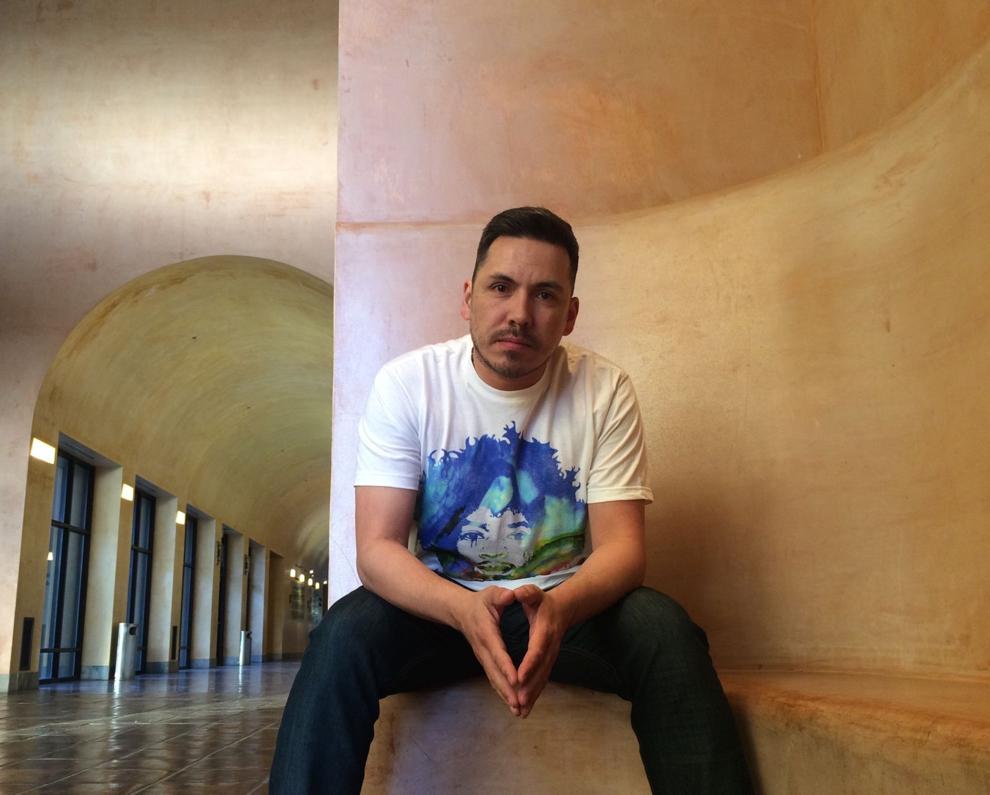 Last week, Dallas Poet Laureate Joaquin Zihuatanejo, like the rest of the country, found himself asking "again?" when he heard the devastating news that 19 children and two teachers had been shot and killed at Robb Elementary School in Uvalde.
A former English teacher at Denton High School, Zihuatanejo, who still resides in Denton, knew the familiar feeling well. He had felt it first in April 2007 when a suicidal person shot and killed 31 people and wounded dozens of others at Virginia Tech and then again in December 2012 when a suicidal person shot and killed 20 5- to 6-year-old children and six adults — teachers and staff members — at Sandy Hook Elementary School.
As a poet, Zihuatanejo felt compelled to write a poem about the Jewish professor and the sacrifice he had made for his students at Virginia Tech. He titled it Speaker for the Dead and revised it five years later when Sandy Hook happened, adding details from that horrid event and retitling it A Revision of Speaker for the Dead.
"I'm a state-certified public high school teacher," Zihuatanejo said Monday morning. "Teaching is something sacred. I'm also a father. I have two daughters, and when something like that happens, you think about your daughter. My daughters were in public school, … a place for a day where no harm comes to them. School is like a sanctuary."
When this sanctuary was violated again on Tuesday, May 24, Zihuatanejo began revising his poem again, in an attempt to capture the lives those 19 children should have lived if a suicidal person hadn't been able to transfer military-style rifles with 30-round clips to a local gun dealer and pick them up shortly after he turned 18.
"When this one happened in Uvalde, I just shattered," Zihuatanejo said. "… When I saw those little faces, a lot of them looked like my brother's daughters today and my daughters when they were that age. I could not, not do something."
He retitled the poem My Last Revision of Speaker for the Dead in hopes it never happens again, that this time representatives hear them and make a change with commonsense gun laws. He shared it on his Facebook page. It then appeared as a post in the Facebook group Pantsuit Nation x Supermajority, a 2.9 million member group dedicated to building the foundation for a more equitable and engaged democracy.
"It just shatters me trying to take something so impossibly dark and tragic and find some poetry inside, trying to find the light inside it," he said. "… Sometimes my way of words feels useless. I can't write these young people back to life."
But he does hope he can reach people in places around the country and bring about "some semblance of good," he continued, "some semblance of right."
Since he shared the poem on Sunday, it has received thousands of likes and hundreds of comments. He has agreed to share it with Record-Chronicle readers.
My Last Revision of Speaker for the Dead
— Joaquín Zihuatanejo
Imagine them. In the end. Now imagine. One is yours.
Tonight,
Let this be more than words I recite
Tonight,
Let the dark give way to the Light
Let this be freeze tag
A school playground
Let the gunman turn around
No roses blossom on a child's chest
Let this be anti-bloom
19 small hands still outstretched to the fullest moon
Let this be more than metaphor
Let this be sacred
Move this from elegy to exaltation
From song to chant
Chant to cry
I want to scream you back to life
All 19 of you
Little ones more akin to God than men
Angels disguised as children
Such little big voices
Still reverberate in my head
Asking me,
Begging me,
To be their speaker for the dead
So this is not poem
This is act of desperation
Hands cupped,
Breath soft,
On the glowing embers of your ashes
Hoping, praying that your spirits will rise
While the simple question of,
how could this happen again, blends into
How do I find the poetry in gunshots and lost lives?
So let night be day
Let tears be flood
Let this page be your life
Let the ink be your blood
I want you to hear me
I want to write you back from death
Let this be transubstantiation
I pat my hearts three times
Believe in the miracle
Though there is none to witness
Desperate to write the smallest semblance of light
In the middle of all this goddamn night
And it's true,
I know nothing of what it is to lose a son or daughter
Feeling less like a poet and more like a father
I close my eyes
Take a deep breath
Wait for an image to move the pen
And I see my daughters' hands at age 10
But that's just the poet in me talking again
And this cannot be about poetry
Because this is about youth
This is about an awful truth
And the truth is
All of this
was preventable
And then the poet in me rears its hopeful pen again
And we see Alexandria at 10
And Alithia forgets the combination to her middle school locker again
Her freshman year Amerie takes four Pre-AP classes
Ellie's purple quinceañera dress flows behind her as she dances
Her junior year Annabell makes A honor roll again
Eliahana closes out her senior softball season by striking out 10
Jackie gets accepted into Duke University
Jailah and her primo Jayce both graduate Summa Cum Laude
Jose becomes the first person in his family to travel to Hong Kong
At 30 Layla still chooses Sweet Child of Mine as her go-to karaoke song
Makenna buys her daughter a silver bracelet that moves them both to tears
Maite pays off her home in Uvalde after only 16 years
Miranda is just as beautiful at her 25-year high school reunion
Nevaeh cries at her granddaughter's first communion
Rogelio's grandchildren call him Tito
Tess retires in Puerto Rico
Uziyah dies of coronary failure at age 85
When Xavier heard the news all he could do was
And this is where the poem ends
Right where it begins
In anger
In tears
With heroic teachers
And spineless leaders
Never with hello
Always with goodbye
19 new stars in the night sky
Leaving us all
With the same question we were left with last time
And the time before that
And the time before that
And the time before that
Why?
Why?
Why …