Denton's Women's Interracial Fellowship was one of Denton's finest moments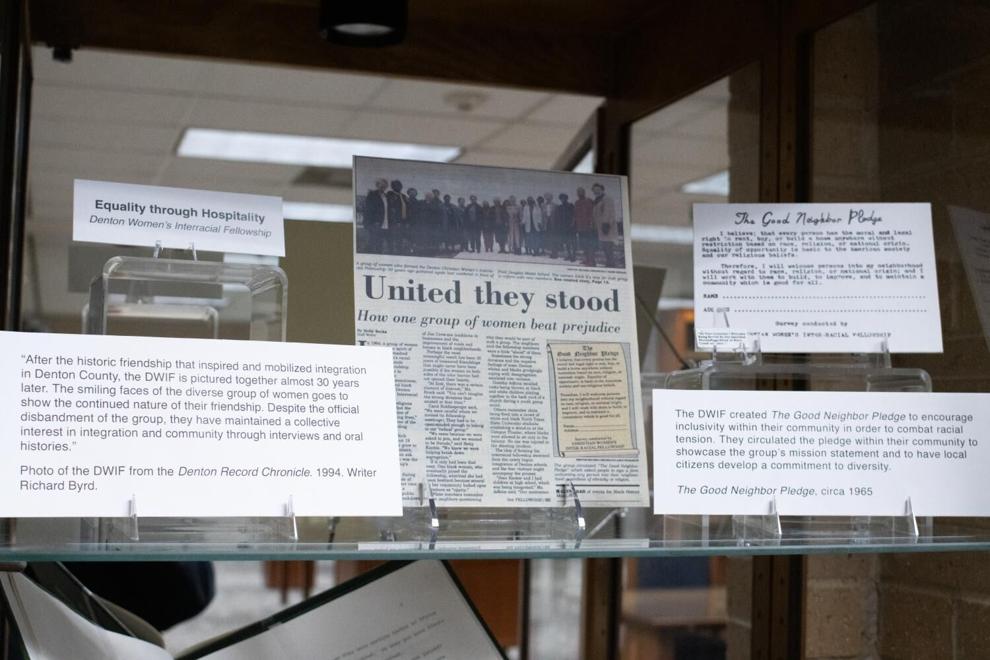 People may think the 10 Black women and 10 white women in the Denton Women's Interracial Fellowship just focused on school desegregation. The fellowship's contribution would have been significant if the only thing the women did was to ease Black students' transition from separate but not equal schools to all-white schools.
But, like an exploding can of biscuits, the women soon realized school desegregation was just part of Denton's problem. Citywide efforts would be needed. To be sure, desegregation was a thorny issue that erupted in violence around the country, especially in formerly Confederate states.
City leaders proposed a 1966 urban renewal bond that would have upended Denton's Black community a second time. The fellowship took no position because they couldn't agree on whether to support urban renewal. After the bond failed by 83%, the women realized city leaders had no intention of helping the neighborhood they had ignored. Four decades after Quaker's banishment across railroad tracks, Southeast Denton still had no paved streets, streetlights, sidewalks, curbs, adequate sewage or water.
Although Denton's Black community dated to Denton's beginning, white entitlement permeated the city. White property owners, many of whom were city leaders, saw Southeast Denton as a business opportunity — a chance to profit from renting substandard structures.
As the fellowship widened desegregation efforts, the women had to fight on two fronts. First, they had to gain the trust of Denton's badly treated Black community. When the Denton school district didn't extend bus service to Southeast Denton, fellowship members drove Black students to and from school and provided after-school tutoring.
According to fellowship member Linnie McAdams, it was common knowledge that Denton's Black students hadn't been given the tools to succeed in Denton's all-white schools. Tutors who drove to Southeast Denton noticed how badly the city had neglected the neighborhood.
As the fellowship gained trust, they started registering Black voters. The women spent hours sitting at tables convincing Denton's Black residents who didn't trust politicians to vote.
According to the Texas State Historical Association, the Ku Klux Klan that played into Denton's decision to banish Quaker had a resurgence in the 1960s. Black fellowship members Betty Kimble and Alma Clark recalled a 1965 incident in which Klan members made their presence known at Black community gatherings.
When the city blocked street paving by making Southeast Denton property owners pay per running foot of pavement, the women focused on convincing Black property owners to pay the tax. Black Southeast Denton residents who paid the same taxes as everyone else without receiving the same resources for decades had difficulty believing additional taxes would benefit them.
The city then refused to pave Southeast Denton's streets until everyone agreed to pay the taxes. To accomplish this goal, women in the fellowship spent hours going door to door in high heels and nylon stockings to get property owners' consent. The women were joined by their husbands and people from other parts of Denton.
Maybe the city hoped the women would give up. The fellowship accomplished each task the city added. But it took many months.
The second front of Denton's desegregation fight was to convince city leaders to address Southeast Denton's problems. In the urban renewal bond fight, city leaders labeled Southeast Denton "blighted" because of the unpaved streets and substandard rent structures. Southeast Denton residents blamed the city.
That's when fellowship member and local real estate agent Trudi Foster got busy. Black residents were not allowed to attend City Council meetings when the fellowship began. Foster tirelessly attended council meetings, using charts and graphs to badger five white male council members to pave Southeast Denton streets.
The city was sitting on $188,000 (worth $1.8 million today) in bond money already collected for paving. When city leaders said they would get around to it, Foster repeatedly asked when. Mayor Zeke Martin, who owned rent property in Southeast Denton, voiced interest, but didn't act.
Foster's most dramatic move was to make a poster with pictures of substandard Southeast Denton rent properties owned by five leaders in her white church. She displayed the poster in the church with a caption indicating the men, who were church deacons, would not agree to pave streets in front of their properties. Foster was asked to take the poster down, but it produced results. By 1969, Southeast Denton streets were paved, and the city supported other neighborhood improvements.
Fellowship members Euline Brock and Linnie McAdams were elected Denton's first female mayor and first Black female City Council member, respectively. Pat Cheek, who was a teacher, supported Black and white students during the desegregation process. Alma Clark and Betty Kimble became leaders in the Black community.
The fellowship became a powerful voice for Denton. Their unique leadership style transformed white residents, who became more inclusive. Black students received better education and better opportunities. The friendships developed between the fellowship's Black and white women lasted for the rest of their lives.
After celebrating their 25th anniversary in 1989, the fellowship disbanded. According to McAdams, "There was still work to be done," McAdams recalled, "but the group had completed their projects."
The women's accomplishments received little media attention until several newspaper articles were written in the 1980s.
The Denton Women's Interracial Fellowship is still one of Denton's finest moments.
ANNETTA RAMSAY, Ph.D., has lived and worked in Denton for many years.