Who pays for the Denton County road bond signs? A PAC with $100K in donations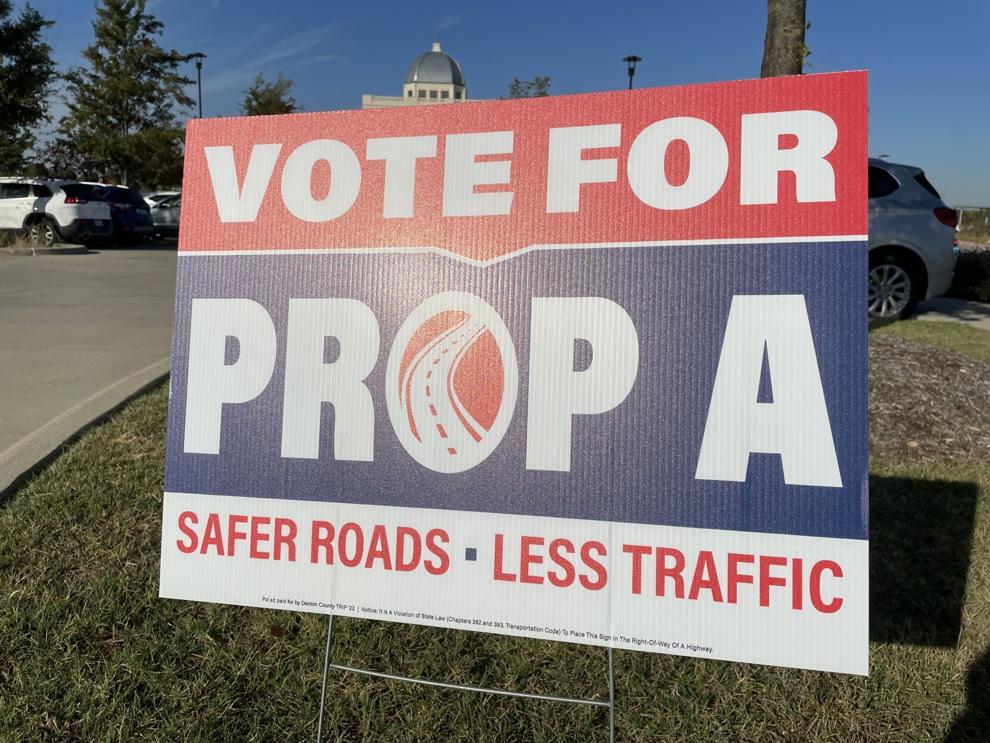 Denton County residents who have been out during early voting have likely seen signs encouraging them to vote for Denton County Proposition A, with the promise of safer roads and less traffic. Because the county government legally isn't allowed to use its own tax dollars to advocate for the bond, those signs come from Denton County TRIP '22 — a specific-purpose political committee that's raised over $100,000.
Denton County's road-focused Proposition A is on the ballot for every county voter. The $650 million bond program would fund more than 100 road projects across the county, through partnerships in which the county would split the cost with a municipality or higher agency, like the Texas Department of Transportation.
Officials have done their part to sell residents on voting yes. For example, the point has been made repeatedly that because Denton County has an AAA bond rating, taxes won't need to be raised if Proposition A goes through. Additionally, county commissioners held public meetings in July and August, suggesting road infrastructure is a crucial need for keeping up with the county's growth.
But larger advocacy efforts can't come from the county government. John Polster of Innovative Transportation Solutions — a longtime consultant for the county and one of the main architects of the bond package — said Monday that the county is prohibited from spending tax dollars to promote the bond. It can put out informational releases that state the facts, but can't create anything that "said what to do."
Polster said that while individual officials can support the bond on their own time, the argument could be made that shouldn't be happening openly during a county meeting, because tax dollars are being spent to host it.
"I found that it's just cleaner if the county just votes to do the election and then stays out of it, so there's no 'he said, she said' about money and relying on advocacy versus information," Polster said.
To avoid "crossing any line," a specific-purpose political action committee is set up to raise funds and handle the advocacy.
"It's a nonprofit election PAC that is legally able to be set up, and we promote the bond program," Polster said. "We go out and we raise private-sector funds from people who want the bond program to pass. ... In this particular case, the PAC has hired a consultant firm to run it just like a normal campaign."
The committee — Denton County TRIP '22 — has to report its political contributions and expenditures, which are available online through the county's elections page. From Aug. 11 to Oct. 29, the PAC raised $115,000 and spent $77,682, with $37,318 maintained. Because the committee is specific-purpose, Polster said, any unspent money has to be given back after the election.


The fundraising has all been spent on Austin-based political consulting firm Murphy Nasica, which has handled "campaign literature," signs, website design, data collection and advertising, according to the expenditure reports.
The funds largely were donated from DFW-area engineering companies. LTRA Engineers (Farmers Branch) gave $12,500, as did CP&Y (Dallas), TNP (Fort Worth), Civil Associates (Dallas) and Halff Associates (Richardson). Jacobs (Dallas) also pitched in $12,000, and there were multiple other donations of smaller amounts.
The committee's campaign treasurer is Hickory Creek Mayor Lynn Clark. Polster said that once the election is over, the PAC will dissolve and can't be reused in the future. As for the goals for the committee, Polster said the idea is to target people who are potential yes votes.
"We don't try to change anybody's mind," Polster said. "About 30% of the electorate always says no to everything, but about 60% of the electorate is pretty certain to say yes, if you give them a reasonable reason."