Jeremy Sons stood in the crowd of about 1,150 people at the public library in Uvalde for the Super Hero Sunday event, experiencing the excitement and the love that the children, many from Robb Elementary, felt for the Denton Spider-Man who would be appearing onstage soon.
Sons hadn't suited up as Spider-Man yet. He was simply a Peter Parker among the crowd like a spider on the wall, enjoying the smiles that had appeared on the children's faces, no doubt for many, the first time since the mass shooting erupted inside their elementary school.
Sons was walking across the living room in late May when the breaking news about the mass shooting at Robb Elementary School in Uvalde erupted on TV. The gunman, a Uvalde High School student, purchased an AR-style rifle a day after turning 18 and fatally shot 19 children and two teachers. Police shot and killed him after he spent an hour in the fourth grade classroom, according to The Associated Press.
"Like anybody with a heart, it captures your attention," Sons, a 1998 graduate of Sanger High School, said in a Thursday morning interview. "My wife is a third grade teacher. My daughter is in high school." He paused, his voice breaking as tears came to his eyes.
After the initial shock from the news, Sons knew that he had to do something. He posted about his plans on social media. Soon what he initially planned — surfing atop his Spider-Man pickup with Ghost Spider driving up and down the streets of Uvalde to hand out gifts — had turned into a full-scale Spider-Man-rock star event at the public library for about 3,400 people.
"That is what Spider-Man does," he said. "That's what superheroes do. You go to help."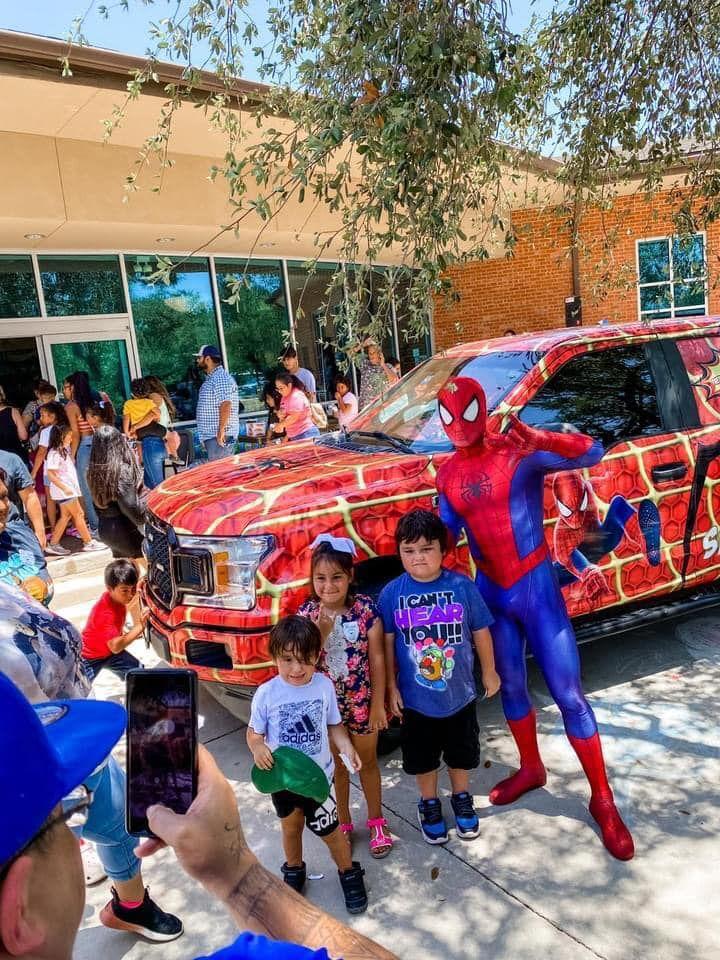 This need to help children and bring smiles to their faces led Sons, a bodybuilder and personal trainer, to suit up as the Denton Spider-Man shortly after the COVID-19 pandemic hit in March 2020. He'd been noticing that some people were afraid to wear masks, and decided the next time he went to Sam's Club, he would wear his Spider-Man costume, an outfit he had worn for his daughter's birthday at Magic Time Machine, with an N95 safety mask and show kids that sometimes you have to wear a mask to protect people.
Or as Uncle Ben would say, "With great power comes great responsibility."
People began taking socially distant selfies with the Denton Spider-Man and sharing them on social media. The photographs went viral. Headlines followed, and for the past two years, Sons has been appearing as the Denton Spider-Man as part of his company Web Party Services at more than 2,000 birthday parties, celebrations and events. He also operates a mobile snow-cone stand and appears all around North Texas.
Sons doesn't charge people to appear as Denton Spider-Man. Instead, he asks for donations to help him keep the Spider-Man dream alive and continue inspiring children.
"Younger kids see Spider-Man and other superheroes and don't think it's a person in a costume," Sons said. "They know what Spider-Man does. They're safe. Maybe they are having a bad night and remember Spider-Man is here to protect you."
For his Uvalde appearance, Sons wanted to give the children a distraction, kindness and a sense of safety.
When word began to spread that Sons planned to take gifts to children in Uvalde, people from around North Texas and beyond wanted to help and began sending him donations and donating gifts.
But Sons said God had bigger plans, something greater for the children.
El Progreso Memorial Library Director Mendell Morgan had seen a story about Denton Spider-Man's plans to bring gifts to children in Uvalde. Morgan said he thought it was great that Sons planned to bring his Spidey mobile and hand out gifts, and he wanted Denton Spider-Man to be a guest reader for Story Hour at the Uvalde library. Then he thought, Why doesn't he just use the library to hand out gifts?
So he contacted Sons to see if he needed a place to distribute the gifts in Uvalde. A couple of days passed, and Sons messaged him because he wasn't sure what Morgan had in mind. Sons said he didn't want to burden Uvalde residents with helping him. He knew that they already had so many things on their mind.
When Morgan told him to make it as awesome as he wanted, Sons accepted Morgan's challenge with open arms.
"Man, he was all over that like a spider on the web," Morgan said.
And with the public library's large space and parking lot, anything was possible for the Super Hero Sunday event.
"Did I think that giving gifts to children would change anything? 100 percent not," Sons said. "But we have to do something. There are so many pieces to the puzzle [to help with the healing] and if we do our part, that is all it takes."
Planning for Super Hero Sunday became Sons' life for the next two weeks.
Determined to make it the best event he could, Sons began making phone calls and walking into stores like Ace Hardware, Lowe's and Walmart. Store managers, he said, replied, "What can we do to help?"
The Fort Worth Police Department also joined Denton Spider-Man's mission and planned to bring a flatbed trailer that had been converted into a mobile stage to the event in Uvalde. The Ghostbusters with Ecto-1, Mickey and Minnie Mouse, Superman and Wonder Woman decided to help him spread joy, too, and offered their superhero services.
Sons had made an Amazon Wish List and posted it on social media. The next thing he knew, a "mountain of gifts" began arriving on a daily basis at their drop box. Amazon, he said, had to leave two mail carrier containers.
Denton's On the Road Again towing company not only donated "a good deal of money" but also bought a bounce house and volunteered to help him with the event in Uvalde.
"We'd just seen that he needed some help," said Ryan Thompson, the manager of On the Road Again. "We were happy with what he'd been doing [for the community] and felt like it was a good thing."
Thompson and his girlfriend, plus Shawn Malone, the owner of On the Road Again, and his wife traveled with Sons, Sons' wife (aka Ghost Spider) and daughter and several volunteers from the Dallas-Fort Worth area to Uvalde over this past weekend. The event took place between noon and 4 p.m. Sunday.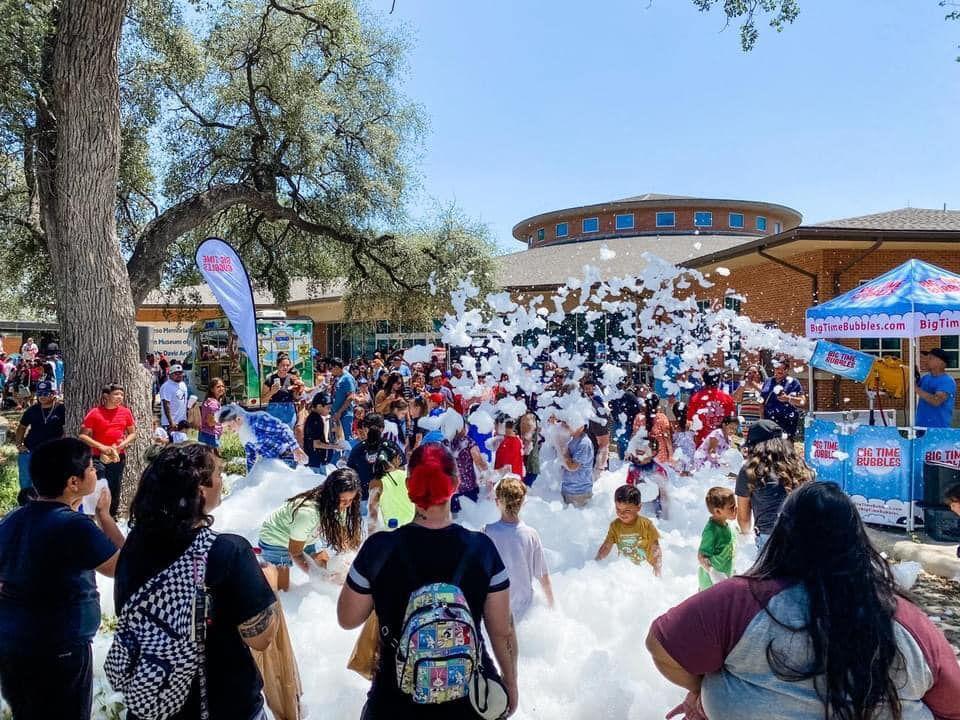 Thousands of people poured into the Super Hero Day event. There were bounce houses, a super bubble machine and thousands of snow cones from Kona Ice of San Angelo. The Fort Worth police had set up their flatbed trailer stage and offered music. The Doodle Train from San Antonio had set up its tracks and took train loads of children around them.
Superman, Wonder Woman, the Ghostbusters and the Disney mice posed for photographs inside the library and read to children. But it was Spider Gwen, also known as Ghost Spider, whom several children gravitated toward, hugging her and not wanting to let her go.
"It was so spur-of-the-moment and so last-minute," Sons said. "Everybody was coming out of the woodwork to help their neighbor. This was loving your neighbor and putting it back into action."
Halfway through the event, Sons realized they were running out of toys. Thompson and Malone and their family stepped up to help, drove to the local Walmart and bought up a toy aisle.
"The smile on those kids' faces, it was just unbelievable," Thompson said.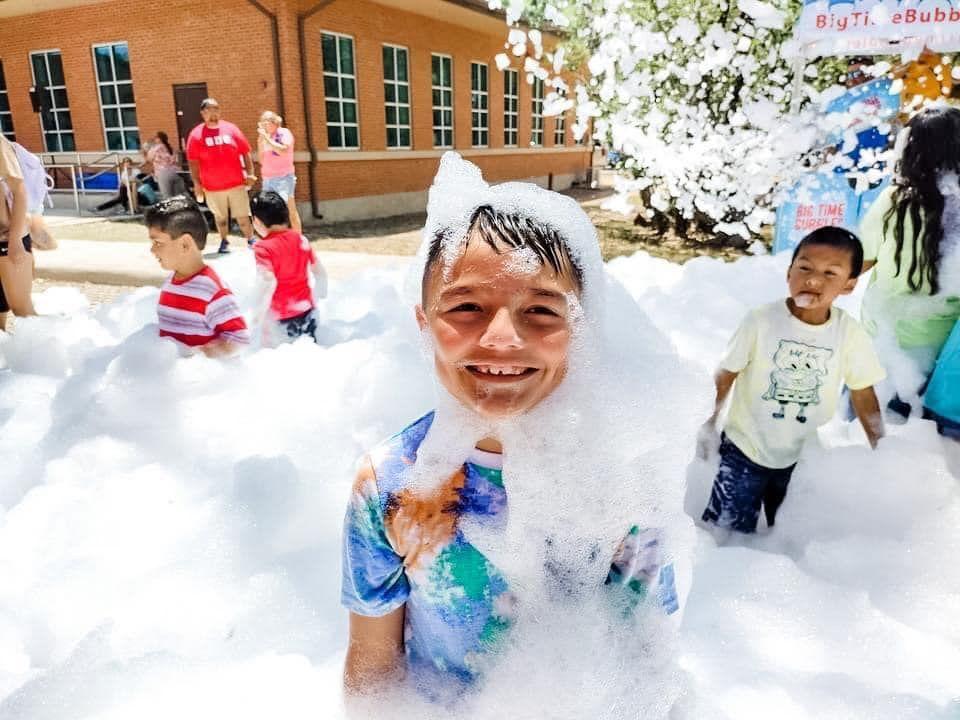 Everyone who went to Uvalde with Sons and his family had one moment that stood out to them. For Thompson and Malone, it was the memorial in the middle of the park not far from the public library. For each child who had been killed, parents had left behind memorable items that were precious to their children. One child's parents had left behind a dirt bike.
Kristi Turan, another volunteer from the North Texas area, took her daughter with her to help Sons with the Super Hero Day event. She'd known Sons since his personal training days and wanted to give Uvalde residents a break from what they'd been experiencing.
"Towards the end of the day, a little girl came up to [me] and my daughter to thank us, and it was just so overwhelming," Turan wrote in a Friday morning Facebook message. "Driving into town alone did that. So many businesses had memorials set up, heartbreaking and breathtaking at the same time."
Volunteer Erica Chmura was fascinated by how Sons had this feeling in his heart and how it led to the emotional Super Hero Day event for more than 3,400 people. She recalled standing inside of the library when one teary-eyed woman approached her and asked if she could give her a hug. She told her that she hadn't been able to go anywhere since the mass shooting and that she was moved by seeing so many happy people and the smiles on their faces.
"'We haven't experienced much happiness,''' Chmura recalled her saying. "'No one can repay you all for what you did today.' It brought me to tears."
Morgan said the moment that stood out to him was when Denton Spider-Man embraced a little boy.
"It's the most special of all — Spider-Man enfolding this little boy, his compassion, strength and goodness," he said. "That stood out."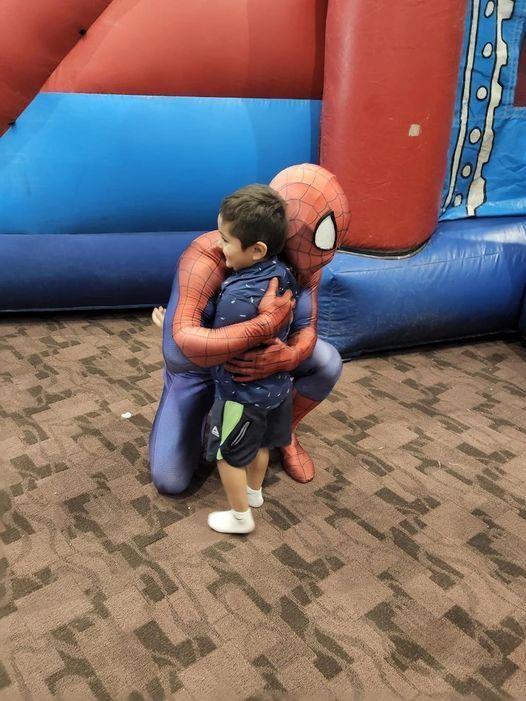 For Sons, that one moment occurred shortly before his Denton Spider-Man appearance when he was a Peter Parker among the crowd, amazed by the response and love being shown among neighbors.
"It blew all expectation," Sons said. "God was there, and God was with us. There are a lot of times when you're not sure where you should be, but 100 percent, every cell in my body, I knew I was supposed to be there, and every volunteer was supposed to be there, exactly where God wanted us to be."
He plans to return to Uvalde on July 30 to help with an event being hosted by a young shooting victim of the 2018 Santa Fe High School mass shooting at the Uvalde fairgrounds. He mentioned taking backpacks and school supplies to the children.
Since he returned home earlier this week, Sons has been hearing from family members of the ones who have been most affected by the mass shooting. They've been sharing their stories and thanks.
"It's just heartbreaking," he said. "Man, it is going to live with me forever."