Remember by candlelight: Denton County LOSS Team to host vigil for loved ones lost to suicide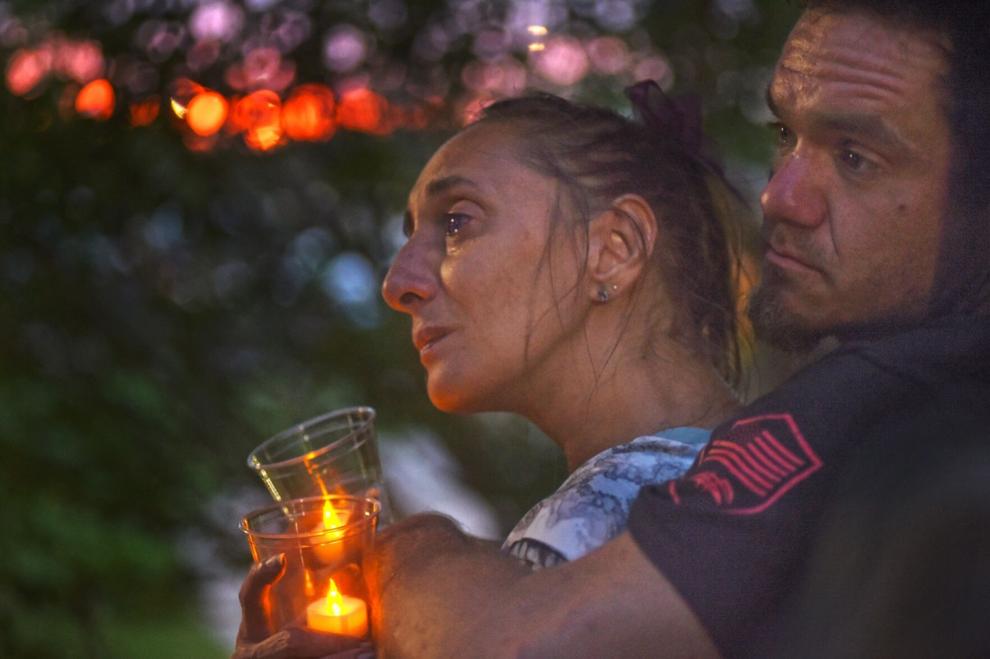 Spider-Man's mask was too big. His gloves were too large. But Peyton James didn't seem to mind in the old photograph. Not much taller than one of Santa's elves, the little web slinger stood ready for battle with his web shooters at the ready.
Peyton had always been smaller than the other kids. He weighed only 2 pounds when he was born two months early in June 2001 in Houston. But what he lacked in size, he made up with enthusiasm when he entered kindergarten. He learned to read before many of his peers. He loved to read and would often beg his parents to take him to the library for story time.
The bullying began in second grade. The kids made fun of his size, his red hair, his teeth. His parents sought help from school administrators and teachers, but the bullying continued into the third grade, the fourth grade, the fifth and sixth grades.
In the seventh grade, Peyton had a particularly bad day at school in October 2014. He came home, went into his bedroom and hanged himself. He was only 13 years old.
Peyton's family shares his story on their website for the Peyton Heart Project, a nonprofit his father, David James, created a year after his son's death. It's just one of nearly 500 stories of Texans between the ages of 10 and 24 who died by suicide in 2014, and 107 of those happened in North Texas, according to Suicide & Crisis Center of North Texas.
The Suicide & Crisis Center reports that suicide is the second leading cause of death for that age group in Texas. Through his son's namesake nonprofit, David James seeks to raise awareness and end the stigma of mental health issues.
"Losing a child sucks, and it doesn't matter how you lost them," James wrote in a May 2022 post on his site Products4Peyton. "There is no scale or ranking as to the level of grief based upon how they died. There are so many things that suck about it that listing them would take too long. Everything from holidays, to missed milestones, to those little triggers that may only apply to you all suck.
"Even worse, twice a year, those left behind suffer from the two worst gut punches: birthdays and angelverseries."
On Saturday, May 20, James will be sharing Peyton's story as the keynote speaker at an annual candlelight vigil for families and friends who have lost loved ones to suicide. Hosted by the Denton County LOSS Team, the event, which is free and open to the public, will take place from 6 to 8 p.m. at Heritage Park in Flower Mound.
May is Mental Health Awareness Month.
"The vigil is supposed to give people a sense of community," said Jorden Clifton, the LOSS Team coordinator. "When you lose someone to suicide, you think you're alone and isolate yourself. My goal is to let them know that they are not alone."
An acronym for Local Outreach to Suicide Survivors, the LOSS Team has been offering this sense of community to Denton County families impacted by a suicide for several years. Clifton estimates that they've helped more than 500 families, also known as loss survivors, by offering free resources and support.
Frank Campbell created the LOSS Team in Baton Rouge, Louisiana, in 1999 after spending years treating people who had been traumatized by a loved one's suicide. A LOSS Team consists of mental health professionals and seasoned and trained suicide survivors who go out to the scene of the suicide. Their goal is to prevent suicides in families that have already experienced one.
LOSS is based on a nationally recognized postvention effort, Clifton said. Postvention — intervention after a suicide — is important, given that evidence shows after a suicide death, surviving family, friends and colleagues could be at risk for suicide, according to Suicide Postvention in the Department of Defense, a 2015 study published by the National Library of Medicine.
In 2021, the local LOSS Team hosted the fifth annual candlelight vigil at the Denton County MHMR Center off Scripture Street in Denton. Speakers from several organizations attended, including the crisis response team from the Denton Police Department and Touched by Suicide, a support group that meets in Denton, Flower Mound and Oak Point.
Electronic candles were lit at the vigil, and loss survivors shared their stories.
"The biggest value to me is to give hope to families and loved ones," MHMR Executive Director Pam Gutierrez told the Record-Chronicle in 2021. "These individuals can feel hopeless. … When you come out here and hear these people like you, you don't feel that."
The May 20 event won't take place at the MHMR building. Instead, the LOSS Team decided to hold it at Heritage Park in Flower Mound since it's quiet and accessible, in the middle of the county, Clifton said.
Several vendors will be on hand, including Denton County MHMR and Carson's Village, which Clifton said helps families with funeral planning after a suicide death.
"As you can imagine, parents don't know how to go about that process," Clifton said.
Anyone experiencing a mental health emergency can call Denton County MHMR's crisis hotline at 1-800-762-0157. You can also reach a trained crisis counselor through the national 988 Suicide & Crisis Lifeline by calling or texting 988, or by chatting online at 988Lifeline.org.
Texas Health and Human Services has information about suicide prevention online.
If you've been affected by a suicide death, call the Denton County LOSS Team at 940-205-6706.
CHRISTIAN McPHATE can be reached at 940-220-4299 and via Twitter at @writerontheedge.