Luxury developers to join Southeast Denton for special meeting on community benefits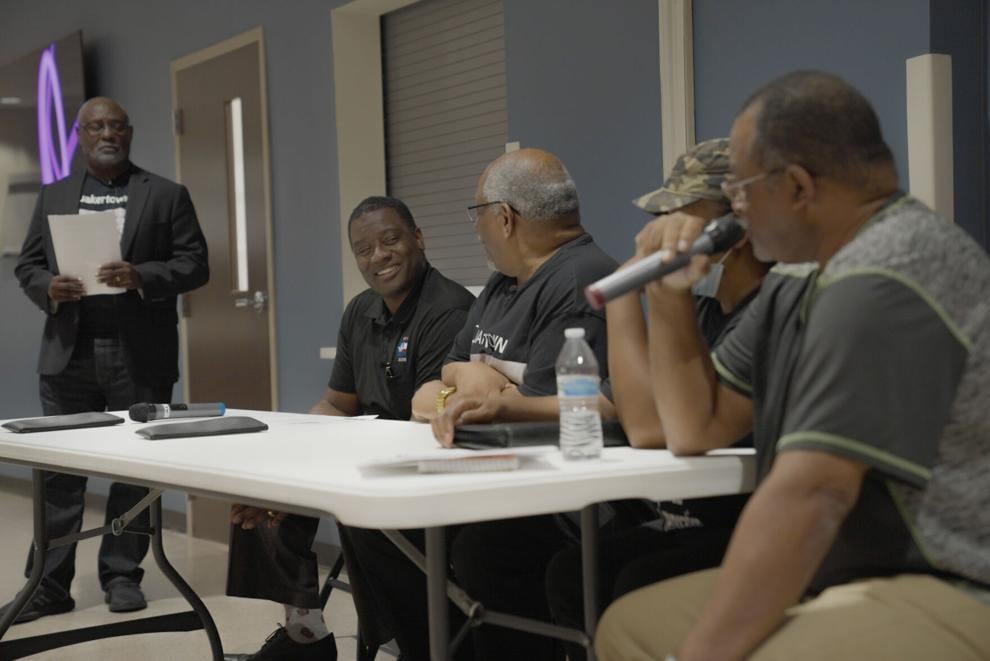 The Southeast Denton Neighborhood Association describes the gentrification threatening their community like a chokehold with the amount of unaffordable apartment developments closing in on their 100-year-old neighborhood.
SEDNA President Colette Johnson claims the neighborhood is tired of the city approving the multiple new apartment developments on Woodrow Lane, Hickory Street and elsewhere, but not communicating with SEDNA about it, especially when they're planning to build in Southeast Denton's backyard.
Part of their frustration has to do with what happened to their ancestors when Denton city leaders gentrified what was Quakertown in the 1920s, turning it into a public park. They forced the Black residents out of their neighborhood and across the railroad tracks to Southeast Denton, where they've been living since 1922.
"Everyone is afraid it is going to be another Quakertown and have to pack and move out again," Johnson said. "It's crazy. None of the neighborhood can afford to rent [the new apartments]."
After the developer didn't attend SEDNA's final meeting of the year last month, the developer's representative, Aimee Bissett, arranged a special meeting with SEDNA for Tuesday morning at the American Legion in Southeast Denton to discuss the Railyard apartment development and a community benefit agreement. The developer will be on hand to negotiate with community leaders and members.
"They are willing to negotiate," Bissett said. "We've come up with some ideas but want to hear their ideas and what they're wanting."
How all these apartment developments began encroaching on the former Quakertown community is a complex problem involving explosive growth. It probably also doesn't help, as SEDNA's videographer pointed out at the September meeting, that local elected officials, including Mayor Gerard Hudspeth and council member Chris Watts, accept thousands in campaign contributions from out-of-city developers, homebuilder and apartment PACs, as the Denton Record Chronicle reported in late July.
"I see no issue with special-industry PACs donating to local candidates," Watts told the Record-Chronicle in the late July report.
It's also been reported that special-industry PACs are donating "to help elect candidates they hope will do their industry's bidding or support a specific cause," as the Harvard Business Review pointed out in a January-February 2022 report.
The Railyard development appeared on SEDNA's horizon, Bissett said, prior to the COVID-19 pandemic when Lang Partners purchased the property where the Denton's old Trinity Steel Mill was located.
The zoning had been changed from heavy industrial to mixed use in the early 2000s as part of city-wide zoning changes, which would allow for a housing development like the one Lang Partners is proposing to build.
A majority of the residents who appeared for the Feb. 5, 2002, public hearing about the proposed zoning changes opposed it, according to minutes from the meeting. And similar to the majority who opposed the 2019 city-wide zoning changes, they didn't feel heard by their elected officials.
SEDNA claims it wasn't aware of the zoning changes.
When the pandemic erupted, Bissett said Lang Partners put a pause on developing the luxury apartments, delaying it for two years. Once they decided to move forward, Bissett said that the developer wanted to complete Phase 1 of the project quickly since the building is below the 40-feet height restriction proposed by the zoning.
Phase 1 has made it through the permitting process and now requires a sewer easement from City Council to move forward.
Phase 2 and 3 of the project, Bissett said, are more complex, as is the zoning for what they want to do since it is a "trans-oriented development" that offers a live, work and play model with office and retail spaces, as well as a parking garage that may offer some public parking. Bissett said they may be using an existing nearby building and may have to obtain a special-use permit. Additionally, Phase 3's construction includes a building that exceeds the 40 feet height limit.
Bissett said they plan to discuss the project and the intended phases at Tuesday's meeting with SEDNA.
"We'll show what [the development] might look like and have the neighborhood tell us what they would like to see and what their concerns are about the development," Bissett said. "We want to have the presentation brief and open it up for dialogue and discussion to find out what would be most desirable for the neighborhood in that regard."
Donald McDade, a Denton planning and zoning commissioner, claims he has spoken about the project for two years trying to raise awareness about how it would impact Southeast Denton.
"All my labor fell on deaf ears," McDade said. "The time to attack a project is when it is in the early stages to get a better understanding of how these projects come to fruition."
Denton's Public Information Officer Stuart Birdseye, on behalf of Mayor Hudspeth, said that in April 2020, the mayor posted on Facebook Live when the Lang Partners banner went up and claimed he would work to keep the neighborhood involved in the development process.
"Meetings like this will help the developer understand the needs and concerns of the neighborhood that they will be joining," Birdseye said. "Denton has so many unique neighborhoods with individual personalities, and I am always an advocate for discussions like these to take place to provide another opportunity for the community to participate in the development process."
But SEDNA and its council member, Vicki Byrd, were surprised to learn about the development in August. Byrd requested more information about the project from city staff then, and SEDNA contacted the mayor.
On Oct. 24, the mayor did request more information about the Railyard project for Southeast Denton from city staff who claimed that Phase 1 of the development will include 326 one-, two- and three-bedroom units in five three-story buildings with two access driveways that will connect to East Sycamore Street.
The first meeting with the Railyard Phase 1 developer, Johnson said, was supposed to take place in late September with SEDNA. But they had to postpone it until their late October meeting since they were showing a documentary, Alice Street, about a neighborhood facing gentrification similar to Southeast Denton to raise awareness of benefit agreements that neighborhoods are seeking from developers who want to build in the communities.
Johnson said that she had spoken with the developer and that they agreed to reschedule the meeting to late October.
"So, he knew a month in advance that Oct. 24 [meeting] was the time to come," Johnson said.
A few days before the meeting, Johnson said she sent the developer a reminder. Then the day of the meeting, she said she received a message from him that he wouldn't be able to get there until 7:15 p.m., which Johnson told him was too late.
Bissett said she wasn't aware of the meeting since the developer didn't include her in the conversations.
"No one showed up and everyone was disappointed," Johnson said. "He knew a month ahead of time when to come."
Bissett called Johnson the next morning and apologized, and offered to continue to set something up with SEDNA, Johnson said.
But since no official meetings were occurring until after the holidays, Johnson decided to invite them to speak Tuesday morning at the American Legion, because that's when SEDNA hosts a Bible study with many of the elderly community members, who will be in attendance.
"I know this project has been approved," Johnson said. "That is one thing — the neighborhood is tired of stuff getting approved and don't know anything about it. We think that since it is in our backyard, they should have come to us first."
McDade worries that since the zoning already allows the development, Tuesday morning's meeting may not do any good.
"My thoughts are this is just a meeting to try and ease any tension," McDade said. "Doesn't really mean much, since the property is zoned by right, and really not much can be done unless our elected officials hear the neighborhood's cries and stand with them."
CHRISTIAN McPHATE can be reached at 940-220-4299 and via Twitter at @writerontheedge.