A cowboy's stop in Denton on the Chisholm Trail
Texas was a wild place after the Civil War. Cowboys drove longhorn cattle worth $4 a head in Texas to Northern states, where they were worth $40 a head. Texas desperately needed cash. It was the Chisholm Trail that became a major route out of Texas for livestock until 1884, when it shuttered due to the widespread use of barbed wire.
By 1871, the Preston Trail running through present-day downtown Dallas closed. A newer trail formed in 1867 along old wagon tracks. Historians generally believe Jesse Chisholm was the namesake of the Chisholm Trail. The son of a Scottish immigrant father and a Cherokee Indian mother, Chisholm spoke several Native American languages. He was regarded as the region's great peacemaker. Chisholm, who died of food poisoning in 1867, couldn't have known about the trail named in his honor.
A trail boss, who led the group across rivers and trails, needed 10-12 cowboys to move 2,000 cattle. Spring cattle drives took two to three months.
Longhorn cattle came from Spanish Retinta and English cattle stock; their long legs and hard hooves equipped them for cattle drives. The stampede-prone breed was hardy enough to gain weight grazing on grass during cattle drives.
Youthful cowboys rode the trail on mustang horses known for endurance. They became Texas folk heroes, performing a difficult job for about a dollar a day ($24 today). Cowboys wore the same clothes for weeks: denim jeans, leather chaps to protect from cacti, boots with pointed toes, and wide-brimmed multipurpose Stetson hats for sun protection. They carried a water bowl and pillow, and bandanas were their dust filters.
Many Cowboys were former Civil War soldiers from both the North and the South. About 1 in 4 cowboys were freed Black slaves. A small percentage of cowboys were Native Americans. South Texas cowboys were Hispanic descendants of Spanish vaqueros who worked livestock as early as the 1500s.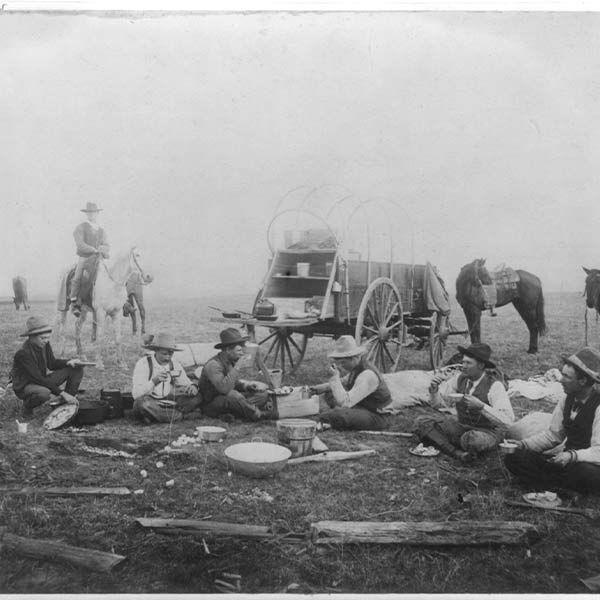 Denton's Jim Christal was a cowboy on his uncle Burk Burnett's 6666 Ranch, then returned to Denton to become a businessman. Christal built a house on Oak Street, and he rode six miles west of town to his Golden Hoof Ranch on weekends.
The cook, or "Cookie," was the most important person on a cattle drive. Cooks were also called biscuit shooters, belly cheaters or bean masters. They served three hot meals a day. Cooks noted the position of the North Star at night to point the wagon tongue north to guide the next day's drive. One cowboy cook, Henry Taylor, moved from Decatur to Denton's Quaker neighborhood so his children could attend school.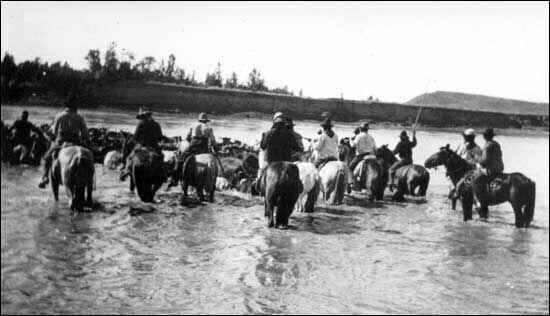 River crossings, storms and stampedes were the biggest threats during cattle drives. Most cowboys couldn't swim, and cowboys herded stampeding cattle in circles to tire them. A slip during a stampede could result in death.
At night, cowboys took shifts circling the livestock singing songs like "Old Dan Tucker," "In the Sweet By-and-By," "Nearer My God to Me" and "Texas Lullaby." Cowboy music wasn't just romantic; it soothed the cattle.
In 1871, 17-year-old George Washington Saunders persuaded his parents to let him take a job on the Chisholm Trail. The cattle drive from San Antonio to Kansas City took him out of Texas for the first time. Although he didn't see the hostile Native Americans he expected to see along the trail, he did see herds of buffalo.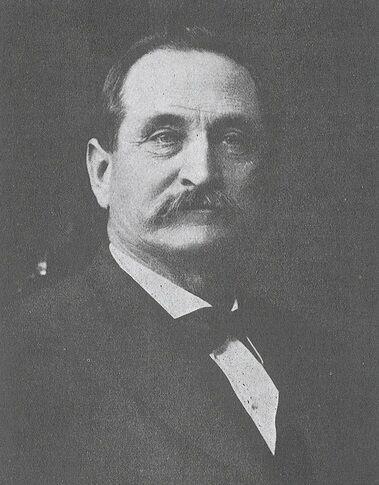 On Saunders' return from Kansas City, he and his friends crossed the Red River opposite Denison. They rode into town to visit the stores and saloons. While cowboy money was welcome in any city, their drunken, disorderly or violent behavior was unwelcome.
According to Saunders:
Our next town was Denton, where the officers demanded our pistols. The law prohibiting the carrying of pistols had only been enacted a short time before, and was then in effect, but we could not think of parting with our lifelong friends, so when a demand was made to surrender them, we pulled our pistols and drove out of town shooting into the air. The officers did not follow us.
After stopping at all the other towns, including Fort Worth, on his way home to San Antonio:
I reached home with a shop made pair of boots and two good suits of clothes, one of which was a black changeable velvet affair that I had paid fifty dollars for in Kansas City. I carried these clothes in a pair of saddle bags all the way home, and found after I reached there, that I could have purchased them cheaper at a local merchant. But little did I care, for I was determined to 'cut a shine' with local girls when I got back off that memorable trip.
Saunders became one of the most respected Texas cattle barons. He ran a livestock holding company, managed four ranches and a 700-acre farm. Saunders helped start the Old Trail Drivers' Association of Texas. He and Marvin Hunter wrote The Trail Drivers of Texas in 1925.
Gary B. Sanders contributed research to this article.
ANNETTA RAMSAY, Ph.D., has lived and worked in Denton for many years.