City's unsheltered put a face on homelessness for Denton council members at weekend meeting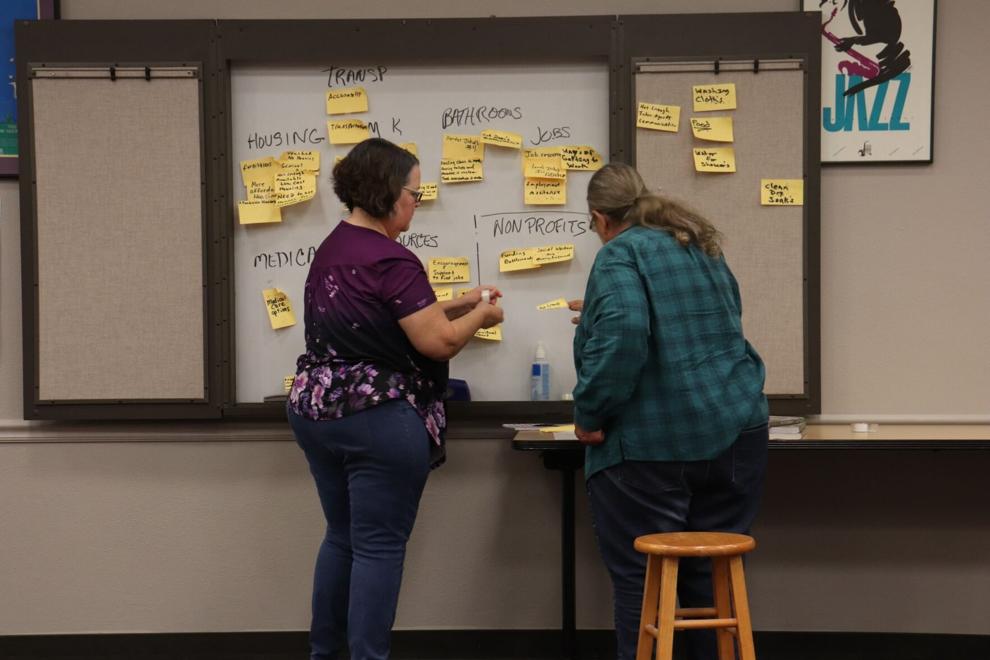 Affordable housing, local jobs and bathrooms, including port-a-potties, and clean showers were the top issues Denton's unsheltered community discussed with two Denton City Council members who attended a Saturday afternoon listening meeting at Emily Fowler Central Library.
About a dozen homeless advocates and unsheltered people arrived to speak with council members Brian Beck and Brandon Chase McGee.
Council member Vicki Byrd was supposed to attend the Saturday afternoon meeting, but she had to cancel her appearance. Council members Alison Maguire, Chris Watts and Jesse Davis weren't in attendance, and neither was Mayor Gerard Hudspeth. All had been invited.
Former council member Deb Armintor was on hand to listen as the unsheltered community discussed several topics, from the idea for a tiny house community to the need for the city to unlock the outdoor water faucets at Quakertown Park for people to use.
"When I was on council, I asked about that," Armintor said. "I was told that they shut them down because they were concerned that people would use them. And I said, 'Well, that's what they're for.' … They talk about it as if it were attracting flies. It's really backwards, really broken."
Beck said he was working on a low-cost plan for outdoor drinking water dispensers, where people could refill bottles, around the city.
The listening meeting came together shortly after homeless advocate Tracy "Mama T" Duckworth had made a couple of appearances at City Council meetings, demanding that council members do something now to help the growing homeless population who are experiencing the worst of North Texas' weather.
She had told council members she planned to host a meeting with the unsheltered community to eliminate stereotypes and put a face to the population who often disappear under sweeping generalizations.
"It's like my mom used to tell me: 'When you're cooking, you can put anything in the kitchen in that pot of food, but until you put love into it, it's not going to be right,'" Duckworth told council members in late September. "I didn't understand that until recently. When you put everything into the homeless problem and the issues that we want — but until somebody cares and we put love into the issue, it is not going to change."
At the listening meeting on Saturday afternoon, Denton Basic Services Center founder Jane Piper-Lunt said Denton's homeless population had risen to 900 people, though she pointed out that the actual number was much higher than what's being reported.
Denton Basic Services helped Duckworth host the listening meeting and offered a short video of a thriving tiny house community called Opportunity Village in Eugene, Oregon, a transitional micro-housing community for homeless individuals and couples. Developed by SquareOne Villages, it's a thriving community and a collaborative one between the housed and unhoused communities.
"Our approach is committed to engaging our residents and the surrounding community in the process; thus SquareOne not only builds affordable housing, we build equity through diverse community collaborations in Lane County, Oregon," SquareOne Villages points out on its website. "We also collaborate with partners and affiliates to support the implementation of our village model in other communities."
It's a similar collaboration that Denton Basic Services Center is trying to bring to Denton. Doug Gustafson from Homes Now! Not Later, a tiny-house nonprofit in Bellingham, Washington, also made an appearance via Zoom to announce that his nonprofit has officially partnered with Denton Basic Services to help bring to Denton a tiny house village similar to the three Gustafson's group operates in Bellingham.
But if the city of Denton doesn't offer land for the nonprofits to lease for the tiny house village, it's unclear how the group will be able to get one operating.
Several homeless people — who gave only their first names, including Donnie, Joseph and Roy — gathered around the tables on Saturday afternoon to discuss their concerns. All had suffered some setback that left them on the streets. Some discussed the rigidness of the Monsignor King Outreach Center, a shelter for homeless individuals, and wished the center would change its firm deadline on securing and keeping a bed and said a better process is needed.
The limited number of beds during inclement weather, they said, is another problem, especially since beds are assigned and then lost if patrons don't report to the center by 6 p.m.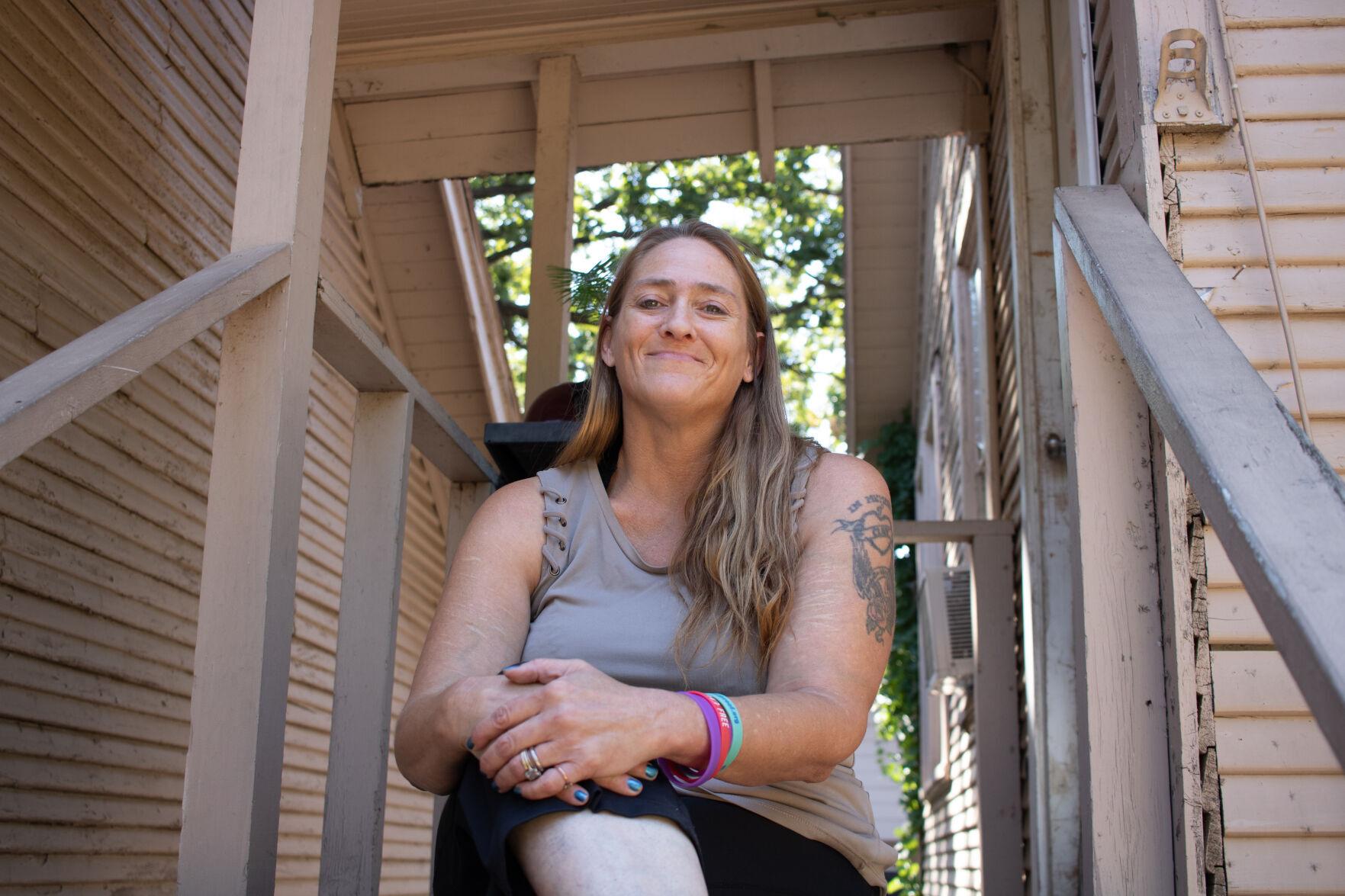 There are only 32 beds for workers, said Tommy, an unsheltered individual.
"If your job asks you to work an extra hour or two, who are you to say, 'No, I can't. I have to report back to the shelter for a bed,'" Donnie told council members.
Donnie, who came to Denton about five or six years ago, also said Denton County Transportation Authority's GoZone needs to expand its boundary of services to the Denton Enterprise Airport area, where several warehouses are located, offering good-paying jobs to those who can get there and an opportunity for people like Donnie to get off the streets.
"GoZone advertises that they serve the entirety of Denton County," Roy said. "But they don't."
"They don't have enough vehicles," Armintor told him.
Donnie then pointed out that more space for the homeless is needed in the city, especially during inclement weather. And while Our Daily Bread, Together With Monsignor King Outreach Center is opening a new shelter on Loop 288, doubling the beds available, the current shelter off South Woodrow Lane won't be used to help with the overflow.
"Space on weather nights has always been a problem for those sleeping out on the streets," Donnie said. "Everybody needs safety."
Joseph, who has been on the streets for 10 years, agreed, reiterating several of the points others were discussing.
"Everyone knows that Monsignor King has a new shelter opening [in December]," Joseph said. "But for the time being, it's cold and it's wet."
He asked about the field next to the new shelter on Loop 288 and if the nonprofit could install some temporary housing structures for the homeless to get out of the weather. He said he realized he would have to walk in the cold to get inside to the showers, but at least he would be out of the weather when he sleeps at night.
"That would be a great location, that field right there," Donnie said.
Armintor and Piper-Lunt mentioned that the nearby neighborhood wanted to use the field as a buffer between them and the unsheltered population.
"You know, because you all are all criminals and drug addicts," Piper-Lunt said sarcastically.
Armintor claimed the field is owned by the city and could be a good place to set up portable transitional housing.
"At the end of the day, it is up to the city to decide," she said.
Joseph stressed the need for port-a-potties around the city and claimed homeless people wouldn't go into businesses to use the bathroom if there were more of them around the city. He also discussed receiving a housing voucher and his difficulty finding a place and why it is so important for landlords of apartment complexes to accept nonviolent offenders with criminal records.
He wondered if City Hall could offer tax incentives to these complexes so they will start taking people like him.
Piper-Lunt said supporters had tried to get him into one of the worst affordable housing complexes in Denton, but Joseph was turned away because of drug and theft charges.
Joseph mentioned a need for affordable rehabilitation centers to help people who are on the streets to get off drugs.
Piper-Lunt agreed and claimed it takes two to three months to get an appointment at the county mental health facility.
"Council woos companies," she said. "They can woo drug treatment centers and mental health facilities."
Armintor pointed out that some are already in the city but are underfunded.
At the end of the listening meeting, McGee mentioned there are several Denton employers that are known as "second-chance employers" for people like Joseph who are simply looking for help to get off the streets.
Both council members took notes about what they learned and said they've been committed to helping the unsheltered community.
Duckworth, who spent most of the meeting caring for everyone, said she planned to appear before the council again to discuss this issue.
Piper-Lunt told the homeless, some of whom said they were registered to vote, there is power in numbers.
"It's 900 of you, and you are a voting bloc," she said. "If you go before the Commissioners Court or a council meeting, you may make a difference."
CHRISTIAN McPHATE can be reached at 940-220-4299 and via Twitter at @writerontheedge.