In its first year as a 5A school, Argyle High sends two students to all-state choir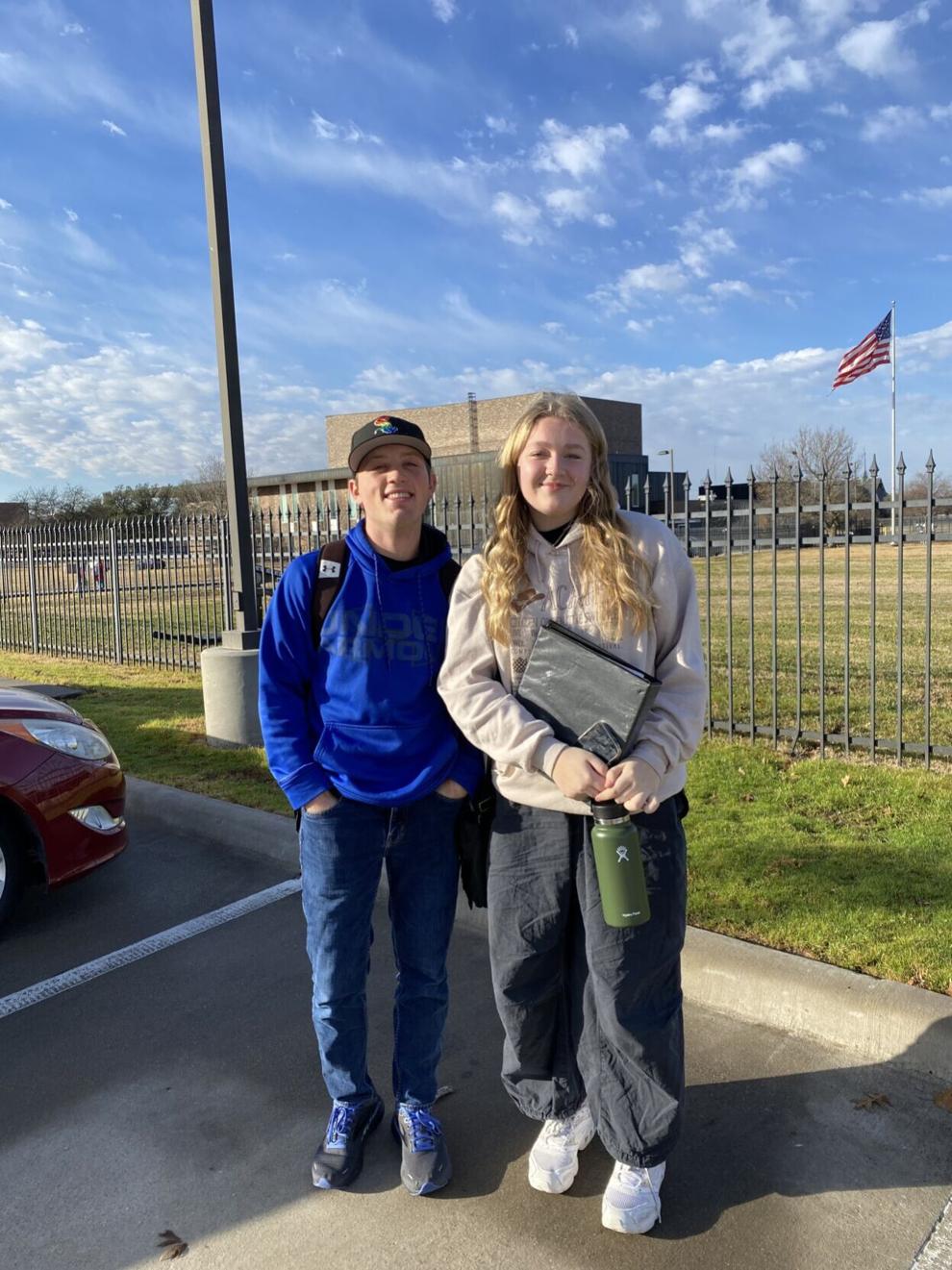 Argyle High School students Aimee Gray and Levi Pabst head to all-state choir this weekend.
While they said they're proud to represent their school in the performance at the Texas Music Educators Association in San Antonio, both students said the honor is a reflection of the tight-knit family that is the choir.
"I'd like to kind of let the public know that our choir is — even though we go by the slogan 'Love your neighbor' — it honestly is one of the most inviting and familial feel group that I think you'll find around here," said Gray, who said she craved for a group to belong to when her family moved to Texas from Scotland six years ago.
She took a lot of ribbing from her peers for her accent. Then she joined choir and found a group of students whose goal is to speak with one voice through music.
Both Pabst and Gray sing in the top choir at Argyle High, a mixed-voice concert choir, as well as performing with Remedy, the school's a cappella choir.
Students who compete for a spot in all-state choir have a menu of requirements to meet. They have to excel in a sight-reading evaluation as well as sing three pieces from an approved list of music. Singers have to show that they have strong pitch, tone and breath support as well as a good ear for a composer's intentions. They also sing in multiple languages. To put the competition into perspective, about 70,000 young singers put themselves through the arduous audition process for all-state choir. Only 1,810 make it.
Pabst said landing a spot on Texas' all-state represents a journey that started for him a few years ago.
"I was really a band kid back in middle school," said Pabst, a baritone who will sing with the bass section of the all-state mixed choir. "And then in seventh grade, my mom sort of waved the brochure for Little Mermaid Jr. and was like, 'You're going to do this!'"
Pabst was a little dubious, but he ended up singing the role of Grimsby, Prince Eric's escort in the junior version of the Disney musical.
"After opening night, I'm crying in the lobby," Pabst said. "So I stuck with it. It felt just like a family. It was such a powerful experience."
Evan Ramos, who joined Argyle ISD as the high school choir director this year, said he is especially proud of Pabst and Gray, who will sing with the second alto section in the all-state treble choir.
"This is also our first year [to compete as a] large school choir because this is the first year that Argyle is a 5A school," Ramos said. "I will say that both of these students have made small-school choir at all-state before."
Both Gray and Pabst found choir rewarding after they joined, and found themselves as willing to put in the time and work as their athletic peers devote to their sports.
"The people in the choir program — they were kind of the first people to just, like, let me just sound like myself when I first joined," Gray said. "And then since then, I became friends with a girl who was the old choir president. The way she just allowed everyone to be friends with her and her being an inspiration was really cool."
Pabst got bitten by the bug in that middle school musical and hasn't looked back.
"I just stuck with it because it really felt like, more than anything else I've ever done, just like a family," Pabst said "And you know, it was such a powerful experience that I couldn't really imagine devoting myself to anything else."
Ramos said he inherited a strong program used to rigorous training and work. Neither Pabst nor Gray were behind on the competitive skills that all-state judges appreciate.
"It wouldn't be fair for me to take the accolades for this group," he said. "Will Griswold was the choir director who preceded me. He did more than I will ever be able to. He was a wonderful director and did a wonderful job preparing these two kids for this. I would be very remiss not to say that."
Ramos said Pabst and Gray are exemplary. They show their peers that success comes from drilling down on the part of music that scares you. For Gray, who said she has to plug away at music theory and sight-reading, that means rehearsing trouble spots doggedly.
"I think it demonstrates two things," Ramos said. "First, it demonstrates people who are willing to try something hard just for the sake of doing something hard. Honestly, if you just consider all the man-hours that it takes to prepare this music, that they take over the summertime to learn the music, that the auditions that are on Saturdays and go all day long — if ... it's just for the glory, it ain't worth it.
"It's more about just sort of the willingness to try something hard because honestly, life is full of hard things that you're going to have to do. I can yell and scream at them, shove this music in their face as often as I want to, but until it comes from them intrinsically, nothing's going to happen."
Ramos said Gray and Pabst sacrifice a lot to succeed in music.
"The thing about Aimee and Levi is that they're incredibly self-disciplined," Ramos said. "Incredibly self-disciplined. There would be times where I would be sitting eating my lunch, and Aimee would be going over a section that we weren't even going to be auditioning for, like, months. One of the pieces, she was going over the section, like being on the piano, working, and she was upset about it but fixing it because she knew what she needed to work on."
Ramos said Pabst's strength at sight-reading and his dedication makes him a leader for his section.
"It's just sort of that self-discipline of saying, 'I've taken it personally,'" he said. "They approach their work as if to say, 'If I make it to the next round, it's not because somebody else pulled me aside and did it, but because I did. Because I took the time to make this happen.'"
Pabst said the choir program teaches deep listening and teamwork.
"With choir, effectively the goal is to make it sound like four people singing: a tenor, a bass, an alto and a soprano," he said. "You have to try to match everyone else as well as you can while also making sure that you know everything you're singing is correct on the page, and while you're looking at your conductor to make sure that you're staying in time. You have to focus on so many outside elements. It forces you to be a team player. You can't just sit in your own little bubble"
Gray said choir teaches students how important it is to show up with your homework done and ready to trust the other singers to do what the music guides them to do.
"It is really important for every student in there to have the same passion towards what they're doing," she said. "Sometimes, you know, you can have a day where like half of the choir's acknowledged, 'I'm done for the day.' Then you can really tell and it really, like, hurts everyone else. I think you have to focus on the social side all the time, as well as the technical side, for everyone to always be like a team."
Ramos said those principles root everyone to the choir slogan.
"That idea, that 'Love your neighbor,' that's one of the big reasons I came to Argyle," Ramos said. "The students really mean it, and it shows."
LUCINDA BREEDING-GONZALES can be reached at 940-566-6877 and via Twitter at @LBreedingDRC.