McCarthy elected Speaker of the House on 15th ballot, ending stalemate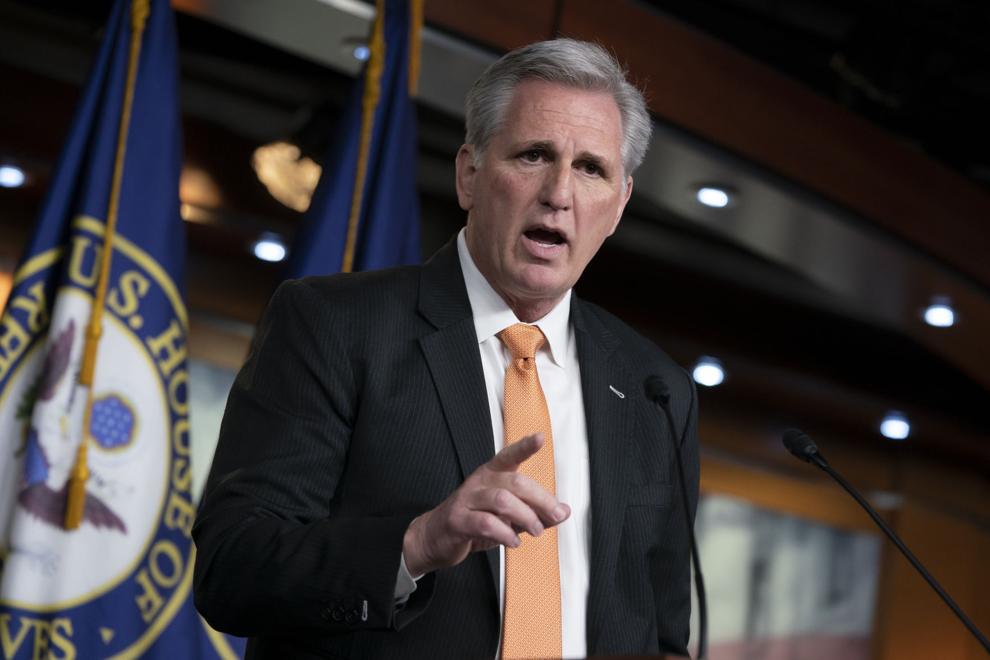 WASHINGTON — Republicans elected Kevin McCarthy the speaker of the House early Saturday, ending an embarrassing stalemate and the longest contested speaker's race since 1856.
The slim victory on the 15th ballot came after four days of horse-trading and arm-twisting, and an evening of pandemonium and acrimony.
"That was easy, huh?" he quipped in a victory speech. "And now, the hard work begins.... I hope one thing is clear after this week: I never give up."
Finally at 1:40 a.m., McCarthy took the oath of office. Moments later, he swore in the rest of the House members.
Fifteen GOP holdouts — including three from Texas — relented during the day Friday and delivered their votes to McCarthy as he offered more and more concessions. Six others abstained in the final round.
The House gave an ovation as McCarthy hit the magic target. Thanks to the abstentions, he got one more vote than he needed: 216. That was also his tally in the previous round, but that was one short because four holdouts had cast votes for someone else.
As that 14th ballot started, the Republican leader and his allies had appeared confident enough of the remaining holdouts would either support him or at least vote "present."
McCarthy had summoned two supporters back to Washington to provide crucial votes.
One was Houston's Wesley Hunt, whose wife gave birth prematurely early this week. McCarthy embraced him as the Texan cast his vote after the House reconvened at 10 p.m. Friday.
Colorado's Lauren Boebert, did vote "present" in the 14th round while Florida's Matt Gaetz dramatically waited to cast his vote until the very end. He voted "present" as well, which left McCarthy a vote short.
McCarthy apparently had expected more from Gaetz and confronted him before eventually walking away from the conversation stone-faced. Other lawmakers continued swarming Gaetz trying to get him to change his vote. Mike Rogers of Alabama stormed into the group before another member physically restrained him.
The clerk announced the final tally marking McCarthy's defeat and Republicans kicked off a vote to adjourn for the weekend and regroup. But some kind of accommodation was suddenly reached and scores of lawmakers changed their votes, stopping the adjournment and paving the way for the final, decisive ballot.
Morgan Luttrell, an incoming freshman who replaces longtime Rep. Kevin Brady in a district north of Houston, said afterward the Rogers incident was an "unfortunate event" primarily because there were women and children in the vicinity.
"I can appreciate the passion of my colleagues. Honestly and wholeheartedly, I understand their frustrations, I do," Luttrell said. "But I was raised to protect women and children at all costs."
Now that a speaker has been elected and the members sworn in, it's "time to go to work," Luttrell said.
This is the first time in a century that a majority party's leader failed to secure the speakership on a first ballot. Until Friday, McCarthy trailed the Democratic leader, Hakeem Jeffries, whose unified caucus had watched the infighting with some satisfaction.
Chip Roy of Austin, Michael Cloud of Victoria and newly elected Keith Self of Plano joined 11 other holdouts in switching their votes to McCarthy on the 12th ballot. Another Republican flip in the next round put McCarthy just two votes short of a majority, if everyone voted.
"We are making progress," Self said, alluding to a growing list of concessions that conservatives wrested in exchange for their backing, then announcing his vote: "McCarthy."
No speaker election took this many ballots since 1856, when it took 133 ballots and two months to resolve the contest.
The Texas Republicans and others held out this week for changes to how the House operates, demanding more influence for the most conservative members.
The deal struck Friday includes more spots for conservatives on the Rules Committee, which controls how bills are debated and amended on the floor, and a change allowing any single member to call for a vote to oust the speaker.
That would keep McCarthy on a short leash, give the insurgents leverage to demand spending cuts in exchange for raising the federal debt ceiling, for instance.
"Speaker Kevin McCarthy's dream job could turn into a nightmare for the American people," Senate Majority Leader Chuck Schumer, D-N.Y., said moments after his victory. "He surrendered to demands of a fringe element of the Republican party...[making] it far more likely that the MAGA Republican controlled House will cause a government shutdown or a default with devastating consequences to our country."
In his victory speech, McCarthy vowed to use the House GOP majority as a counterweight to the Democratic president. He promised to cut funds intended to beef up tax enforcement, and to lift post-Jan. 6 security restrictions at the Capitol. He promised probes into the chaotic U.S. withdrawal from Afghanistan, the origins of COVID-19, the "weaponization of the FBI," and border security – an aggressive, consensus agenda among Republicans.
"No more ignoring a crisis of safety and sovereignty," he said. "We must secure our border."
Gaetz had previously appeared unwilling to accept McCarthy under any circumstances and he called his continuing to seek the speakership this week despite the defeats an "exercise in vanity."
Nominating Jim Jordan of Ohio, who stuck with McCarthy and preferred to become Judiciary chairman, Gaetz called McCarthy a tool of special interests and scoffed that he hadn't "earned" the job as some supporters argued, because the only way to do that was by securing votes, and McCarthy didn't seem capable of that.
In a letter earlier this week to the Architect of the Capitol, and in a fundraising blast on Friday, he described McCarthy as a "squatter" for occupying the speaker's office suite prematurely.
"ALERT: Squatter in the Capitol Building," read the fundraising email.
Hunt, who won his first term in November, rushed back Friday afternoon at McCarthy's behest.
Hunt's son, born earlier this week, was four weeks premature and remained in a neonatal intensive care unit. His wife was hospitalized with complications that reportedly weren't life-threatening.
"Willie needs his father and Emily needs her husband," Hunt tweeted. "Today, I'll be returning home to hold my son and be at my wife's side. It's my intention to get back into the fight as soon as possible."
By law, House members are sworn in by a speaker, bringing congressional action to a halt until that election is settled. Without a speaker, none of the members elected in November — including those who won reelection — are technically representatives.
For Roy and the other conservatives, it was worth holding up the process to force changes in House rules.
Roy said Friday that minority rights had been trampled for too long, and the agreement would ensure that all voices can be influential.
"Too few people are making too many decisions for the American people in ways that undermine the health and well being of this institution, the country and American people," Roy said. "That has a chance to change today, and that's why we're here."
McCarthy had made a long list of concessions since the GOP scored its disappointingly narrow five-seat majority in November.
After repeated defeats this week, he even agreed to let any single member call for a sort of no confidence vote that could be used to remove the speaker — a provision he insisted Thursday is nothing to fear, but that congressional experts say would hobble a speaker, putting him at the mercy of any fringe dissenter.
"This will change this House, let's be very clear," Self said after voting for McCarthy. "We will have a strong rules package that the Republican conference will vote for. I have been proud to stand with these colleagues behind me and I have no doubt we will get there."
Other concessions included commitments to hold votes on term limits.
The McCarthy-affiliated leadership PAC would steer clear of Republican primaries in safely red districts, addressing conservatives' complaints that party bosses have intervened to protect establishment candidates.
Cloud said after voting for McCarthy that the movement has been more about changing the institution than who holds the speaker's gavel.
"To some who've looked and said, 'Hey, this looks crazy. It looks whatever' ... This is what a government for the people looks like," Cloud said. "It's deliberative. It's people talking through issues."
Highlighting the complicated internal politics, Republican Tony Gonzales of San Antonio tweeted that he planned to oppose the rules. It was unclear heading into the Friday night session how many Republicans in the McCarthy camp would shun the proposed new rules, and whether that could upend the deal for the speakership.
Apart from exposing strains inside the House GOP, the deadlock raised questions about whether congressional staffers would be paid. Some executive branch offices have told members-elect they cannot respond to requests to help constituents until they're sworn in.
The IRS Taxpayer Advocate Service initially refused to respond to inquiries from members-elect, though it later clarified that employees will work on existing congressional cases and process new ones. But the IRS did say it could not communicate taxpayer-specific information to House offices "pending the swearing-in of members or future guidance providing a work-around."
Rep.-elect Keith Self, R-Plano, casts his vote for Kevin McCarthy in the 12th round of...
Rep.-elect Keith Self, R-Plano, casts his vote for Kevin McCarthy in the 12th round of balloting for Speaker of the House, Jan. 6, 2023, after voting against the GOP leader in the previous rounds.(Anna Moneymaker / Getty Images)
Democrats used squabbling across the aisle to question Republicans' ability to govern.
"They've had months to figure this out," Rep. Veronica Escobar said on the House floor, nominating Jeffries in the 13th round, and noting the second anniversary of the Jan. 6 riot at the Capitol. "I shudder to think what a Republican majority's inability to govern would have meant on that day, and what it could mean in the future for those of us who believe in defending democracy abroad and now more than ever, here at home."
Houston's Dan Crenshaw was among the Republicans who had sharply criticized the holdouts, saying they were preventing Congress from getting to work on important matters such as securing the border. Throughout the week, Crenshaw had vowed not to support anyone but McCarthy for speaker because "we cannot let the terrorists win."
On his podcast, Sen. Ted Cruz, R-Texas, defended Roy — his first chief of staff when he took office a decade ago — for focusing on budget-cutting goals and rules rather than personalities.
He also rejected suggestions the high drama has embarrassed the party, and chided Crenshaw for his choice of words.
"This will work out and it'll be fine," Cruz said. "That kind of overheated rhetoric, calling people terrorists, is not terribly conducive to anything resembling Republican unity. It's not conducive to having strong leadership for the next two years in the House, engaging in vitriol and personal attacks."
Washington correspondent Emily Caldwell contributed to this report.