Denton police name new assistant chief, sergeants among promotions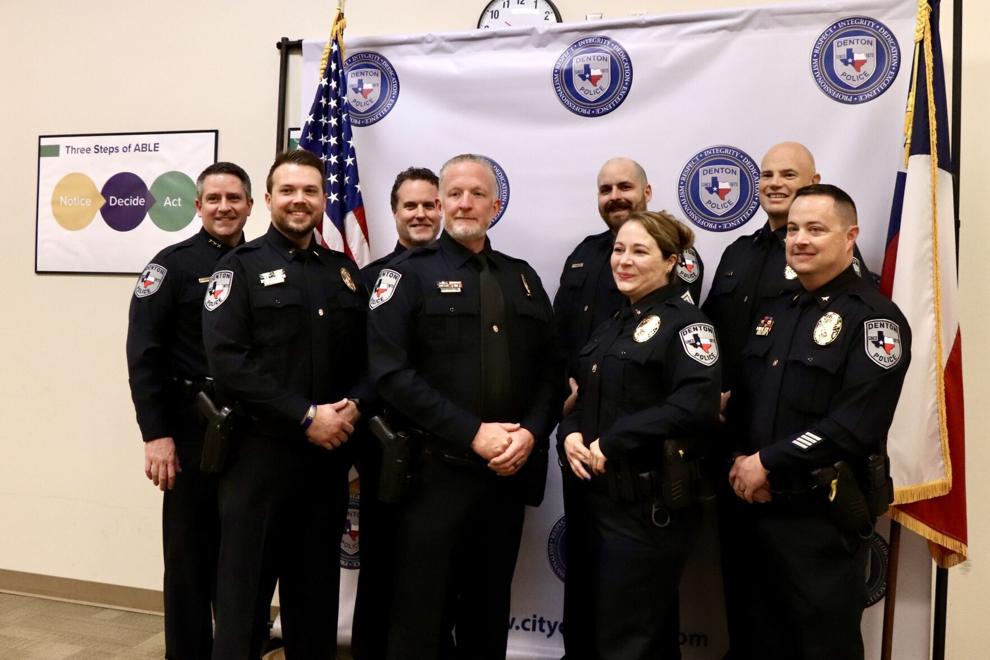 The Denton Police Department honored seven individuals ranging from sergeants to a new assistant chief in its promotion ceremony Wednesday.
Chief Doug Shoemaker said those promoted to new leadership positions have demonstrated their commitment to excellent policing and the future of the agency.
"Even in my brief few months here, it's apparent this agency has the makings to be amongst the very best," Shoemaker said. "Realizing potential is not easy. It takes time and patience. We will work as a team to make this path forward. I'm excited to see the results ahead."
Steve Buchanan promoted to assistant chief
Buchanan joined the Denton Police Department in 1998. He spent seven years as a patrol officer. In 2006, he was assigned to the Criminal Investigations Division. In 2018, Buchanan was promoted to sergeant and served as a patrol supervisor, field training officer coordinator and investigations sergeant. He was promoted to lieutenant in 2021 and served in criminal investigations. He served on the Denton police SWAT team for 18 years.
Buchanan holds a Bachelor of Science in criminal justice from the University of North Texas. He has obtained several certifications including a master peace officer license. He also taught at the Basic Peace Officer Academy.
"Denton has been my home the last 24 years and there's no other place I'd want to be," Buchanan said. "... I want to do whatever I can for the citizens, for the rest of the officers and the rest of the executives in order to keep moving forward. We've got a lot of good things ahead of us."
Bryan Cose promoted to deputy chief
Cose joined the Denton Police Department in 2003. While attending UNT, he was a patrol officer. He joined the department's Traffic Safety Unit in 2008. There he served as DWI enforcement officer, motorcycle officer and a vehicular crimes investigator in crash reconstructions. In 2014, he was named a Top 10 DWI officer for the state of Texas by the Texas Municipal Police Association.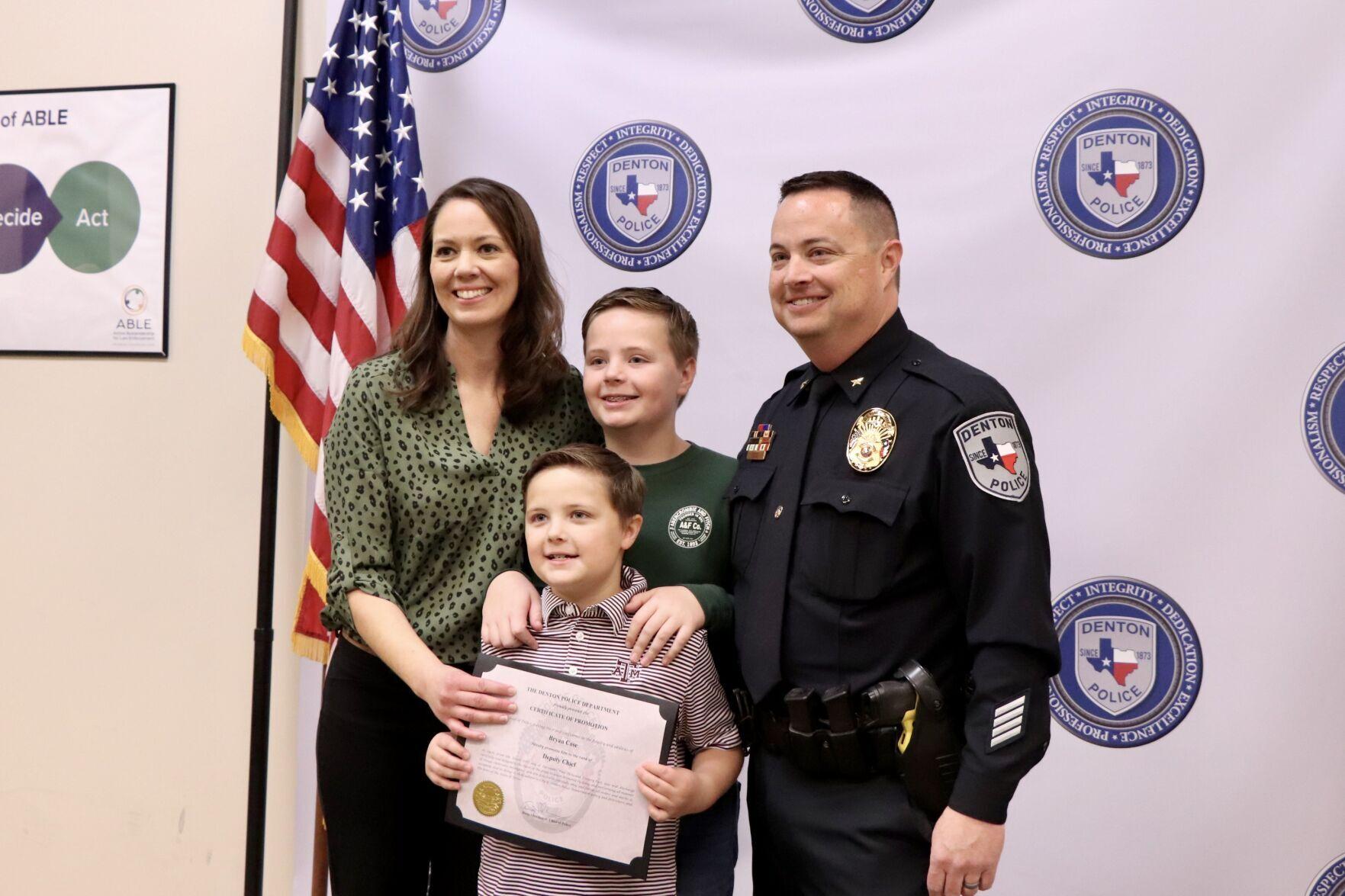 He served as a public information officer until 2019 when he was promoted to sergeant. He lectures on safe driving behaviors at local schools and community meetings. He was promoted to lieutenant in 2022 and served as a patrol watch commander, then moved to the Support Services Bureau as interim commander overseeing recruitment and hiring along with field training.
Cose is a licensed master peace officer and mental health peace officer. He serves in the department's honor guard and is part of the hostage negotiation team. He now serves as the Deputy Chief of Operations for South Patrol on the traffic unit.
Michael Christian promoted to deputy chief
Christian spent his early childhood in Santa Fe before moving to Ukraine where his parents were missionaries. He joined the United States Army after 9/11. After spending some time working in business administration, he fulfilled his lifetime goal of becoming a police officer.
He joined the Denton Police Department in 2010 and spent eight years as a patrol officer. In 2018, he was promoted to sergeant and then lieutenant and became the traffic division commander. He was in command over investigations and forensics.
Derek Bradford promoted to lieutenant
Bradford, an Amarillo native, moved to Denton to pursue an English degree at the University of North Texas in 2005. During graduate school, he was uncertain of his path to becoming a college teacher. He pivoted and joined the Denton Police Department as a patrol officer in 2010.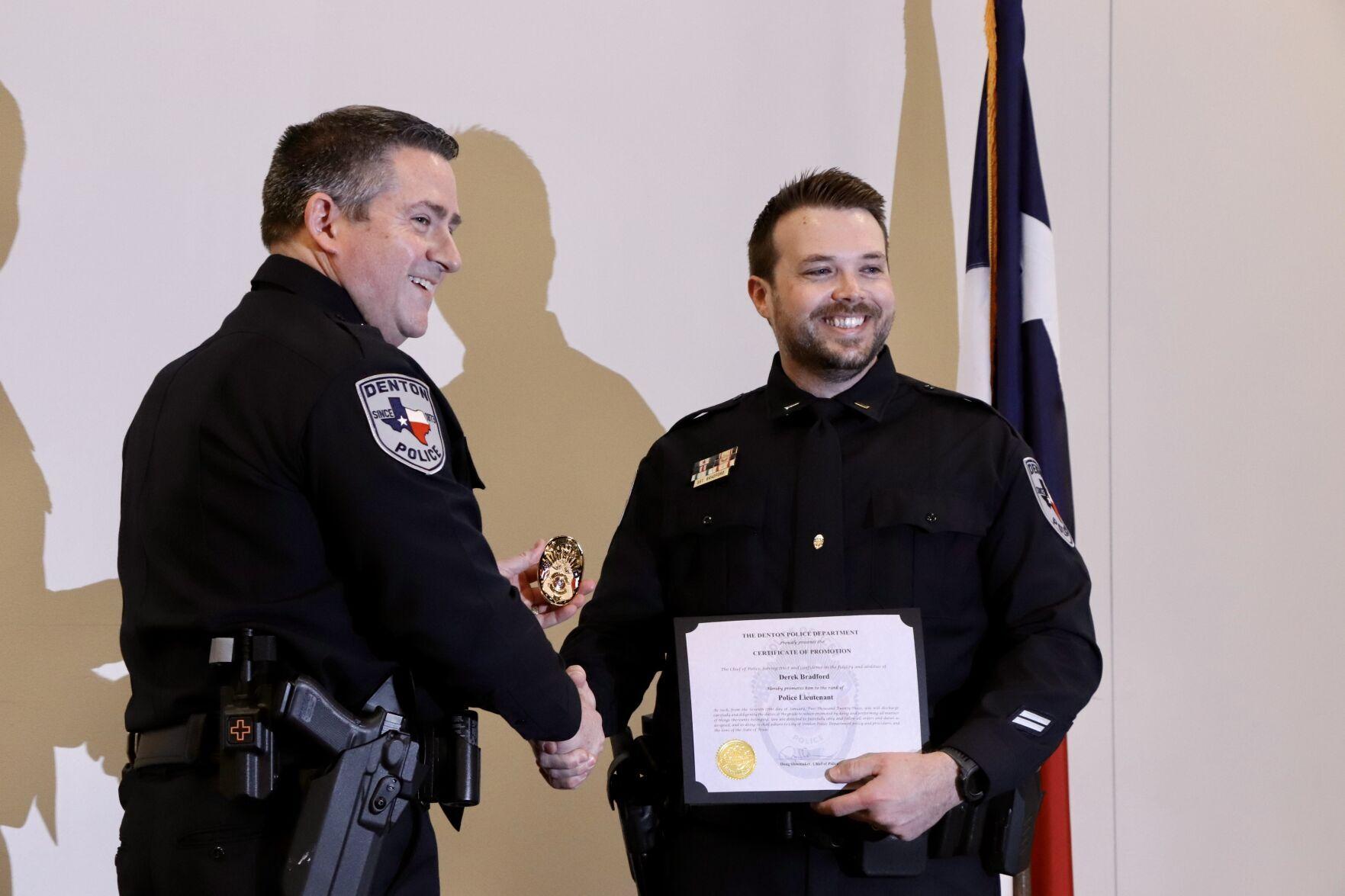 Bradford became a certified police instructor in 2013. He instructs the police academy's basic peace officer course. He serves as an instructor in various topics including rape aggression defense. He served as a school resource officer at McMath Middle School and then as sergeant. Now, he will serve as the Training and Recruitment division commander.
Elisa Howell promoted to lieutenant
Howell joined the Denton Police Department in 2006. She worked on the Community Response Team, the Criminal Investigation Bureau and crimes against person and family violence investigations. She pursued expertise in strangulation investigations.
In 2016, Howell was selected to manage police revision for the department. Then, she transitioned to the accreditation and compliance unit and helped the department reach accreditation in 2022. She oversaw the homeless outreach team and managed policy tasks during the COVID-19 pandemic. She oversees the crisis intervention response team and is CIT coordinator.
Howell holds a Bachelor of Science in criminal justice and is pursuing her master's in victim service management. She holds a master peace officer license. She serves as the co-chair of the county's Behavioral Health Leadership Team and instructs first responders on the dangers of strangulation. She provides education to the Texas Justices of the Peace on mental health issues.
Jason Nalley promoted to sergeant
Nalley moved to the Denton area in 1985. He is a 1994 graduate of Denton High School and enlisted in the Marine Corps. During his time in the Corps, he would come to serve as a terrorism weapons of mass destruction and third-world countries analyst. He became a staff sergeant before returning to Denton in 2002.
In Denton, he spent 10 years working as a firefighter paramedic before briefly working outside of public safety. In 2016, he joined the police department as a patrol officer. He obtained mental health peace officer certification and works as a crisis intervention officer. He also works on the department's hostage negotiator team and is part of the department's honor guard.
TJ Maloney promoted to sergeant
Maloney was born in Denton and joined the military after graduating high school. He was deployed to Iraq and Afghanistan where he worked in intelligence for the 82nd Airborne Division special forces SEAL teams three and five and government contracts.
After his military career, Maloney became a police officer. Since joining the Denton Police Department, he was recognized by the Denton County Crimestoppers for the largest bust to come out of a tip.
Maloney said he is honored to have the opportunity to serve the city he loves and grew up in along with his fellow officers in his new venture as a sergeant.
BROOKE COLOMBO can be reached at 940-566-6882 and via Twitter at @brookecolombo.