Denton's scariest Halloween costume: A GoZone van?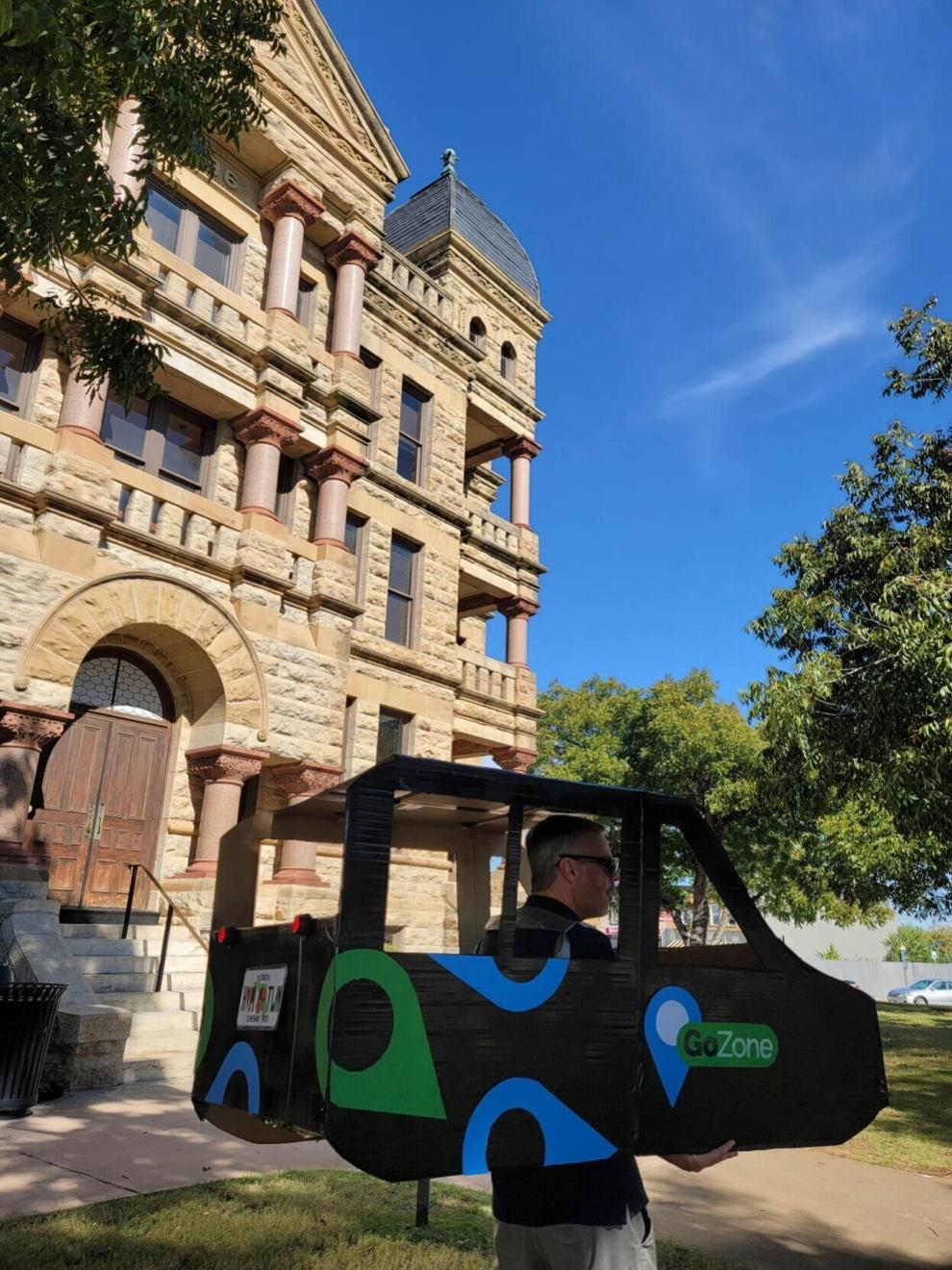 A Denton business owner went viral locally this Halloween for his "drive" around the downtown Square as a GoZone van. While he says the idea was all in good fun, the reaction speaks to the public sentiment surrounding DCTA's rideshare program — and how far GoZone has to go to earn the community's trust.
Scariest costume of Halloween?
Michael Bradshaw, who runs a Denton real estate business, decided to go as a GoZone van for Halloween. He showed up to the Square on Monday wearing a cardboard replica, even including lights and the infamous out-of-state license plate.
Locals seemed to enjoy the reference to the Denton County Transportation Authority's rideshare program, as evidenced by a Facebook post from an onlooker that received nearly 2,000 likes and dozens of shares. The poster wrote that it was the "Scariest Halloween costume I've seen," likely referring to GoZone's reputation for poor driving quality.
Bradshaw said his family was simply tossing around ideas when he came up with the concept, thinking it would be funny to go as one of the vans and wondering how locals would react. He wanted to make it clear he wasn't trying to make fun of the individual drivers, but was "playing off of all the ridiculousness we've seen."
"I wasn't sure how many people would be out there and how it would be received," Bradshaw said. "Once I got out there, people were shouting, 'Hey GoZone!' I got some photos … just having fun with the idea."
Bradshaw said he's been reading about local transit on social media and has had his own experiences seeing the program in action. He believes his costume got so much attention locally because so many Denton residents have noticed problems.
"We live off Dallas Drive, and all the time I see them pull over on the shoulder," Bradshaw said. "I don't know how safe it is. … I don't understand how that's efficient to have vans taking people, when you can have a busing system that's planned out and seems way more efficient to me."
GoZone's development and public perception
GoZone is well over a year into its launch, and while it's completing over 60,000 rides per month, the program has had its fair share of snags. Capacity has been one of the biggest talking points for the DCTA Board of Directors, with wait times for a ride averaging over 20 minutes and over 15% of ride requests having no van available. That's despite a boost of $1.5 million the board approved in April, which only temporarily dropped those figures.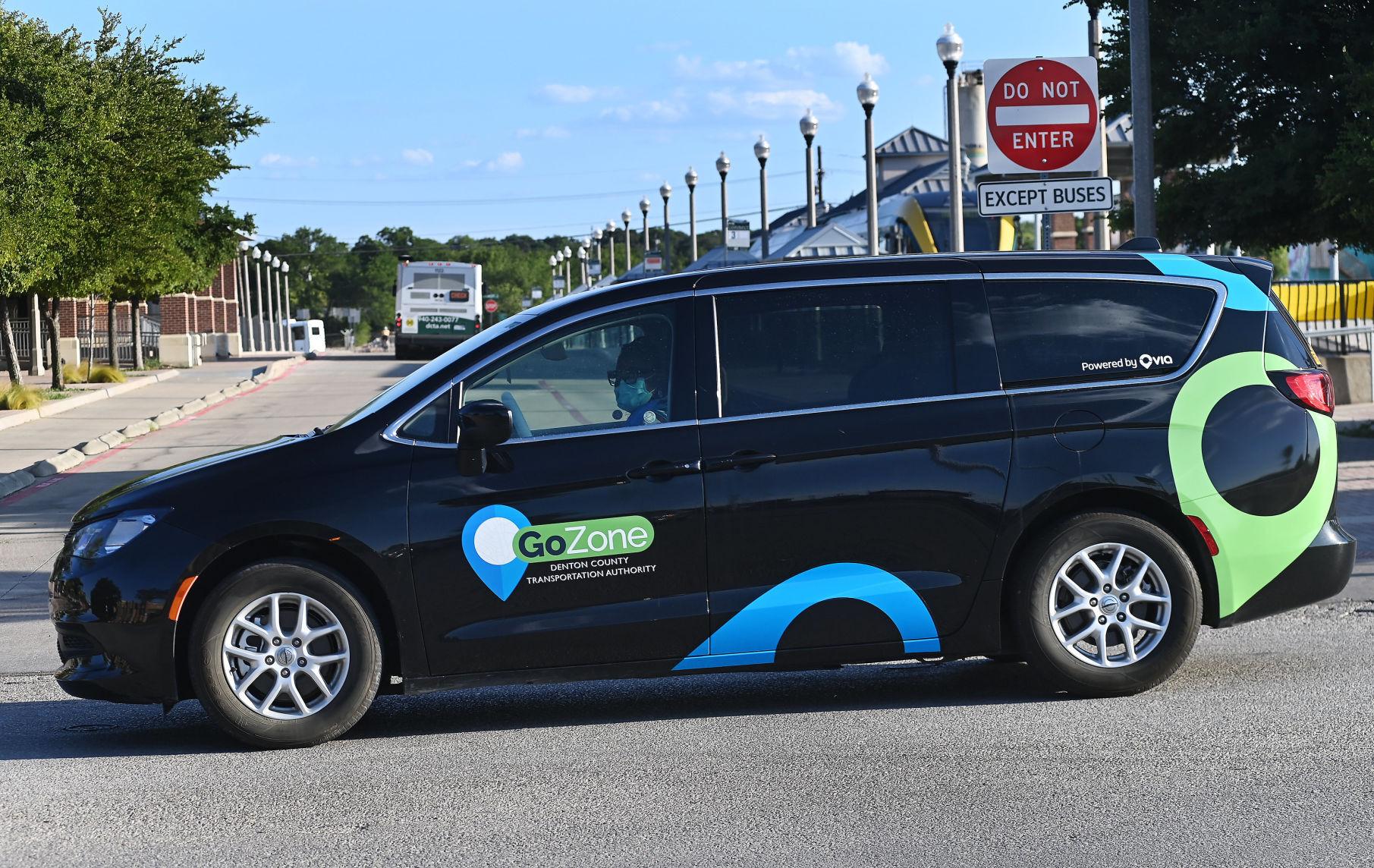 Most of the rides are booked in Denton, and many residents have complained on social media and in meetings that the service isn't timely enough to be a reliable option for day-to-day travel. But another source of complaints altogether has been the quality of the driving.
On social media, there's no shortage of posts from people around Denton complaining that GoZone drivers don't drive safely and seem to not be familiar with the area. A Facebook group named "GoZone drivers are going to get someone killed" has amassed nearly 600 members, and some residents have advocated for resources to be placed into DCTA's bus system instead.
While there's no shortage of demand for GoZone, the response suggests it has an ongoing public perception problem. However, outside of wrecks, it's been difficult for DCTA to measure the driving quality, partly because it uses New York-based contractor Via Transportation for the service. At least one DCTA board member has stated they don't think the current training process is enough.
As of a few months ago, Via was handling rider complaints on a case-by-case basis, and the contract for the service is already in place. City Council member Alison Maguire — Denton's representative on the DCTA board — said in May she'd like to see the company place more emphasis on evaluating the drivers, but added DCTA doesn't have absolute agency over that process.
"I don't know DCTA can necessarily force Via to take additional steps to provide improved training," Maguire said then. "That being said, the folks at Via have been very receptive to our inputs. … I think they have a lot of motivation to take this input — whether it's coming from the board or the community — to take it seriously, even though they're not contractually required to."