Milestones in recovery: Denton County Drug Court graduation highlights efforts to reduce addiction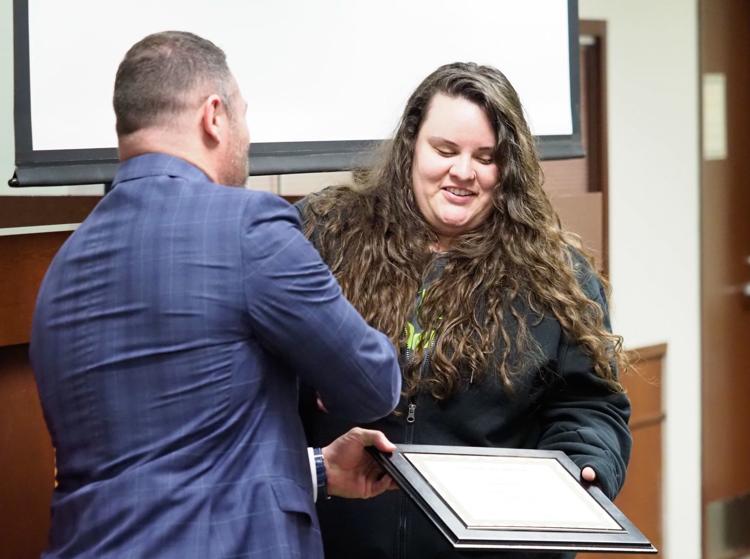 The end of a chapter and turning of a page were marked for graduating members of the Denton County Drug Court during a ceremony Thursday evening at the Denton County Courthouse. The county's drug court aims to assist high-risk felony offenders rehabilitate and reintegrate into their families and communities.
Graduating members included: David Bibb, 42; J. Tyler Gonsior, 25; Michael Richie, 36; and Lauren Story, 30.
The drug court, which operates out of Judge Brody Shanklin's 211th Judicial District Court, has held a total of four graduations since 2016, according to Kevin Edwards, a probation officer for the drug court. Shanklin presides over the drug court and is assisted by Judge Steve Burgess, who oversees the 158th Judicial District Court.
Shanklin, who has served over the drug court since October 2016, began Thursday's ceremony with a slideshow that displayed graduating members' mugshots and photos of their progression. He says that graduating members of the drug court have broken the cycle of addiction because of their efforts and commitment to their sobriety.
"The most important aspect is that we take in somebody that is in an active addiction," he said. "By the time someone graduates drug court, they are no longer in an active addiction because they have broken that cycle."
Edwards, a licensed chemical dependency counselor, said the 18-month long treatment program offers participants of the court a shot at life and opportunities that would not be available had their drug use continued.
"They've really gone through a tremendous amount of work to get where they're at for graduation," Edwards said. "Tons of personal accomplishments have been achieved along the way and milestones of sobriety that they were never able to string together before, so, it's a tremendous for them to achieve this and move on."
In order to become eligible to graduate, drug court participants are required to complete four phases of the program, which includes finding employment and stable housing, while continuing to maintain their sobriety. In addition, participants are required to complete educational courses and submit to routine drug screenings, he said.
But, for some of those that graduated, Thursday's ceremony was a milestone than had never been guaranteed.
Nearly two years ago, Story, a resident of Denton, had been sitting inside of a North Texas motel room after she and two other women were kicked out of a drug rehabilitation center in June 2018. Story, a recovering methamphetamine and K2 (synthetic marijuana) addict, said back then she had nowhere to go and that nobody would trust her after being released from jail on possession charges four months prior. But, as she sat in the motel room, and a woman began relapsing on heroin, she said, is when her mindset about her life and her own sobriety had begun to change.
"I said, 'I have too much riding on me, I can't keep doing this,'" she said. "I can't be in these sketchy situations and that's when I realized, 'Oh, my god, I have all this support and I have people I can call ... I have to do this.'"
Story, who worked as a certified pharmacy technician back at the time of her initial arrest in 2014, had bounced between treatment centers in Texas and Minnesota, including stints in jail prior to Thursday's graduation. Her relationship with her mother, her self-described biggest fan, had suffered because of her drug use, Story said, which led to her mother taking custody of her 7-year-old son. Back then, things were often difficult, she said.
"[My mother] would be obsessing as she looked at the Minneapolis or the St. Paul news, and all the way down to Texas, waiting for them to find me on the side of the highway dead," she said. "So, she has held a lot of anger and fear and resentment towards me for a long time, but she also went to Al-Anon, too, and had dealt with that."
Al-Anon is a mutual fellowship group for relatives or friends of alcoholics who share their experience, strength and hope in order to help solve their common problems. Story says that she and her adopted mother, whose sobriety from alcohol had recently entered its 20th year, have begun to mend their relationship in recent months.
Story, who admitted that issues from her childhood and her mother's drinking still existed in their relationship, said that being afforded an opportunity to reestablish a true sense of trust and connection has been invaluable.
For Gonsior, a Hickory Creek resident and an original member of the drug court whose Denton County track record dates back to 2012, Thursday's graduation had provided reflection of his past three years in the program.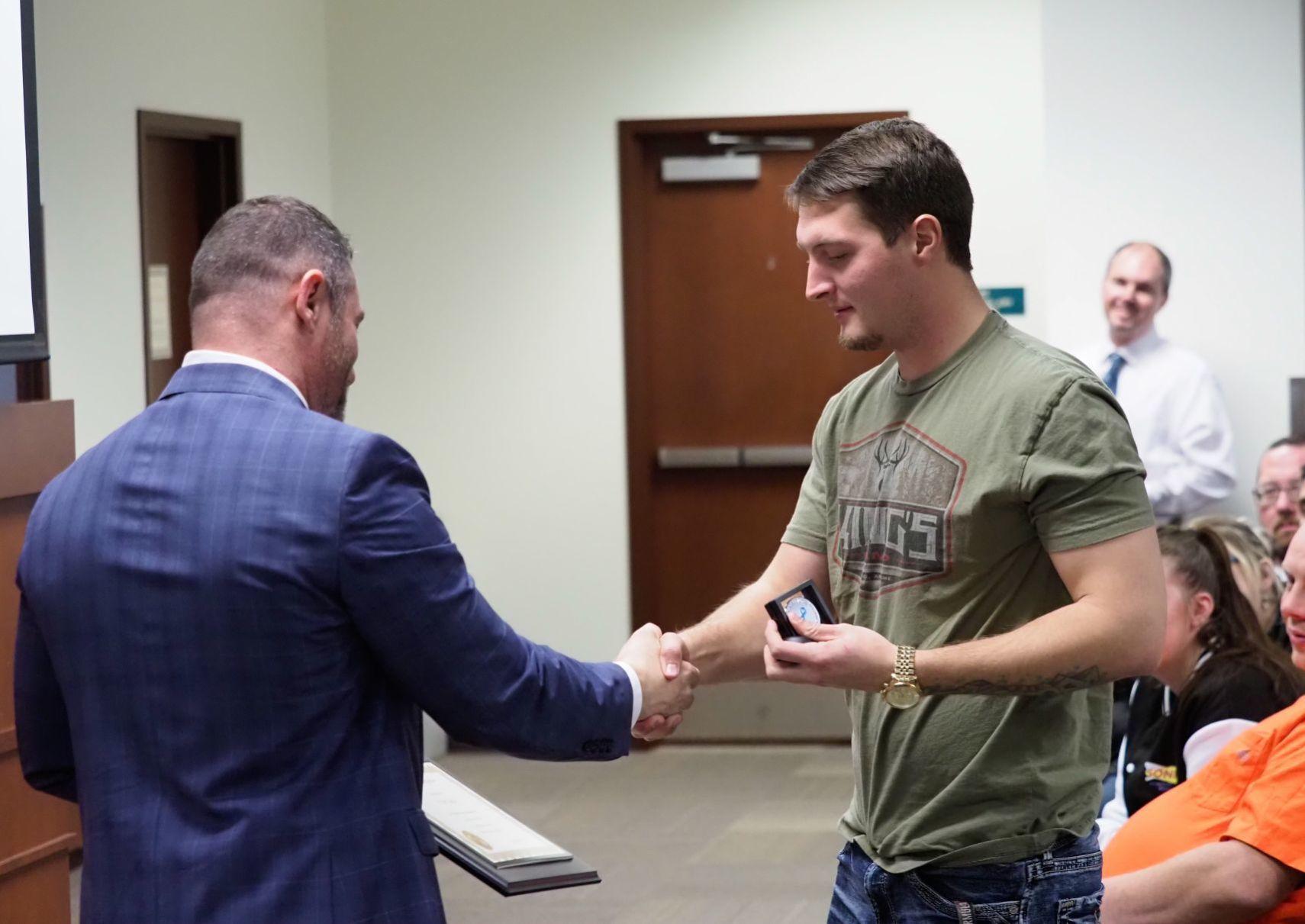 "The growth is almost overwhelming," Gonsior said. "I never would have thought that I would have been here [or] that I would have made it to this point whether it be alive or not in the correctional system."
Gonsior says his drug use began in high school and that it became more progressive after his brother's death in 2012, when he then began using drugs to numb himself of the pain he felt. Back then, at age 18 when his brother died, his main go-to drugs were marijuana, methamphetamine and heroin.
"After my brother passed away, I was just trying to take the pain away," he said.
While a member of the drug court, he would always try to find loopholes in order to see what he could get away with, he said, which led him to more problems than solutions. He had been kicked out of two treatment centers in two years, had relapsed and was facing a stint in jail before arriving at his final rehabilitation center in Lubbock.
But as he faced nearly a year of rehabilitation ahead of him is when his perspective had changed.
"I was looking at doing seven to 10 months in this treatment center in Lubbock, and was away from my family and my life," he said. "I really needed to put this into perspective [and] where I wanted to go at this point in my life, because I can certainly keep doing [this] or I can say, 'This needs to be this last thing. Let's take a stand.'"
He says that being away from his family and the desire to start his life had heavily weighed on his mind while he was in treatment and the reality of his situation had set in. But after having sat in jail and having been sent to various treatment centers is when the moment of truth dawned and his commitment to sobriety occurred.
"This isn't the way to live, this isn't worth it and drugs aren't worth it," Gonsior said as he reflected on his time in the program and his personal growth since 2012. "This last treatment center is what brought me to my life."
While both Gonsior and Story graduated and received their plaques during Thursday's ceremony, both will still have their respective probation terms to complete, while continuing to maintain their sobriety. According to Edwards, the drug court is designed as such to ensure a sense of resource and accountability beyond the program.
In addition, he says that the vast majority of drug court graduates will still have several years of probation.
Story, whose probation ends in January, admitted that she is terrified about life after the drug court, but that she is confident in herself because of the friends and resources gained from the program. But as she's worked to rebuild her relationships and trust with her family, she said her biggest lesson was learning how to ask for help.
"That's my big thing — asking for help," Story said. "It was a pride thing for me. I am a very prideful person, and it's really irritating because it gets in the way a lot of times, but I have finally been able to through the drug court and through [treatment] to just sit down and humble myself."
For Gonsior, whose probation ends in 2021, his plan after Thursday's ceremony is to continue working on his sobriety and staying connected to his friends and resources, while being there for others. After nearly three years, he noted that the drug court's willingness to work with him had been an instrumental factor to his recovery.
"[The drug court] went miles for me," Gonsior said. "Apparently, they saw something in me that I didn't see in myself, and they were willing to work with me and not just throw me to the curb. I put myself in that situation, but in the grand scheme of things, I needed this program to help me get to where I am today."