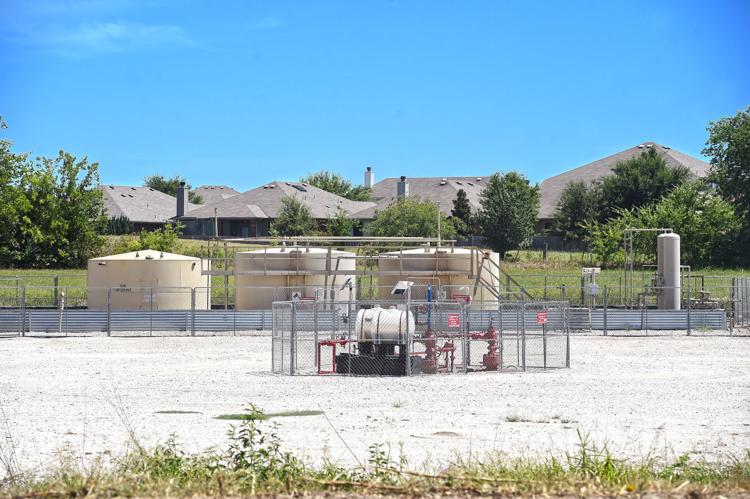 Enough members of the City Council showed an interest this week in the minimum required distance between new homes and old gas wells that Denton could eventually up the ante and be more protective of human health.
Council members Deb Armintor, Keely Briggs, Jesse Davis and Paul Meltzer agreed Tuesday to continue talks on those "reverse setbacks" because of the city's fast growth, particularly on the west side where some old Barnett Shale gas wells are still producing.
Recently, developers proposed building an apartment complex where old gas well equipment caught fire following a lightning strike several years ago. Some of those apartments could be built 250 feet from the well and the equipment. That minimum distance triggered this week's review of reverse setbacks, Briggs said.
"I don't feel that's enough," Briggs said. "That's what we're here for."
But, as Davis pointed out, other Denton newcomers could benefit from longer reverse setbacks if the city gets closer to 1,000 feet, which is the minimum distance that a new well can come up to existing homes.
For example, developers are proposing 15,000 new homes on Cole and Hunter Ranches, where two cattle ranches along Interstate 35W have many old gas wells as well as miles of high-pressure pipelines underground.
"I think we can accept that the farther you get, the better for human health," Davis said.
A growing body of research has linked respiratory problems, birth defects, blood disorders, cancer and nervous system impacts to proximity to oil and gas production facilities.
The city staff gave a multidisciplinary presentation during a work session Tuesday afternoon to get council members up to speed on the topic, which city leaders have not really discussed in depth since 2015. City planning staff offered maps showing how vacant land would be affected depending on the council's decision.
Kenneth Banks, the city's general manager of utilities, explained how old gas wells are being tracked and inspected, as well as what kinds of data the city had and didn't have related to potential health effects from them. And municipal attorneys Aaron Leal and Trey Lansford walked council members through Denton's unusual legal minefield in making possible changes.
In addition to similar kinds of legal risks Denton faced in 2014-15 with the citizen's ban on fracking, the city could face other legal risks by increasing the reverse setback.
Voters overwhelmingly approved a ban on fracking in the city limits in November 2014. Both the state of Texas and the Texas Oil and Gas Association sued. Before the cases went very far, the Texas Legislature adopted House Bill 40 and nullified Denton's ban. The law also greatly limited what cities could do to regulate the oil and gas industry locally.
Leal cautioned council members that those legal risks remain today: Changes to the ordinance could trigger a lawsuit or another round of legislation that further limits local control.
In addition, changing the reverse setbacks could trigger a "takings" lawsuit. If a landowner can prove that the city's new rule made their property worthless, they could win an inverse condemnation claim and receive payment for the financial damage.
Denton has one other legal risk, and one the city attorney's office already learned the hard way, Leal said.
Unlike perhaps any other city in Texas, gas wells in Denton are platted, Leal said. A plat is a legal description for a piece of land that also entitles the land owner to certain legal rights. Six years ago, Denton sued Eagle Ridge Energy for violating its gas well ordinance and lost. The company successfully claimed that its development rights were guaranteed by its plat, state law and a key Texas Supreme Court decision.
In other words, its rights to develop gas wells under old rules were "vested," something that many other mineral owners could claim, Leal said.
At a 500-foot reverse setback, the legal risk of the city facing a lawsuit over vested rights concerned Davis more than a takings lawsuit, he said.
"We want to know more where the pressure points for vested rights are," Davis said.
While Mayor Chris Watts had proposed increasing the reverse setback to 500 feet, he also made the proposal to decrease the regular setback to 500 feet at the same time. He said he believed there would be a legal risk in differentiating between the two for health and safety reasons, adding that a lawsuit over reverse setbacks would be likely to come from a property owner, not oil and gas interests.
But no other council members agreed. Both Briggs and Davis said there were other criteria, including economic interests and property rights, that factor into the 1,000-foot setback for new wells.
Still, Watts encouraged the staff to continue monitoring when operators plug wells and abandon their mineral interests, so that Denton's many gas well plats can be vacated.
"It's a minor opportunity, but with the passage of time it could make a difference," Watts said.
Briggs added that land for building is far more valuable than gas wells right now.
Natural gas prices peaked at $19 per British thermal unit in September 2005. It's been nearly a decade since natural gas traded at price levels ($6 per Btu) that made drilling in the Barnett profitable. Currently, gas is trading at about $2.50 per Btu, and trading on the natural gas futures market doesn't hint at an appreciable increase. Most operators have moved back to the Permian Basin, where drilling yields oil as well as gas. In some places, natural gas is so abundant that operators burn off the gas instead of piping it to customers.
It was not clear when the discussion would come back before council members for further deliberations.