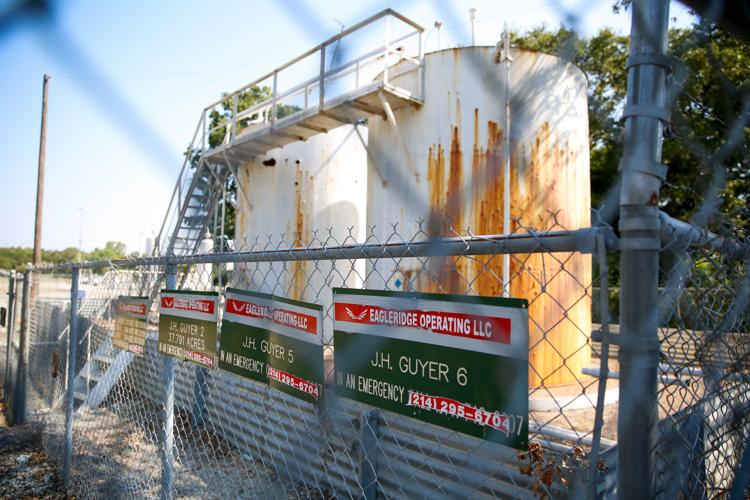 Following a unanimous vote of the Denton school board, three of the six gas wells on Guyer High School's campus will be capped.
Existing pipes on the south side of the campus will be relocated elsewhere on the property where they won't be below district facilities.
The district has faced criticism in the past for the proximity of the wells to high school practice fields. While a gas well operates close to the location of the new Denton High School campus along North Bonnie Brae Street, Superintendent Jamie Wilson said the site is not owned or operated by the school district.
He has previously said the well near the new Denton High is much farther from campus construction than required by city regulation.
Board members made the decision to abandon the wells in front of an empty room after nearly two hours in closed session on Sept. 10.
The change comes to accommodate a portion of DISD's 2018 bond package, which calls for an additional two tennis courts, a softball field, additional parking and more. In total, $59.9 million of the $750.5 million bond is slotted toward improvements to the Guyer attendance zone — all schools that feed into the namesake high school.
Wilson said the district looked at several options to accommodate the expansion, including the purchase of additional properties toward the southern end of the high school campus. Besides, the wells weren't producing much gas — read: money — for the district or their operators, EagleRidge Energy.
"They're not producing much at all, so, frankly, it was more financially responsible to abandon those that were there and use that surface," instead of purchasing more land, Wilson said.
Wilson said that Guyer High was originally built with 2,000 students in mind. At this point, closer to 2,600 students attend the district's southernmost high school, which has a functional capacity of roughly 2,800.
While expansions have been made for increased classroom and fine arts space, Wilson said not as much had been done for the athletics programs that will be helped through the planned construction.
All three wells on the northern portion of campus will remain active for the time being.