Tailgater of the Week: Fraternity B.Y.X. supports the Mean Green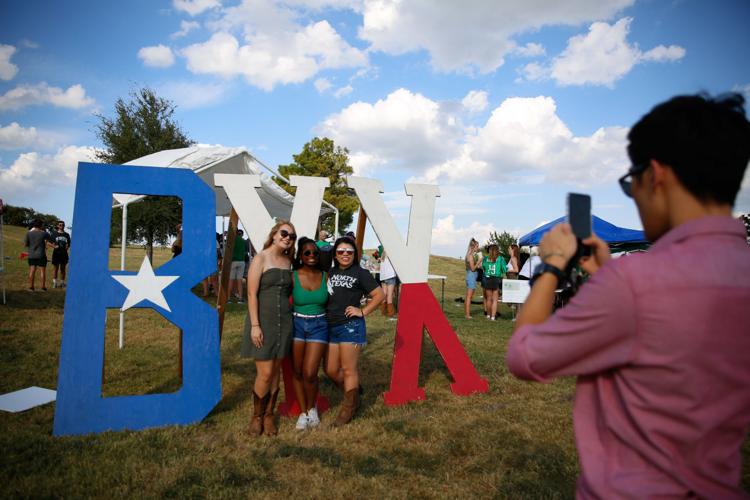 The University of North Texas football team soared to a 45-3 victory over the University of Texas at San Antonio during their rivalry matchup Saturday evening at Apogee Stadium. While the heat and humidity staved off most of the general public tailgaters prior to Saturday's game, fraternities, sororities and student supporters alike arrived in droves to support the Mean Green.
Perched along the student tailgate section at Apogee Stadium, Greek letters denoting which social groups were in attendance on Saturday could be seen standing beside each other along student row. Toward the end of the section, Beta Upsilon Chi, a UNT Christian-based fraternity, is recognized by their letters which readout "B.Y.X.," as members mingled about behind.
B.Y.X. member Caleb Reagor, a senior chemistry and pre-med student at UNT, has tailgated home games at UNT since the second semester of his freshman year. Today, Reagor is tasked with preparing a traditional grilled tailgate medley of hamburgers and hot dogs. Sometimes there will be fajitas, Reagor said between burger flips, but that it usually requires "a little more work."
Since Reagor started tailgating, the experience has been better when the team is doing well, he said. In addition, that the team's success translates into added benefits like an enhanced campus culture and greater school spirit.
"It's definitely more popular [to tailgate] when the team is doing well, because more people want to go to the games," Reagor said. "It definitely contributes to the atmosphere and culture of the school, promoting camaraderie and people actually wanting to be a part of having more spirit."
B.Y.X., whose UNT membership has grown in recent years, were previously not a part of the Interfraternity Council at first, Reagor said, which resulted in smaller tailgate outings ahead of UNT home games. But after his first semester with the fraternity B.Y.X. joined the IFC, which Reagor says allowed them greater opportunity to interact with social groups on campus.
"We've had a lot more interactions with sororities, other fraternities and groups like that," Reagor said. "Which is great, because it's allowed us to improve our presence on campus and to try to spread the gospel."
21-year-old senior Alexis Brown, an applied behavior analysis major and member of the Sigma Phi Lambda Christian Sorority, transferred to UNT from Louisiana State University nearly two years ago. Brown says she has attended and tailgated almost every home game at UNT since.
For Brown, the starkest contrast between her experiences at LSU and UNT as a student-tailgater is the essence of community, which Brown said she discovered when arriving at Apogee.
"LSU? Yeah, they're a big family… but it's more like party city and you see a lot of drunk people around," Brown said. "Here? Your family is O.K. to come out to tailgate and it not be a toxic place where you wouldn't want your child to be. Everyone is really nice and welcoming."
UNT sophomore Brylan Beard, who studies kinesiology, has been attending tailgating events as a member of the B.Y.X. fraternity since joining last year. Beard, 19, acknowledged that, in light of a growing student population and the football team's success in recent years, there is a greater expectation for the Eagles to perform. Since UNT's 1-11 record season in 2015, their program has amassed a record of 25 wins and 19 loses under head football coach Seth Littrell.
Beard said that what keeps him coming out and attending tailgating events is the opportunity to interact and socialize with his friends and fraternity brothers. "That's why I come," Beard said.
The UNT football team will play their next home game against University of Houston at Apogee Stadium on Saturday, Sept. 28, at 7 p.m.