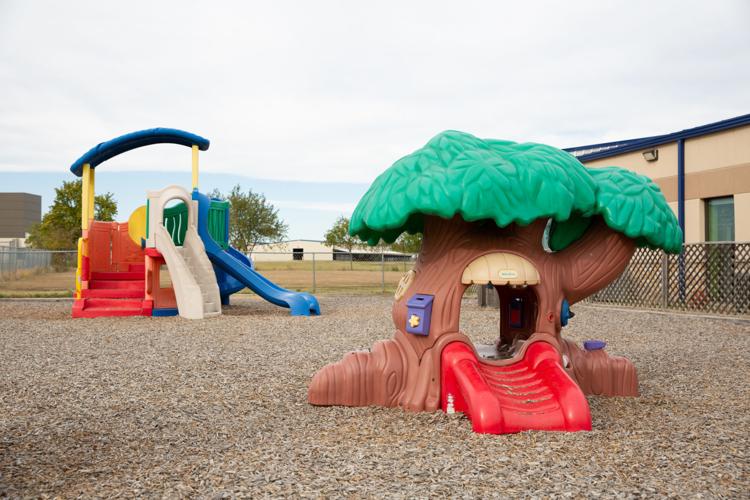 Krum First United Methodist Church leaders voted Monday and announced Tuesday that a connected day care, Children's Day Out, would soon close.
That means 16 employees and the parents of 72 kids will soon, if they aren't already, start hunting for other livelihoods or child care arrangements before the lights go out on Oct. 31.
The child care facility operates out of the church and rents its space at a subsidized rate, but it is under a separate incorporation. Regardless, a church board maintains significant control.
This isn't the first time many of those involved have been in this situation. Church board members voted in early July to close the facility before the 2019-20 school year began. That announcement came three days after the high-profile injury of a child at the hands of another student on the church playground.
The Rev. Sonya Shahan, who gave her first sermon at the church one day before the July 8 announcement was sent, said the initial decision to close the facility was largely a financial one.
Since mid-July, no safety deficiencies have been recorded by the Texas Department of Health and Human Services. Regardless, the facility has significantly more deficiencies than the state average.
Shahan said the recent decision to close was a pragmatic one. She compared church operation and day care oversight to two spinning plates being kept in the air, "and both spinning plates are not doing great financially."
Part of the problem, Shahan said, is simply declining church membership. When Children's Day Out first opened as a full-time operator roughly 10 years ago, church membership was closer to 140 on Sunday mornings, so members were better able to subsidize the day care when need be.
These days, she said that approximately 55 members will show up for the average Sunday service.
Emily Roan, mother of a 2-year-old and 6-year-old enrolled at the day care, saw things differently. She saw a 15% increase in tuition beginning on Sept. 1. She saw a successful bake sale this past weekend that raised approximately $1,300 dollars for the program. She saw a handful of hefty private donations come their way.
Now she doesn't know what she sees coming next. As of Tuesday evening, she didn't know where her kids were headed next.
She recalled a meeting with church leaders a few months ago where parents were promised the facility would last until at least a Nov. 1 assessment. She also remembered the promise of at least four weeks' notice if closure were headed their way.
Speaking Tuesday evening, Roan felt that church leaders had jumped the gun.
Shahan agreed that board members had originally hoped to review the facility in November, staving off closure until late December at the earliest; however, she said those projections were never guarantees. The financial reality forced their hand earlier than they would have liked.
"They've struggled every pay period to pay payroll, and that's basic," Shahan said.
Additionally, the church has helped cover insurance, upkeep and utility costs while day care administrators have been chipping away at the tens of thousands of dollars worth of back taxes left by a previous director.
Mira Boyer, assistant director of Children's Day Out, said the day care owed roughly $32,000 in back taxes when she took over her current role. That number has since grown by approximately $3,000.
Boyer, who claimed Shahan told her not to discuss the impending closure, said the facility is barely getting by, but that "we've always been barely getting by."
She started working at Children's Day Out as a teacher in 2015.
For her part, Shahan has found life after the closure announcement difficult. Not only has she seemingly faced criticism on every front, but she had also grown attached to the program through the weekly religious lessons she had been giving to students.
Shahan said she understands the disappointment, sadness and loss coming her way. She was once in a similar situation when her daughter was in pre-kindergarten.
Even with the day care's closure, she was hesitant Tuesday to say the church would survive all the financial upheaval. For now, she's running on hope.
"We will be a people of faith that God has great plans for us in the community of Krum," she said.