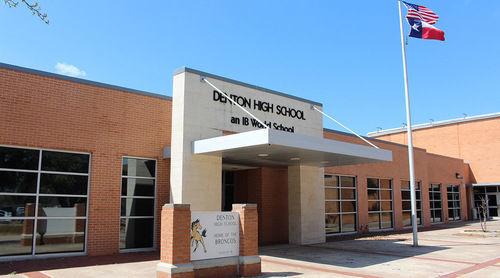 More construction is on the horizon in Denton ISD after voters overwhelmingly approved the district's $750 million bond proposal over the weekend.
With more than 10,600 ballots cast, nearly 75 percent of voters supported the measure. The district's turnout for the bond proposition, roughly 9.3 percent, surpassed Denton County's overall turnout of 7.2 percent for Saturday's city and school elections.
Now that the project is officially a go, the school board met with the Denton City Council on Monday to map out what the next few years will look like. They also announced the location of the new Denton High School campus along North Bonnie Brae Street.
What is the bond paying for?
A quick recap: The bond package is split into four sections — growth, aging facilities, career and technical education, and infrastructure and safety.
The largest portion of the bond money — $483 million — will go toward replacing and renovating older campuses within Denton proper. Denton High School, along with Newton Rayzor and Wilson Elementary schools, will get new buildings, while Strickland Middle School will undergo renovations.
When it comes to growth, the district is expected to spend $215 million on a 25th elementary school and ninth middle school, likely somewhere out along the U.S. Highway 380 Corridor. That money will also fund more transportation facilities and additions to fine arts and athletic buildings.
The district earmarked another $30 million to bring in more programs to the LaGrone Advanced Technology Complex, renovate career and technology classroom spaces in the high schools and pay for a new agricultural complex.
The last $20 million will go toward replacement security cameras at every campus, replacement fiber optic lines for the district's technology system and added security features at the Windle preschool campus and the Davis alternative campus.
For more details about specific campuses, go to www. dentonisdbond.org.
What's coming first?
Denton Superintendent Jamie Wilson said the district will start selling bonds in the fall. Currently, Denton ISD has a AA bond rating, but owes $1.4 billion in bond debt.
One of the first projects will be the school safety piece of the package, officials said. After that, the district will start construction on "big ticket items" like the new schools and replacement campuses to skirt any inflation costs.
Officials said the pace of the projects would depend on property value growth. Board members have repeatedly promised that the district's current tax rate of $1.54 per $100 valuation would stay put throughout the course of the bond. If the desired values aren't there, they said, they won't sell the bonds.
"We want growth to pay for growth," board President Mia Price said.
What about Denton High School?
One of the driving factors to move Denton High School from its current location at 1007 Fulton St. was a lack of space to expand on the campus' 35 acres. District spokesman Mario Zavala announced Monday that the district had spent $10.5 million for roughly 150 acres in northwest Denton for the replacement campus.
The new Denton High will sit across from North Lakes Park on the west side of North Bonnie Brae Street. It will be sandwiched between West Windsor Drive and U.S. Highway 77. Zavala said the district doesn't yet have a target opening date, but said families should not anticipate a change in attendance zones because of the construction.
City Council member Keely Briggs noted future plans to widen Bonnie Brae and advocated working with the school district to make sure students who walk to school could travel safely. Council member Sara Bagheri proposed the idea of applying for federal funding to ensure a safe path to school.
What about Calhoun Middle School?
When students move into the new Denton High School, the students and staff of Calhoun Middle School will take over the Fulton Street campus after it's renovated. But several community members have wondered what will happen to the current Calhoun campus at 709 W. Congress St., which is a designated historical site.
Wilson said the district will continue operating Calhoun as a school, but plans on exactly what will be housed there haven't been finalized. Zavala added the district's next bond committee would likely make that decision.
Wilson hinted to City Council members that the campus could become some sort of fine arts or science academy. He said staff members have been in talks with the University of North Texas and Texas Woman's University to introduce dance, music or science programs that could be placed at Calhoun.