A 13-year-old makes a hit list with the names of his classmates. A 17-year-old posts threats on social media. Two high schoolers bring a loaded gun to school. Middle schoolers talk about weapons on the bus.
Each of these events occurred at a Denton County campus within the past year, but which ones warrant criminal prosecution? And when should schools notify parents?
Local districts and law enforcement agencies are grappling with these questions more and more as fear looms over campuses in the wake of high-profile school shootings. National experts say the number of threats reported in schools increased during the 2017-18 school year and more Denton County students who make those threats are facing criminal charges.
Meanwhile, students are reporting more threats online, and some parents worry that districts aren't communicating enough when threats occur. But school officials say there's a fine line between informing the public and violating student privacy rights.
"It's a tough situation to be in and tougher now than it ever has been," said Stephen Waddell, a retired school superintendent and a professor with the University of North Texas College of Education.
Threats by the numbers
Following school shootings in Parkland, Florida, and Santa Fe, Texas, earlier this year, school safety researchers have seen a dramatic increase in threats, or an intent to harm someone.
The Educator's School Safety Network, an Ohio-based nonprofit, said in a recent report that the number of reported threats in American schools went up by 62 percent in the 2017-18 school year from the previous year. When researchers looked at the last year by itself, the number of threats shot up by 159 percent from fall 2017 to spring 2018.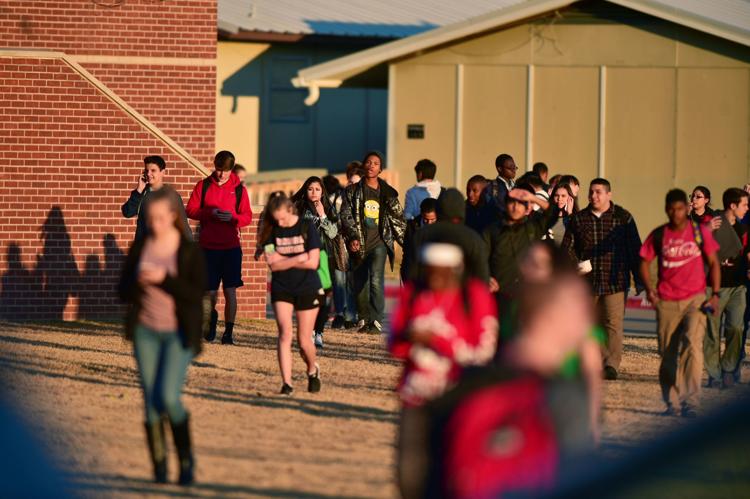 Several threats made by Denton County students made local news in that same time frame.
Three days after the Parkland shooting on Valentine's Day, Crownover Middle School went on lockdown after a bus driver overheard a male student talking about a gun on the way to school. Police searched the backpacks of several students but found no weapon.
On Feb. 21, a 17-year-old Krum student was arrested and charged with making a false report after police investigated "alarming" posts she made on Snapchat, a social media app. A week later, officers arrested two Northwest High School students when one of them brought a gun to school to reportedly sell it, police said.
Area schools don't have readily available data that tracks how many threats they investigate, but numbers from the Denton County District Attorney's Office suggest law enforcement is taking these incidents seriously as more students face criminal charges.
Fourteen juveniles were charged in 2018 for threatening to bring a gun to school, up from zero charges for the previous three years. Eight were charged with actually bringing guns to school in 2018. That charge had only been brought against three juveniles between 2015 and 2017.
The number of juveniles charged with school-related terroristic threats is trending upward from five in 2015 to 12 in 2018. One juvenile was also charged with making a bomb threat in 2018, while none were charged from 2015 to 2017.
Denton County district attorney juvenile charges
| Charge | 2015 | 2016 | 2017 | 2018 |
| --- | --- | --- | --- | --- |
| Threatening to exhibit a firearm at school | 0 | 0 | 0 | 14 |
| Exhibiting firearms at school | 1 | 1 | 1 | 8 |
| Terroristic threats (school-related) | 5 | 4 | 11 | 12 |
| Bomb hoax in a weapon-free zone | 0 | 0 | 0 | 1 |
Waddell, a former superintendent at Lewisville ISD, said he handled several threats during his decades in school administration and believes the level of violence has gone up.
"Districts are erring on the side of caution," he said. "They always have, but more so today. No one wants to underestimate a problem, then find out if they're wrong."
Threats by the process
Even with the spike in numbers, officials say they investigate every threat that comes to them.
Though the exact protocol varies between individual districts, campuses often form teams made up of principals, counselors and school resource officers to assess threats made by students. Threats are often classified at different levels. The more specific the threat, the higher the level.
But Denton ISD Area Superintendent Jeff Russell stressed that each incident is unique and administrators have to examine a student's background or past behaviors.
"It truly is a lot more individualized than most people would think," Russell said. "I think there's a lot more asking of 'why' when it comes to behavior than there ever has been."
The rise of the internet has also added to the challenge of assessing threats as more reports are made from what people have seen on Twitter, Snapchat or Instagram. According to the Educator's School Safety Network report, nearly 40 percent of all school threats are made on social media.
"There's a magnifying glass on everything now through social media," Russell said.
Misinformation also can spread quickly online and stoke fear in parents.
A few Krum ISD parents voiced concern in September when they found out about a threat at the middle school via Facebook instead of getting a notification from the district. A 13-year-old boy had listed the names of several students who were reportedly bullying him and said he planned to shoot them. He was sent to an alternative campus.
Krum ISD Superintendent Cody Carroll said administrators determined the threat was not credible and the campus was not in danger, so administrators notified only the parents of students who were targeted. He added that he couldn't answer specific questions about the incident to protect the student's privacy, a typical response from school districts.
"Sometimes things are said about a situation or a student that are said in the public domain that simply take on a life of their own," said Julie Zwahr, Denton ISD's communications director. "We're also about trying to contain that because we do have to maintain the dignity of a student and that of their family."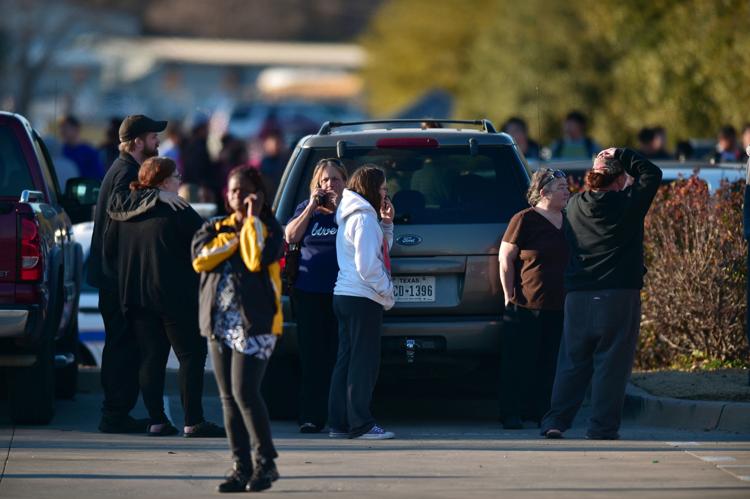 Still, a Krum parent urged the district to send out a basic notification when threats occur to reassure parents they're on top of the situation.
"This can deter from mass hysteria and keep us in the realm of reality, getting our information directly from the source," Stephanie Powell said during a November public meeting.
Threats through the years
In 1984, Russell was attending Richland High School near Fort Worth when a former student walked in on Homecoming Day with two semiautomatic rifles and a pistol. The man fired 30 rounds in the school's foyer and injured one student.
The principal walked up to the shooter and told him to hand over the guns, Russell said. The man obliged and was then arrested. School continued for the rest of the day with a pep rally in the afternoon to prep for that night's football game.
Then Columbine happened. The 1999 shooting at a Colorado high school that left 13 dead shocked the nation. For the first time, America saw a mass shooting unfold on live television.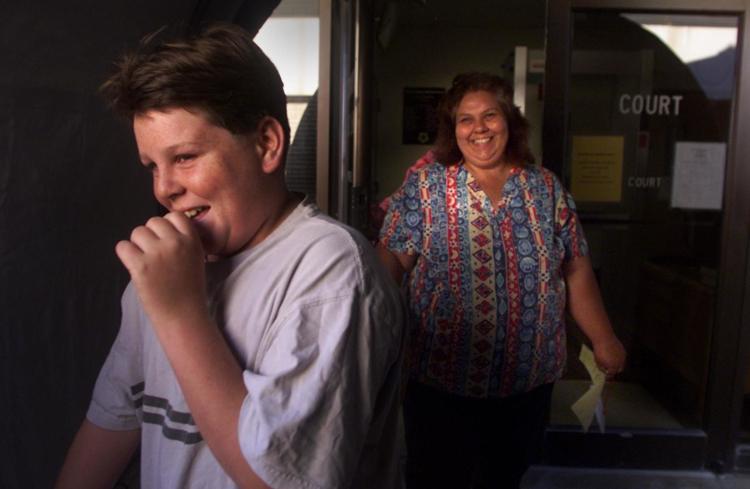 Eight months after Columbine, a 13-year-old Ponder boy named Christopher Beamon spent five days in juvenile detention when he wrote a paper detailing how he and a friend killed characters with the same names as two of his classmates. He wrote it for an English assignment that tasked students to craft a fictional horror story.
The incident made national news and the district attorney's office dropped the charges.
"Things have changed dramatically," Russell said, "not just because of social media but in how our society responds to these things."
That response might not have caused so much controversy today as vigilance on campus continues to grow. But sometimes, introverted kids can become pariahs.
Earlier this month in Ohio, a teenage boy wrote a message on a white board with a symbol some students misinterpreted as threatening. The local sheriff's office got involved, but the boy said the symbol was a logo for a Super Smash Bros. video game that was coming out soon.
A boy on the autism spectrum in Oregon was deemed a potential threat by his Portland school district because he wore a trench coat and had a fascination with knives. According to a police report, a librarian overheard another student say the boy was nicknamed "the Shooter."
When an Oregonian reporter asked the student about the conversation, he said he didn't remember it and no one with the school district had asked him about it. By then, though, the boy in question had already started night school because he felt unfairly targeted by the district.
Locally, a Krum parent worried about the mental health of the 13-year-old who made the hit list.
"I'm concerned if anyone is advocating for that child," said Courtney Ford in a November board meeting public forum. "Punishment is not treatment. That's a Band-Aid. … Please separate the Band-Aid from truly helping a child in crisis"
Russell echoed her concerns.
"One of the big pieces from the people who make these threats is that there's a lack of connection," he said. "Even if you remove that person from school, how are you going to get them back into the fold? It's not just about behavior at the school. We're raising community members. It's about the rest of their lives."