This late Wednesday night in Denton, Jenny McGee opens the large, creaking metal doors to this repurposed office building, after working her day job as a real estate agent. What was once an office building is now used as a warehouse for her growing food pantry.
McGee flips the switch to the fluorescent lights and sets up a table with a computer and laminated labels. The first thing on her to-do list is to number each individual food item that lines the shelves, twice. Each shelf, categorized by a different type of food — soups, fruits, cereals, Goldfish snacks, ramen — will be packaged and delivered to the schools of food-insecure students in Denton. With the help of volunteers, Lovepacs is able to accomplish this task, despite the increased demand placed on its efforts due to the pandemic.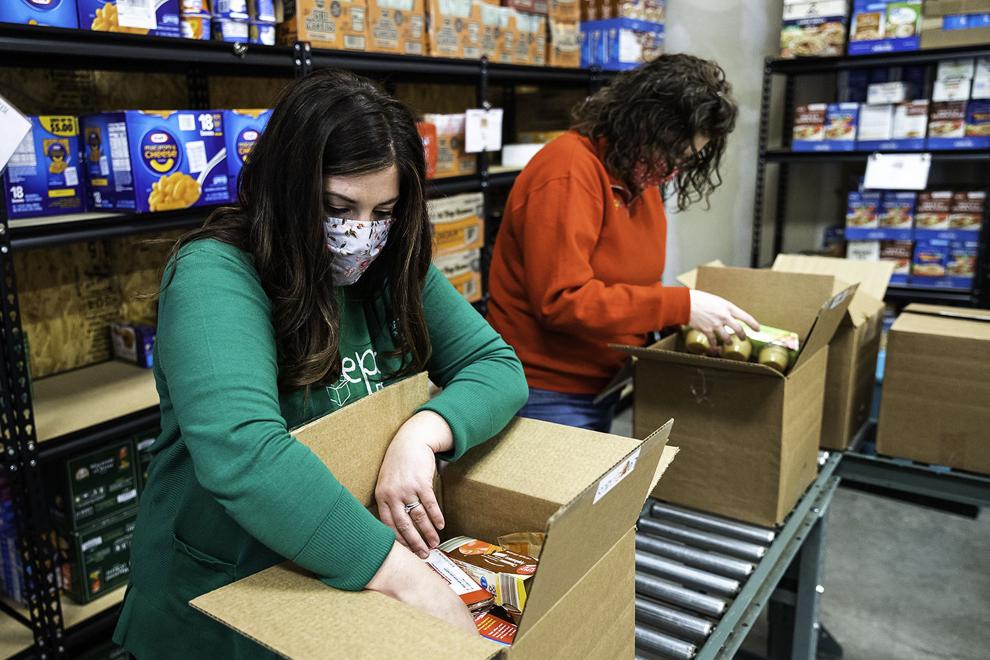 It's all part of the work of Lovepacs Denton, a faith-based nonprofit that seeks to engage the community by making sure no child in Denton goes hungry. McGee, along with Nicol Fuller and Becca Burris, is a co-founder of the group, which has been operating since July 2018, but 13 other Lovepacs in North Texas perform the same "act of love," according to its website, with more than 250 volunteers.
"Originally, I had been a volunteer for Lovepacs Little Elm," McGee says. "In Little Elm, we reached out to around the 380 Corridor schools and saw a need for Denton ISD to have a Lovepacs location, and now we've been here for almost two years."
According to a 2018 report done by Feeding America, the nation's largest hunger-relief organization, there were 32,610 children in Denton County who were food insecure, with child food insecurity rates averaging at 15.9%. These numbers are likely to have grown worse due to the pandemic, with 1 in 5 children in North Texas experiencing food insecurity, according to Lovepacs' website.
The three Lovepacs leaders have worked tirelessly in Denton to gather as many volunteers, food donations and funds as possible to keep their efforts strong, helping kids who attend Denton schools get the food they need.
Now at McGee's side is volunteer Ali Odom, who helps count and package thousands of items of food. A late-night inventory shift with just one other person is the new norm for Lovepacs Denton. Because of the pandemic, their work has been hindered by the risk presented by large groups.
Once every item is checked and placed into the Excel spreadsheet, McGee and Odom will start working on filling boxes with freshly donated items for the most-at-risk schools in Denton ISD — Houston Elementary School, Strickland Middle School and Ryan High School — for a more immediate impact that will help students and their families.
"Nobody needs to go hungry when we have the resources and when there's a sustainable way to make sure those who need the most help get it," McGee says.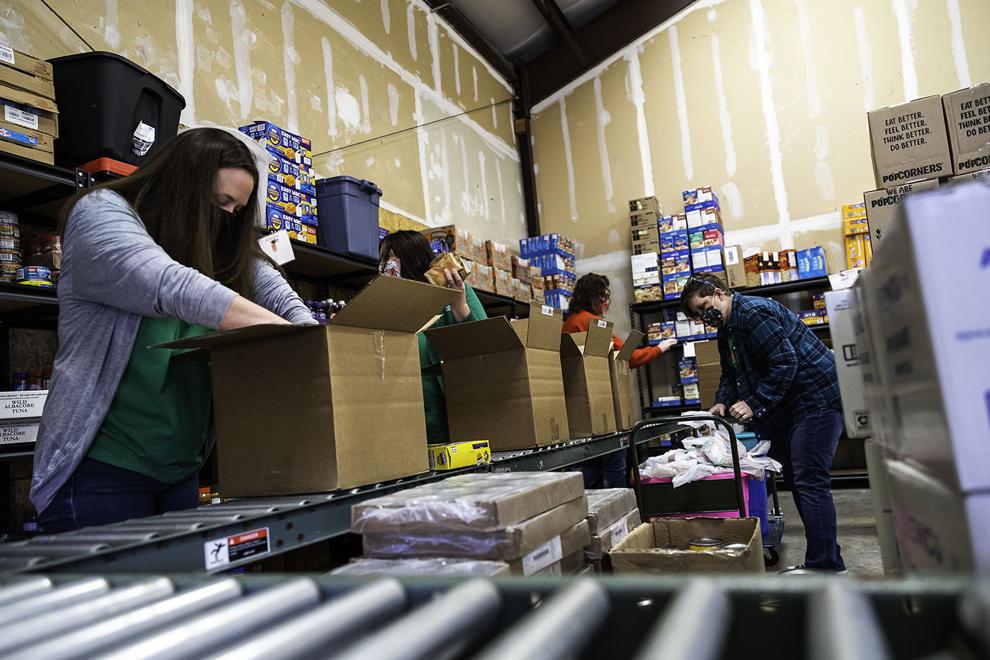 Getting involved
McGee, Fuller and Burris met through their children's preschool and later attended a "Women in Business" dinner benefiting the Little Elm branch of Lovepacs, says Fuller. "I expressed that I wanted to get involved," she says. "Jenny was good friends with one of their leaders, and the three of us formed Lovepacs Denton."
They shared a pantry space with the Little Elm branch until they outgrew that space and moved into their own Denton warehouse in September.
Lovepacs has partnered with local businesses such as Ebby Halliday Realtors-Denton and the Bearded Monk, which served as drop-off sites for food donations. The group has also had residential drop-off sites and a monthly booth at the Denton Community Market.
School counselors and administrators identify children in need. Lovepacs serves children who are on the free and reduced lunch program at area public schools. In Denton ISD, those students number around 30,000, says McGee. Volunteers deliver Lovepacs food boxes to schools where parents pick them up.
Pre-pandemic, Lovepacs would gather large groups of volunteers at its warehouse to package the food and then deliver it to the schools, McGee says. "But now, we have small groups of 10 or less working on delivery packages. We've been really careful with wearing masks and with social distancing, but our ways of operating have been a little more different than normal."
After the virus first hit in March, Lovepacs was delivering meals to 100 families a week, until the end of that school year, says McGee. "That's more than we ever had to do, and because there were so many, we had to deliver food to the neediest of families. For some of these kids, their only meal of the day was what they got for lunch at school."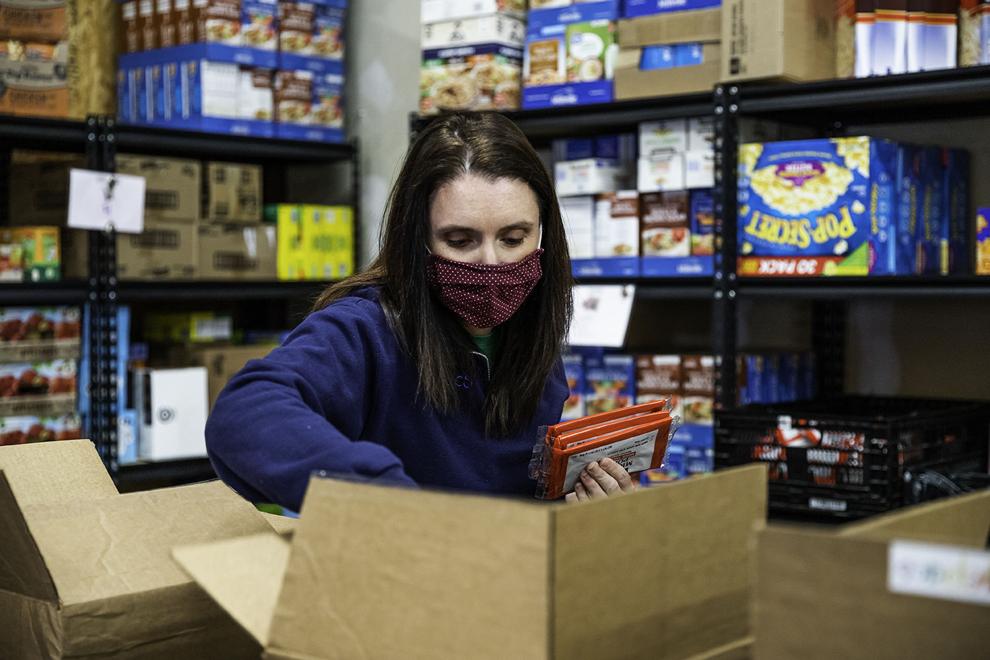 'An impact on the community'
It was Saturday, and the once-quiet Lovepacs warehouse was buzzing. As each car passed through the makeshift drop-off area of the parking lot, excitement rushed through volunteers on Halloween.
Lovepacs was hosting a trick-or-treat themed drive-thru and drop-off event, in which donations could be brought to the pantry in a fast, easy and safe way. The event was one of the many creative ways the organization has gotten around the coronavirus obstacle.
The steady rhythm of car engines, the shuffling sound of feet carrying newly donated food and the zipping of tape being placed onto finished packages could be heard as donations began to fill up the pantry shelves fast.
Lovepacs Denton co-founder Burris was busy carrying boxes and bags of donations, directing incoming cars and appointing tasks to volunteers.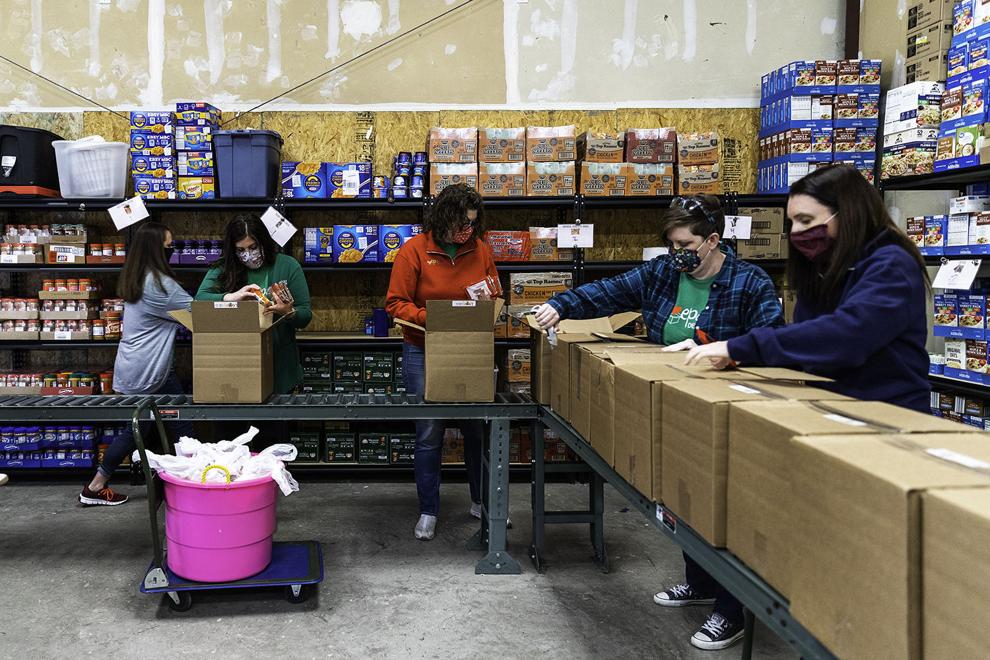 Her desire to join Denton's chapter of Lovepacs came from her own history.
"Food insecurity is definitely something I have experienced personally and that I have sadly seen happen in our community," Burris says. "There are a multitude of reasons why people can be food-insecure, and most of them have nothing to do with fault or blame."
At Lovepacs, people can now sign up for $12.50 a month to sponsor a family in the Denton area, a contactless way people can help. This method is another way the organization has managed COVID-19 restrictions, along with drive-thru/drop-off events, packing days and food deliveries, which now have limitations on the number of volunteers.
Oluwateniola Arigbabu, a student at the University of North Texas, says she was excited to volunteer at Lovepacs.
"I had some free time and wanted to actually do something that is purposeful and would help a good cause," Arigbabu says. "As I'm packing all this food, I can see that these are things that will help many families in need."
On one side of the packing station was volunteer William Witten, who was decorating boxes with wrapping paper and bows — so that kids could see their package as a fun surprise, rather than just another box of food.
"I saw the opportunity to come help out, and I hope we can make an impact on the community here today," says Witten.
Fellow student volunteer Matthew Nguyen was filling the decorated boxes with food and taking the finished products to another part of the warehouse, where boxes were stacking up. These boxes would be delivered to a Denton school before reaching its final destination, the home of a Denton student.
"I came here today just because I love the community and helping people smile, and I hope Lovepacs can give the community back what is missing, which is happiness and food to those in need," says Nguyen.
Burris says Lovepacs requires no paperwork or proof of need for recipients.
"If someone asks for food from their sponsor, we can provide for them anonymously, so there's no stigma or shame — their kids can simply be fed," she says.
Burris shares the same sentiment as her fellow chapter leaders, saying they are proud of their work to help their community, especially in these trying times.
"I hope that Lovepacs is something people can see and feel. I hope they see our organization as one that invites and welcomes people to volunteer and receive," she says. "I hope they feel loved by our community, because that is what we are putting in those boxes."