EDITOR'S NOTE: This story has been updated to correct the spellings of Ron DiIulio's name and the word winch. 
PONDER — Wednesday night's thunderstorms caused about $250,000 in damage to telescopes, an observatory and roofs at UNT's Rafes Urban Astronomy Center, said Ron DiIulio, the astronomy laboratory director.
All events at the astronomy center, including the open house Saturday, are canceled until further notice.
Staff noticed the damage when they arrived at the center Thursday morning.
"All of the telescope buildings lost their roofs," DiIulio said. "One of the roofs on Building 3 had flown over a thousand feet into the neighbor's property, over a fence, over a building and was laying in their field."
The facility didn't prepare for the storm because DiIulio said the buildings, made of steel frames, were built to withstand normal weather.
"This is all heavy steel, however, you can't do anything about something that lifts something like [a roof] that's 100-something pounds," DiIulio said. "It's pressure that lifted that thing."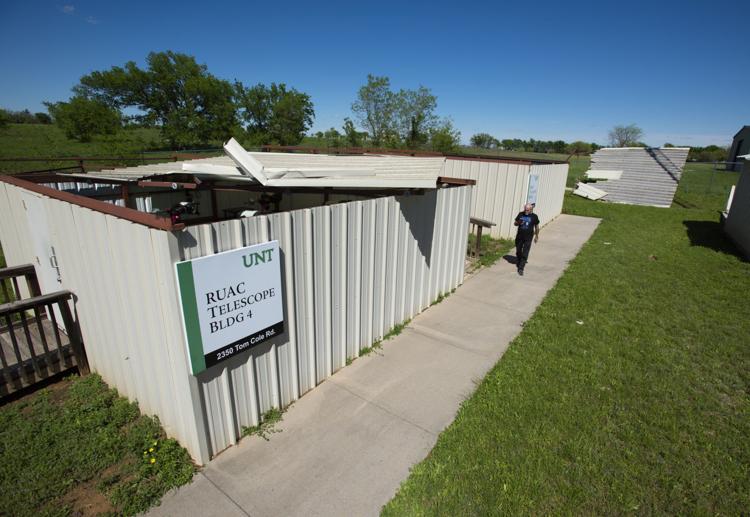 Another roof flew off the building and collided with and flattened a nearby fence. The roof broke a guide wire on the way down, which caused the astronomy center to lose communication with UNT's main campus.
A large winch allows the telescope building roofs to slide open and keeps the roof secure when shut. The winches were also blown off.
Ten telescopes costing about $15,000 to $20,000 each face irreparable damage because water got inside the telescopes and damaged their computer systems. They will have to be replaced.
The wind also moved and damaged an $8,000 observatory that will also have to be replaced. The amphitheaters at the entrance of the site were unaffected.
The astronomy center is preparing alternative activities for the summer semester.