Sheryl English, a member of various local committees over the years, was sworn in as the newest member of the Denton ISD school board Tuesday evening.
English, a realtor, took the place of longtime board member Jeanetta Smith, who decided not to seek reelection after 15 years on the board.
She chaired the Denton Housing Authority board, served on the Confederate soldier monument committee in 2019, chaired the Denton police's use-of-force ad hoc committee, and participated in several discussions about this past summer's protests against police brutality in the wake of George Floyd's death, among various other committees, task forces and initiatives.
She moved to the area roughly two decades ago from Los Angeles and has since raised three eventual graduates of Denton ISD high schools.
The board also swore in returning board member Barbara Burns and unanimously selected new board officers after a brief closed session near the start of the meeting.
Charles Stafford was selected as secretary, Mia Price as vice president and Doug Chadwick replaced Burns as board president.
The motion to elect the officers as listed was the first public motion English took in her new role.
After English was sworn in, but before the officers' election, outgoing board member Smith was presented with with thank-you gifts, including her official board headshot. Fellow board members took the opportunity to express their thanks for her many years working in and for the district.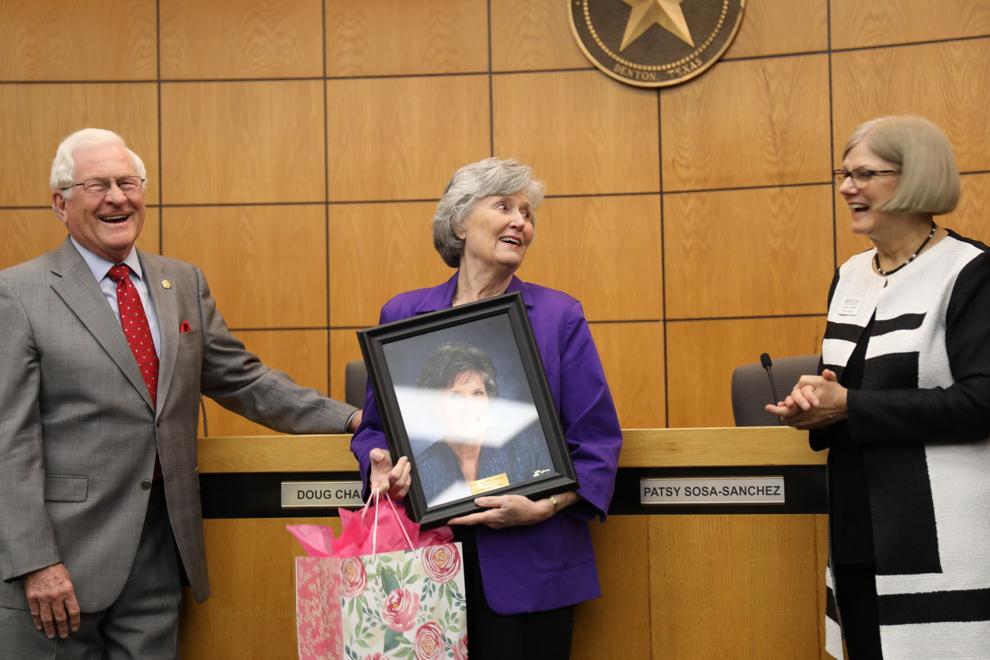 Smith was appointed to her position on the board in 2006 to replace her husband, Sterling Smith, after his unexpected death. She was first elected in 2009.
Stafford, who has served alongside Smith since she was first appointed, said it took incredible courage for her to step into her seat on the board despite all she'd been through.
Smith instead directed thanks back at those around her.
"We have a jewel in our district, and he's standing right there," Smith said while gesturing at Superintendent Jamie Wilson.
She thanked Wilson and the board for helping her through the years and helping to give her a purpose through tragedy.
"And thank you for reminding me that once I was young," she said while looking at her headshot.
A roar of laughter was her response.
Jim Alexander, a board member since 1993, told Smith he had "never known anyone who was a stronger advocate for our students than you."