The University of North Texas e- sports Rocket League team narrowly lost early in a recent tournament but ultimately brought it back to win $1,500 in prize money.
Rocket League, a video game in which players drive rocket-propelled cars in an extreme version of soccer, is one of many esports teams UNT has climbing the regional and national rankings.
The team was on the verge of being swept by Northwood University in front of an estimated 249,702 viewers on Twitch, an online streaming service, during the first round of the Level Next Rocket League Spring Showcase June 4-6.
All matchups were decided through the best of seven games. Northwood was up 3-0 until UNT rallied to force a game seven. It was a tough game, but UNT lost 1-0 to Northwood in the final game of the first round in the upper bracket.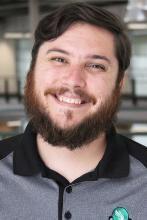 Northwood ended up as runners-up in the tournament, which ultimately was won by the University of Akron. UNT's run ended with a loss to the University of Texas at Dallas, a local rival, for a 14th-place finish in the 32-team field.
"We knew it was going to be a bit of a struggle against Northwood," said Dylan Wray, UNT's esports coordinator. "They're one of the best teams in the United States, and to see us go up against them round one, that's always a little bit tough. And I was happy that we almost pulled off a reverse sweep."
The UNT esports program has had one of its best seasons in program history. This season's success has earned the Rocket League team over $30,000 of scholarship money, and its team in Overwatch, a 6v6 team-based video game shooter, received around $1,500.
Wray was recognized as one of the top 12 collegiate esports coaches and directors in the nation by eFuse, a company that serves as a hub for high school, collegiate and professional esports.
"I really do think that it comes down to me having a lot of talented and very intelligent and dedicated people that are in the program that work for us or volunteer with us or decide to play with us," Wray said. "I think that's really what it comes down to, is just how strong the team is. It really kind of helps to be recognized as a good coach. It's not one person, it's all the people that are involved."
The Rocket League team has won first place in various tournaments leading up to the Level Next Rocket League Spring Showcase.
The team placed first in the West Conference Collegiate Rocket League spring tournament and first in the West Playoffs, in which UNT played the best teams from the Western Conference. The team also tied for third place in the nation in the Collegiate Rocket League spring tournament, where the top two teams from the western and eastern conference competed.
Wray said the Overwatch team is currently ranked 14th in the nation out of 325 teams, and its team in League of Legends, a team-based strategy game, is rising in the collegiate ranks.
While Wray said he expects the esports program to continue to have success for next season, he is most excited for the 23 student athletes and five student coaches to come back to campus next season after a year of pandemic-enforced social distancing.
"I'm also honestly just really excited to have my team back in a physical location and have our coaches be able to interact and see our players and be able to kind of read their [in-game] body language," Wray said.