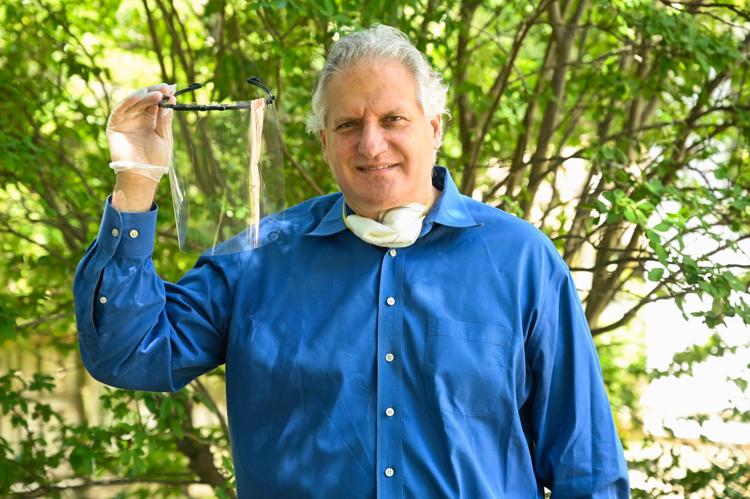 Sometimes, cloth masks aren't enough.
As the novel coronavirus continues to spread and Texas reopens its businesses, Denton creatives, faculty and students at the University of North Texas are using 3D printing technology to deliver additional protection from the virus.
Without knowing about each other's efforts, faculty and staff at the UNT College of Visual Arts and Design, the UNT College of Engineering and a new group called Shield Denton have been pumping out face shields using open-source designs and 3D printers.
Together, the university and local group are on their way to making more than 2,000 shields.
At UNT, the makers are giving the face shields to employees, lab workers and staff who sometimes wear the clear shields with a cloth mask.
Shield Denton has been donating shields to local long-term care facilities and nonprofits volunteering on the front lines of a contagious and deadly disease.
Mark McLellan, the vice president for research and innovation at UNT, said that as soon as the pandemic hit, he and his colleagues in UNT's research division knew personal protection equipment and materials were going to be needed and valuable. As volunteers across the country dug out their sewing machines and started making cloth masks, McLellan said researchers were thinking about longer-term needs.
"I think we tend to look at face shields as something you need in a medical setting," McLellan said. "But there are other places where you might want more protection. Even in a front desk setting, where you might be meeting and talking to a lot of people over the course of a day, you want someone to see your face but still want some protection."
A face shield — even one that isn't a medical-grade shield — can balance the needs of safety and social interaction. A face shield not only creates a barrier between the wearer and others, but others can see the wearer's face — unless the wearer also has a cloth mask on.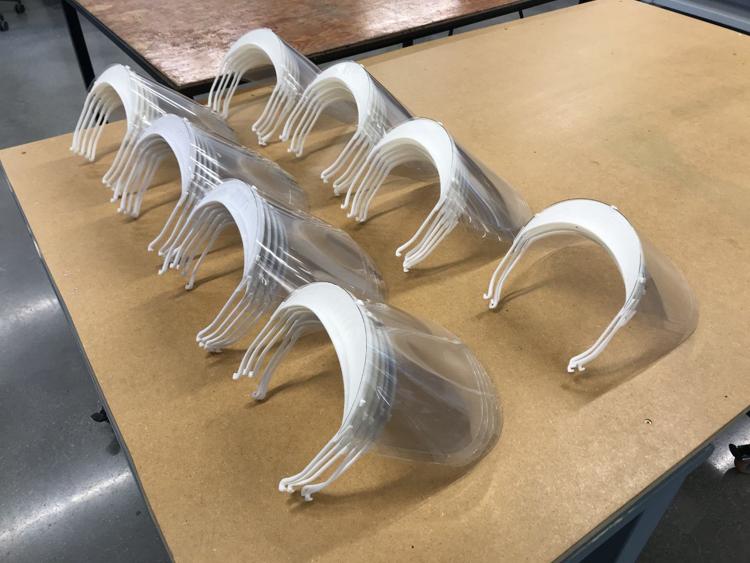 "The shield is social signaling," McLellan said. "You showing that I care about others' health. It's a strong connection point."
McLellan said the pandemic has changed the way UNT researchers do their work.
"In our current research operations, Stage 2 — Full Social Distanced Research — masks are mandatory," he said. "If a face mask presents a safety hazard, for example around an open flame, then the shield would suffice as a replacement."
Jenna Richards, the digital fabrication lab manager in the College of Visual Arts and Design, said the eight 3D printers are usually used for class projects and student-driven, individual projects. When the university closed the campus, Richards said the 3D printers went quiet.
Then came the call for face shields.
"For us in CVAD, we have some incredible equipment," she said. "I don't know that we saw using them for something like this at first. But this incredible equipment is here, the materials are here and we have the time now."
Doctoral student Cesar Chavez had been using the huge 3D printer at Discovery Park to experiment with making mechanical components for drones and testing materials for mechanical properties. Chavez edited the original file for the visor of the UNT face shield.
"I changed the design to add some clips for the shield component, and I edited the file to include the UNT logo," Chavez said. "The design we're using was approved by the National Institutes of Health. We closed a ventilation space and modified the top of the visor."
The printers in the digital lab make fewer visors at a time than the large printer at Discovery Park. Together, the colleges can make up to 30 face shields a day. The first in-house request was for 100 face shields. The next request doubled that, and as of last week, the colleges got a request for 1,000 shields.
Shield Denton is a smaller effort, but the association of local 3D printers is catching up to UNT's production.
City Council member Paul Meltzer got to thinking about personal protection equipment as Denton officials began planning the city's response to the pandemic, which had claimed 25 lives in Denton County as of Tuesday.
"We are just a shadowy association of people looking to connect people with the equipment, and to get more 3D printers working on this," Meltzer said. "Brian Beck, who lives here in Denton, and Ed [Steele, local photographer and 3D printmaker] are the other guys involved in getting this off the ground."
Steele and Meltzer said they've been busy making the shields for local nursing homes, medical workers and nonprofits.
"It's important for people to know that these shields aren't medical grade," said Steele, who has been using his personal 3D printer to make miniatures of local icons and sci-fi/fantasy characters comfortable in the famous role-playing game Dungeons & Dragons. "Some makers online don't make that explicit, and we want to. They aren't medical grade, but they can offer you protection when you're out and about."
Steele had been wanting to upgrade his 3D printing capabilities for a while and eventually got a small-capacity fused deposition modeling printer. The printer works much like the printers in the UNT digital lab, extruding a plastic filament (think of the spool of plastic used in a Weed Eater). The printer heats the filament and then uses a digital file to "draw" the digital pattern on a platform. It draws in layers, and the material cools into the desired shape.
Shield Denton has been using a stiff, clear acetate — something you might use as a divider in a binder notebook — for the face shield. Steele and the other printers cut the acetate and then package the shield in a parcel with four components: printed instructions, the plastic visor, the face shield and the rubber band. The printed instructions include a template so that the user can cut a new shield.
"The shield is reusable," Richards said of the UNT shields. "But they will get scratched up. The shield won't last as long as the visor."
Steele has poured hours into research.
"There are a lot of different visors, and I settled on one that I feel you can wear all day with an N95 mask," he said.
Steele can make three visors at a time in about four hours. With fine tuning, he has shaved some time off production.
Meltzer has been funding the campaign and is most interested in locating more locals with 3D printers who want to join the effort. They don't charge for the shields.
"We've supplied Denton State Supported Living Center and Serve Denton," he said. "We've found a lot of need in the long-term care facilities. The hospitals have enough that they'd told us to help other places out before donating to them. I'm planning to give these to poll workers for the election. But if you're on the front lines, and you need a shield, we can help."
If you have a 3D printer, and want to join Shield Denton, send an email to Meltzer at shielddenton@gmail.com or call 940-220-2027.