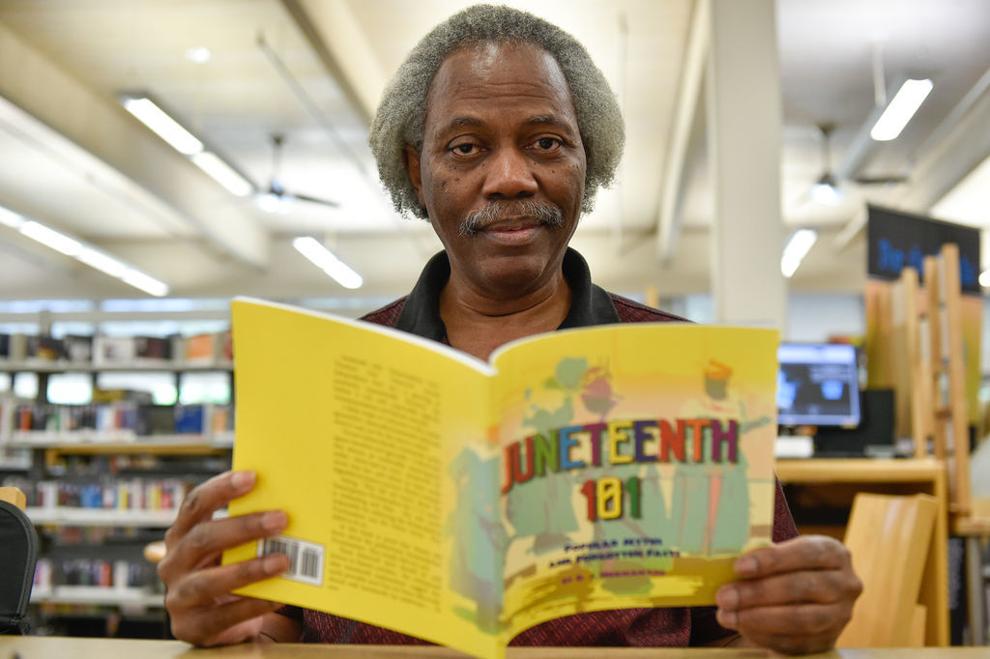 Denton resident Donald Cox said he started to notice how little Texans seem to know about Juneteenth — the historic date when Major General Gordon Granger and the U.S. Army arrived in Galveston on naval ships with important news.
Intransigent Texans would have to abide by the Emancipation Proclamation, which announced that all of the slaves in the rebellious states were forever free.
The proclamation was issued on Jan. 1, 1863.
Granger arrived in Galveston on June 18, 1865, with about 2,000 troops to ensure that Texans would abide by the law.
"This book started out as an introduction to Juneteenth," Cox said. "Then it became about misinformation."
Cox published Juneteenth 101: Popular Myths and Forgotten Facts himself.
He'll present a discussion of the book and Juneteenth at 2:30 p.m. on this Sunday at Emily Fowler Central Library, 502 Oakland St.
"This all started with an article that was incorrect," Cox said. "And it turned into 'let's look at what's incorrect.'"
Cox said the confusion about Juneteenth is widespread.
"It's not just the white community that doesn't know about Juneteenth," he said. "There are a lot of people in the black community who don't know what Juneteenth is all about. Take watch night, for instance. A lot of people think watch night is a New Year's Eve thing. They don't know it's related to emancipation."
Indeed it is. In fact, the famous print by J.W. Watts, "Reading the Emancipation Proclamation," was created in 1864. It depicts three generations of African slaves listening to a Union soldier read the proclamation on Jan. 1, 1863.
Cox said too many people think Juneteenth meant the end of slavery. Slavery continued legally in Kentucky and Delaware after June 19, 1865. They were two of four slave-holding states that weren't included in the Emancipation Proclamation, along with portions of Louisiana and Virginia.
"Slavery was legal in Kentucky and Delaware — it ended when the 13th Amendment was ratified," Cox said.
That happened in December 1865.
Too many Texans believe that Juneteenth was the day Texans learned their slaves were free. Cox said he scoured historical newspapers and hit the library, and confirmed that Texans knew the proclamation freed the slaves, but without Union troops on the ground, they didn't have to abide by it.
"You have to use your reasoning on this," Cox said. "Between September of 1862 and December of 1864, the proclamation was mentioned at least 125 times in Texas newspapers. I found a newspaper announcement from Clarksville, Texas. If little bitty Clarksville had this information, I figure everyone else had to have it."
Written as a collection of digestible facts — Cox "translates" a number of the historical documents he cites in the book — Juneteenth 101 reminds the reader just how difficult the freed slaves had it after the proclamation.
When Granger read the orders in Galveston, the federal government freed all the slaves but declared that they should remain where they were working, as employees.
The order forbade freed slaves from gathering at military posts, and wouldn't get government compensation.
"One of the things I learned was that, in the early days of Juneteenth celebrations, the women couldn't participate," Cox said. "A black-owned newspaper in Galveston reported that on the sixth anniversary of Juneteenth. So you see, things aren't made right overnight."
Cox said it's hard to know why myths about the date persist.
"I don't understand the indifference about it," he said. "I can't relate to it. I can't relate to it at all. The ignorance. The lack of concern. I was never taught to be afraid of the truth, or to be offended by the truth. The truth just is."
The presentation at the library is free.
Denton's Juneteenth celebration begins at 5 p.m. on June 15 and continues at 9 a.m. on June 16 at Fred Moore Park, 501 S. Bradshaw St.
At noon on June 19, singers will gather at the Confederate veterans memorial on the downtown Denton Square. The program, "Lift Every Voice," will include what Cox calls "a sing down," in which the singer will perform the national anthem to the Confederate veterans memorial.