The first trailer for Glass was exceptional and chilling. So much so that I put the film on my most anticipated movies of 2019 list. Then, reviews started trickling in and critics weren't being too kind. I hated to see all those red marks, especially because I feel as though filmmaker M. Night Shyamalan had just graduated from being the name that audiences would laugh at when they saw it attached to projects.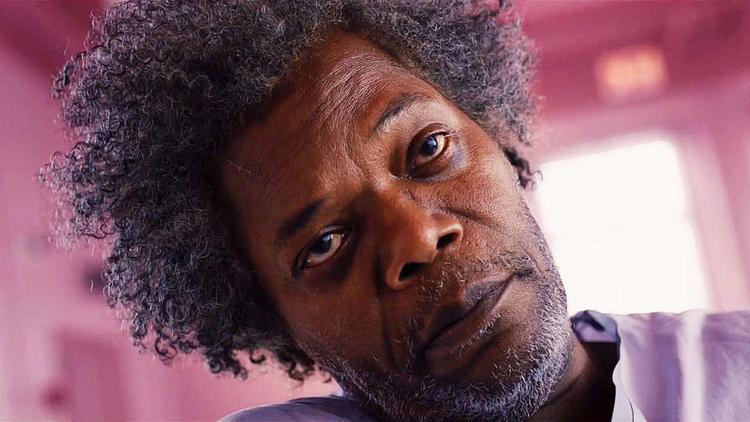 Compared to other Shyamalan works, Glass is one of his most straightforward narratives, focusing on three individuals with superhuman abilities (Bruce Willis, Samuel L. Jackson and James McAvoy) coming together under the watchful eye of the government. There are no big surprises or twists, really — or at least not in the fashion we are used to coming from Shyamalan. (He won't ever be able to top himself after we learned Split was a secret sequel to Unbreakable.) Glass takes some turns, but it isn't exactly new territory for superhero storytelling. In many ways, it feels like a more contained version of an X-Men movie. But it remains a fun, entertaining and occasionally thrilling trilogy closer.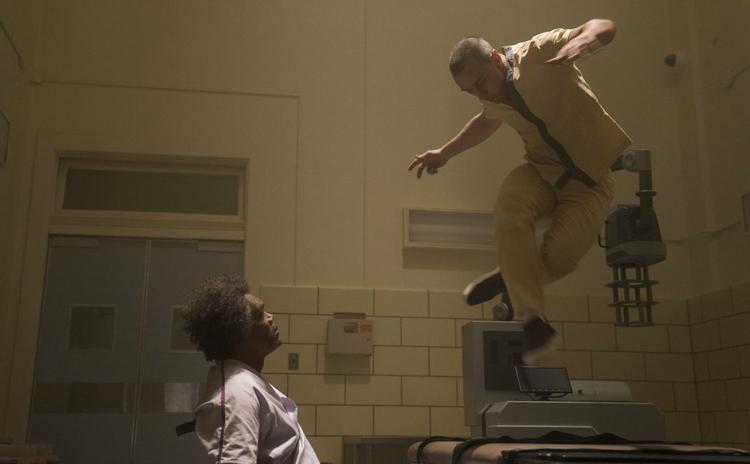 Honestly, no matter what Shyamalan ended up penning for his conclusion, it wouldn't have lived up to our expectations. There's such a dramatic difference in the style Shyamalan employs today versus what he did at the start of his career. His films used to be so artfully made and told. Now he has found his new footing, making movies that walk a tightrope between being a thriller and a B-movie.
Glass is a decent sequel to Split but a not-so-good sequel to Unbreakable — and I was wanting more of a sequel to the latter. After 19 years of waiting, the script to its third act could have, strangely enough, used some more time to iron out its ideas. It feels like it's being pulled in too many directions. So, if you go in prepared that it simply ties things up, and don't expect Shyamalan's signature "wow!" moments, you'll walk away mostly unbroken.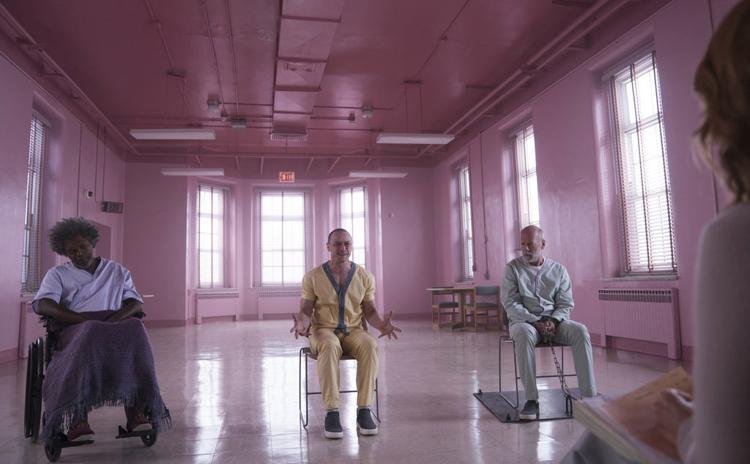 Extras: The Universal release comes loaded with a solid collection of short featurettes (average of three minutes) and deleted scenes. This includes an alternate opening (with an optional intro from Shyamalan), 25 minutes of deleted scenes and 12 behind-the-scenes featurettes that focus on different aspects of filmmaking and the story.
■
The Manitou (★★½) I've seen a lot of ridiculous movies in my life, but The Manitou is near the tippy top. Released in 1978, and starring Tony Curtis for some reason, this sci-fi horror film has one of the most bizarre plots ever. It involves a young woman (Susan Strasberg) who grows a tumor-like lump on her neck. Come to find out, as Arnold would say, "it is not a tumor" but rather your standard case of a reincarnated 400-year-old demonic Native American spirit inside.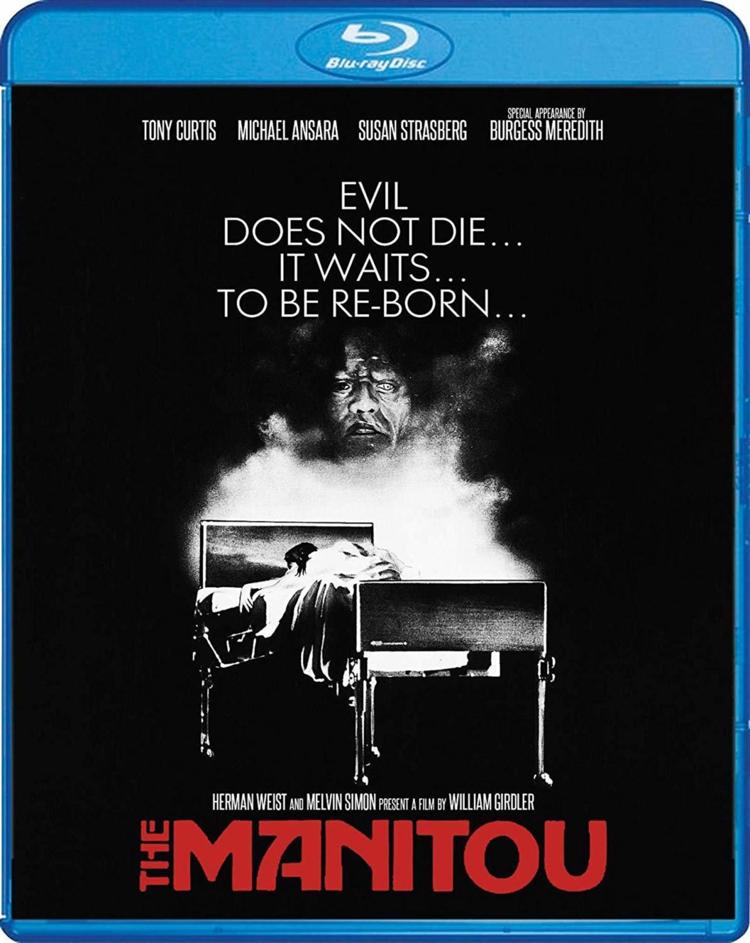 I wouldn't doubt if the filmmakers responsible for this what-the-heck masterpiece dropped a dangerous strain of acid after watching movies like The Exorcist; It's Alive; and 2001: A Space Odyssey. It goes to some extraordinary places and has so many inconsistencies that it's baffling. Perhaps the wildest moment is when the film concludes in outer space. The half-naked Strasberg is shown shooting lasers at this Native American creature-thing, and I just about questioned my own sanity while I was watching it.
Restored by Scream Factory, The Manitou is not a movie you take seriously at all, no matter how much the actors seem to be. This is alcohol-required viewing. Invite some friends over and laugh your butt off.
Rated PG (though more like PG-13 or R), 85 minutes.
Extras: The Scream Factory release (available through shoutfactory.com/shop) features a new 4K scan of the original film elements, a newly restored stereo soundtrack, a new interview with author Graham Masterton and executive producer David Sheldon, a new audio commentary with film historian Troy Howarth, an original theatrical trailer and TV spots, and a still gallery.
■
Superstition (★★★) Not quite as remarkably puzzling as The Manitou, but still goofy, 1982's Superstition revolves around the story of a witch who was put to death in 1692 and swears vengeance on her persecutors. She returns to present day (or the 1980s) in Evil Dead fashion to slaughter the descendants of her oppressors.
Superstition checks all the horror boxes one could want. It's a fun accumulation of haunted house films and slashers. The death scenes are incredibly inventive, as strange as that is to say. It's an absolutely vicious, bloody affair of microwaved heads, saw blades entering chest cavities and windows slicing bodies in half like that jerk dude in Ghost. It's the ideal drive-in horror flick.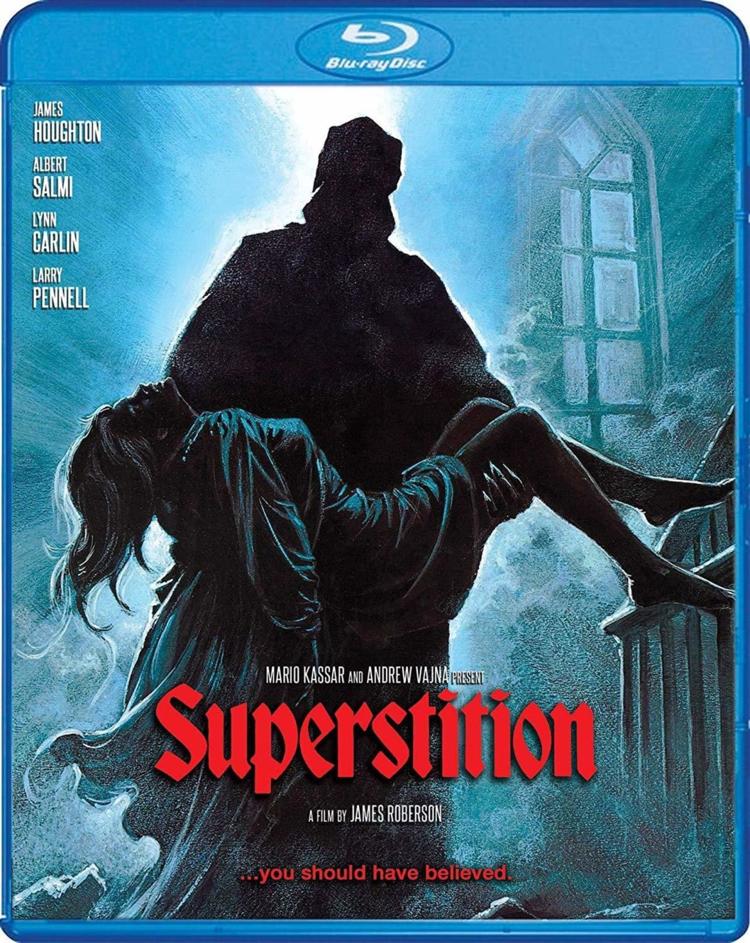 Not rated, 85 minutes
Extras: The Scream Factory release includes a new 2K scan from the original film elements, a new interview with director James Roberson and actor James Houghton, and original trailer and TV spot.
■
The Prisoner (★★★★) Banned from the Cannes and Venice Film Festivals for being politically dangerous, the 1955 black-and-white film The Prisoner is an exceptionally made and exceptionally acted exploration of faith and power.
Starring Academy Award winner Alec Guinness of Star Wars fame, The Prisoner is essentially a two-man show that's based on a play and feels like a play. It's mostly just these two gents (and others) talking in rooms. Guinness portrays a cardinal priest who is arrested by the state for alleged treason. He's interrogated by his old friend (an excellent Jack Hawkins) who worked with him in the Resistance against the Nazis. The state wants Guinness' character to confess to all these outrageous crimes.
What you believe will be an intense game of cat-and-mouse ultimately becomes this psychological torture picture and breakdown of church vs. state. The film also becomes an examination of corruption. It doesn't necessarily explore religion to any great depth, but it does present a fine study of contrasts. The performances by these two leads and their verbal duels are worth watching alone.
Not rated, 94 minutes.
Extras: The Arrow Academy (available through MVDshop.com) release comes with uniquely designed cover (made by Peter Strain) that includes reverse cover art that's equally as great. The disc contains a new video appreciation of the film by author and academic Neil Sinyard, select scene commentary by author and critic Philip Kemp, and an illustrated collector's booklet featuring new writing on the film by Mark Cunliffe.
■
Also available this week: Diamonds of the Night (1964, a Criterion Collection release); Escape at Dannemora; The Karate Kid (1984) on 4K; The Kid Who Would Be King; and Replicas.