Area
Denton retired teachers group to host event
Retired educators are invited to attend the "Fun and Friendship" event at 9:30 a.m. Friday at C.H. Collins Athletic Complex, 1500 Long Road.
The Denton Area Retired Teachers Association's meeting will begin at 10 a.m., and the day's program, "Plant Power," will be presented by a Texas Master Gardener. Attendees are encouraged to bring a book or contribution for the elementary school book project.
Aubrey ISD
During halftime at Aubrey High School's football game on Friday, the Aubrey Education Foundation recognized the first class of the Chaparral Elite.
The hall of fame was established this past spring to honor alumni, veterans, teachers, administrators, staff and friends who have greatly contributed to Aubrey ISD.
Honorees included Rosemary Cummings, an Argyle ISD teacher of 19 years; Tim Leslie, who served on the Aubrey City Council, as mayor, on the school board and as school board president; Evalois Owens, who has worked closely with the district for nearly four decades; and Michael Starr, Aubrey High alumnus and previous chief of the Aubrey Fire Department. Rick Rike was posthumously honored for his countless volunteer hours coaching students and starting the Academic Decathlon.
All honorees were originally announced during the annual Aubrey Education Foundation Evening for Education in March.
Homecoming court announced Friday
Hannah Travascio and Dylan Boatwright were crowned Homecoming queen and king during halftime at Aubrey High's football game Friday.
Additionally, Georgia Green was voted the football sweetheart, and Brett Pierce was voted the cheerleader beau.
Lake Dallas ISD
Five Lake Dallas High School seniors earned the distinction of AP Scholar.
John Adair, Gabriel Flores, Anthony Kitamura, Andres Mendoza and Zach Taylor completed at least three AP exams and scored at least 3 out of 5 possible points on each, the level at which many colleges and universities begin bestowing credit.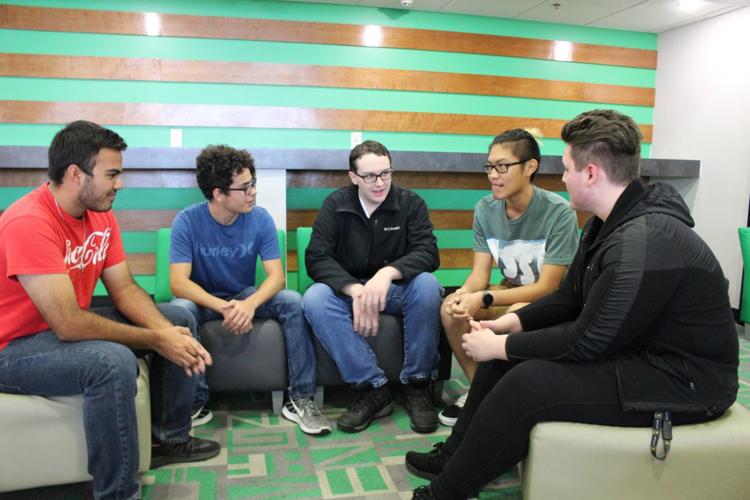 Immaculate Conception Catholic School
Pet blessings offered in memory of St. Francis
In commemoration of St. Francis, patron saint of animals, an annual pet blessing ceremony will be held in front of the Immaculate Conception Catholic School gym, 2301 N. Bonnie Brae St., on Friday.
Pets should be in place by 2:30 p.m., and the blessing will begin promptly. Organizers said no pets that would constitute a safety risk should be present. All pets should be leashed or caged.
Call 940-381-1155 for more information.
Casino Night tickets on sale
Tickets are on sale for Immaculate Conception Catholic School's Casino Night, a fundraiser meant to lower tuition costs for families in need.
Adults 21 and over can purchase tickets for $50 from the school office or online at catholicschooldenton.org. The event will go from 7 to 10 p.m. Saturday at the Knights of Columbus Hall, 1700 Riney Road. Refreshments will be served. For more information, call 940-381-1155.