February's winter storms, and accompanying rolling blackouts caused by a faulty electric grid, could cost Denton-area schools somewhere in the ballpark of $20 million.
Local schools' damage estimates made before the state thawed in mid-February put costs somewhere in the millions.
While that figure was clearer four months later, representatives from Denton ISD, the University of North Texas, Texas Woman's University and North Central Texas College didn't have the full picture.
Estimates are fuzzy in part because damage isn't fully repaired and assessments are months from completion in some cases. Despite those obstacles, many officials were confident insurance and federal disaster relief funds would cover most, if not all, costs incurred.
The first hints of what was in store for Denton County came on Feb. 10, the Wednesday before ice and snow started to fall.
Meteorologists were predicting freezing rain and emergency responders were starting to prepare for what was initially expected to simply be dangerous winter weather.
On Feb. 12, Denton ISD told families to expect a three-day weekend and told teachers to plan for a professional development day on Monday.
"We knew it was going to be cold, we just didn't know how cold," Chris Bomberger, DISD's executive director over risk management, said in mid-June.
Denton ISD started to limit utility usage in its buildings the Saturday before the power grid failed, and district officials began surveying buildings for damage the following day.
The Electric Reliability Council of Texas, known as ERCOT, instituted rolling blackouts in the early hours of Monday, Feb. 15.
The closure was extended on Monday to include Tuesday and Wednesday, and amended again Tuesday to stretch through Friday.
In a video sent out that Tuesday, Superintendent Jamie Wilson, filming using power from a backup generator, told district families to expect in-person classes Monday, Feb. 22, and urged people to do what they can to keep each other safe.
Problems increased and compounded for the district over the next few days. Freezing water would burst pipes and sprinkler systems. Water would flow and freeze, seeping into walls and flooding lower areas.
Workers tallied a total of 44 water breaks across 23 buildings. Of those, the district classified damage from 24 of the breaks as minimal, one as fair, 10 as bad and nine as very bad.
"You would think that age of building would be a factor, but the breaks were random," Bomberger said.
Union Park Elementary, the district's newest campus, had two breaks, but the much older Newton Rayzor Elementary had none.
Workers were doing rounds inspecting each hose connection, water fountain, sink, sprinkler and any other water infrastructure in each district building, but extended periods below freezing without adequate power meant a pipe might burst an hour after being checked.
Those tasked with battling weather and mitigating damage across area schools had similar stories to tell from that week. Many left homes without power to drive in uncertain conditions and spent what time they could working in difficult circumstances.
For example, Bomberger recalled when a sprinkler broke at Adkins Elementary, which the district ranked among the worst such breaks during that week.
"We couldn't get the water out of the school because it would freeze," Bomberger said. "So if you can imagine pushing water out the door and the water freezing on the sidewalk."
Workers relied on backup generators to run equipment, but even that wasn't a surefire stopgap.
At one point, Denton ISD officials even had to make the trip to Gainesville to buy fuel for generators after it became clear Denton gas stations could not meet demand.
In-person classes at eight of the districts campuses were delayed due to extensive damage, with Harpool Middle being the hardest hit by far.
Colleges and universities fared no better. A few miles north, in Denton proper, the two local universities were having similar weeks.
Workers were trudging along ice and flooded floors at all hours of the day and night when they could make their way to campuses.
Rob Ramirez, TWU's associate vice president over facilities, estimated he only got six hours of sleep over the course of a few days that week.
The natural dangers of rock-bottom temperatures mixed with slick conditions, heavily damaged buildings and long stretches without adequate heating.
"You couple safety with the need to respond" to damage as it happened, Ramirez said.
He said the majority of damage was inside buildings. The story is the same for most damaged areas across the state for that week. Pipes would burst, flooding lower areas that might eventually freeze.
Equipment would malfunction and sometimes break as power was repeatedly shut off and on by rolling blackouts that plagued much of the state throughout the week.
Ramirez said he and his team were tracking nine impacted buildings or areas immediately after the storm. As of late June, only two of those still had work to be done.
Hubbard Hall, the student union that was freshly renovated less than a year prior, was the hardest hit, but Ramirez said there was hope it would be restored by the time many students return for the fall semester.
TWU actually seemed to have made it out of the winter storms with the lowest damage estimates by late June when accounting for the schools looked at for this article.
Ramirez estimated storm damages will come in at roughly $2.7 million with most of that being damage to building interiors.
UNT, on the other hand, might have had the hardest go of things of the four schools contacted.
Chad Crocker, UNT's interim associate vice president of facilities, has overseen most of the university's storm repairs since he took over in the position in May.
Crocker, who was senior maintenance director during the storm, called the event "horrible and exciting at the same time."
"Horrible in that we had constant loss of power — it was up, it was down," he said. "We had boil water warnings, pipes freezing and breaking all over campus. Just a lot of challenges."
The damage to plumbing also led to leaks throughout the campus in nearly every building, according to Crocker.
One such leak occurred in the three-story Business Leadership Building. The building's ventilation layout caused water to pour directly into its lowest level.
UNT also experienced power shortages from its own generators, which led to sustained outages in broadband and access to campus servers.
Pipe repair was at the top of the list once things began to thaw out toward the end of the winter storm.
"Cutting out pipes, soldering and welding new pipes to quickly repair and stop what damages we could," Crocker said. "It was a challenging situation for the team and was amazing what they were able to accomplish in that time."
Around $3 million to $4 million had been spent on repairs by June, and university officials expect the total cost to be closer to $7 million.
Officials for both universities said there is a backlog on ordered replacement parts because so many entities saw similar damage.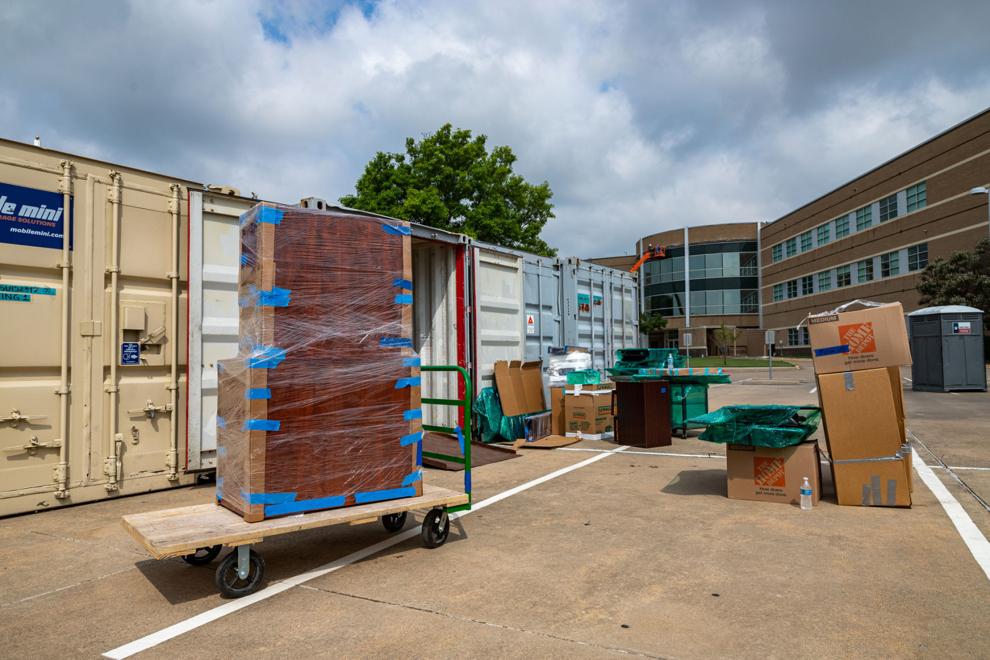 NCTC, which has campuses in Denton, Corinth and several locations outside Denton County, saw the bulk of storm damage come to its Corinth campus.
Robbie Baugh, vice president for administrative affairs, said the three-story building had pipes burst and flood the first floor and part of the second. Water flowed through the ceilings of the library, office spaces, food service area, damaging and destroying much of what it settled on.
The campus was completely closed for the remainder of the semester, and students were relocated to other campuses.
Baugh said the plan is to have the building back to normal by mid-July with some minor remodels.
All-in-all, he said insurance and mitigation costs should be somewhere around $3.7 million.