A woman in a long floral sundress, long sleeves, wearing a black mask with a cartoon mouth on it, enters her office.
The woman is Lydia Evans, the program coordinator for ENGAGE, a University of North Texas initiative dedicated to helping autism spectrum and other neurodiverse students adjust to university life and prepare them for careers after graduation. UNT ENGAGE (Embracing Neurodivergent Groups in Academics and Gainful Employment) guides students through one-on-one meetings to help them reach these academic and life goals. Evans took over the program in October 2019, and since then, it has grown from around 10 students to 21.
In the corner of her office, obscured by her large desk next to the entrance, sits a student at a round table, laptop open, wearing a rust-colored sweatshirt and looking on expectantly. Evans takes a seat in a rolling chair across from the student as they discuss the student's plans, upcoming appointments and any difficulties she may have.
Evans, 39, leans forward on the table, one arm propping up her head, occasionally offering advice, as the student gives an enthusiastic summary on the teacher assistant she recently shadowed at a local school. At one point, the student worries about whether her autism would be an issue in being selected as a volunteer with children.
"No, I think they'll love that, because you are so awesome," Evans says, becoming emotional. "And you've grown so much, and there's little kids out there that need to see that 'I can go to college, I can be successful, that it's a lot of work, and it's not always easy, but it's possible.'"
Evans' feelings are understandable. She herself is disabled. She walks, she types, she writes, but she is missing fingers and both her legs, which she lost 19 years ago. But through her work, she serves as a positive example to the neurodiverse students she counsels that they too can have a life of inclusion and wholeness.
"What inspired me in general to work with people with disabilities was, of course, acquiring my own disability," she says.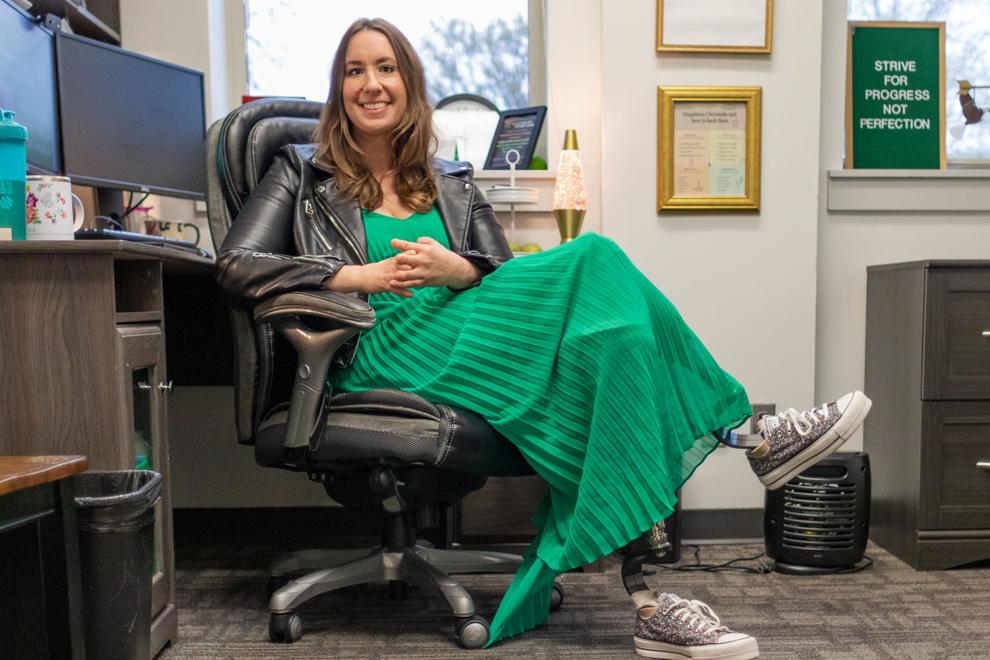 'Dark days, tough moments'
Lights buzzed overhead as the hours on the clock ticked by in a hospital room at Presbyterian Hospital in Dallas. Doctors, family and friends were in and out of the room where a young Evans, brown eyes closed, was lying in a hospital bed.
Evans had become seriously ill one night after a college party in September 2001. She was on the brink of death after being diagnosed with bacterial meningitis — a severe bloodstream infection — her sophomore year at UNT.
Unconscious in a hospital bed, Evans was unaware of the purple spots blotting and spreading on her legs, thighs and hands, a sign the tissue was quickly dying. She was in a coma for more than two weeks, paralyzed from the neck down.
When Evans regained consciousness, she was eager to get back to her life as a college student but hadn't realized how much time had passed and how much things in her life would change. "It took a while for my brain to catch up because, one — I was in a coma, and two — I was now going to have my legs amputated."
Evans compares her life-threatening infection to COVID-19 and its incubation period. She doesn't know where she became infected; all she knows is it took two weeks before she felt the full effects of bacterial meningitis.
Doctors told her parents several times to prepare their goodbyes, as their daughter had a 3% chance of living, but Evans wasn't ready to give up. After she came out of the coma, she was fitted for prosthetic legs and underwent rehabilitation.
"That was my goal — I wanted to get back to school, get back to college life and living independently," she said. "I definitely was not on board for letting go of all my dreams."
The fourth and youngest child in a military family, Evans was used to adapting to unexpected change. Moving to new places when she was growing up, such as Spain and England, and starting anew each time was part of what helped her adjust after her meningitis infection.
"There were dark days, tough moments, and fears and things like that," she recalled. "But I just kept pushing and believing that it would work."
Evans didn't want to return to school in a wheelchair because, in her mind, the closest she could come to return to normal was to walk again. Evans' mother also wanted her to continue life as a college student but preferred for Evans to remain at home so she could continue to care for her.
Nevertheless, Evans continued to challenge herself as she prepared to return to UNT in the fall of 2002. When she went apartment hunting in Denton, she insisted on a two-story apartment.
"No better place to practice the stairs, repetitively, every day, than to get to my bedroom," Evans said. "[My mother] was worried, but I'm really stubborn, and when I have an idea what I think will work, I really lean into it, so she let me get the two-story apartment."
Neither travel nor long distances would hold her back. Between her junior and senior years, Evans interned with Landmine Survivors Network in Washington, D.C., a nonprofit serving amputees and individuals with war-related injuries.
"I saw that I could do human rights work mixed in with my newly acquired disability and my understanding of that journey," Evans said. "It was kind of just the perfect fit."
Linda Holloway, a disability and rehabilitation professor at UNT, became Evans' mentor. Holloway taught "Disability in Society," a class Evans took during her first semester back on campus after her recovery.
"I had a number of students with disabilities in that course," Holloway recalled. "I could see she was very young and energetic, just a really delightful person who had a lot of experience and motivation, and I knew she was going to do big things."
Evans would be a guest speaker in Holloway's classes and give presentations even after she graduated from UNT with her master's in 2015.
The next great 'adventure'
Receiving her degree in Spanish and political science, Evans returned to Washington for a job as a nanny and tutor for a family with disabled triplets. The job was not without its challenges, but the children inspired her to continue working with students with disabilities.
"After having these back-to-back- to-back, multihour-long IEP [individualized education program for students with special needs] meetings, the mom said, 'You were amazing in there. There's a calling in there somewhere for you,'" Evans recalled. "I noticed in those meetings that they were focusing a lot on what these kids can't do, but I see all the things they can do."
At age 25, Evans returned to school at UNT to start working on her master's in rehabilitation counseling.
Still, joining the Peace Corps was one of Evans' lifelong goals. But she thought her disability and age might prevent her eligibility to serve. She decided to apply, a process that included an interview where she was shown a video of a Peace Corps volunteer in rugged, rural terrain that lifted her spirits and convinced her she would be fine. "It was a girl in a wheelchair," Evans said.
In 2009, Evans was accepted into the Peace Corps, which she considered her next great "adventure." She was assigned to Costa Rica, but after working there for a month, she learned she was pregnant.
"I knew that I was going to go home and have this baby boy," she said. "I just knew that that was the adventure I was supposed to have. I thought it was going to be the Peace Corps. It was actually Oliver."
She met her future husband, art teacher David West, on an online dating site, and the couple have been together ever since.
"I saw her, and I saw her ad, and I just responded, and we just started talking," said West, who also works with disadvantaged students. "The night we met was just the day after her birthday, like seven years ago. It was right in front of The Loophole [in Denton], and we've been inseparable."
'A very good listener'
Evans returned to Denton and worked toward receiving her master's in rehabilitation counseling during her pregnancy. Evans says she's been building her professional self ever since, graduating with her master's in 2015.
She became the program coordinator for ENGAGE in October 2019, a position that came with two graduate student assistants, one of whom is Alex Davidson.
"My experience working with ENGAGE has been really cool to see it grow and adapt," Davidson said. "I really couldn't ask for anybody better as a work colleague [than Evans]."
One student whom Evans works with weekly is Charlotte George, a UNT freshman who is on the autism spectrum. George wanted to find a social group that could help her adjust to college.
"I guess in ENGAGE I have, like, kind of made friends with the people in it," she said. "It's more of a social helper-type thing."
George said Evans is easy to talk to and helpful in their meetings. "She's very optimistic, a very good listener. She's very chill and open to hearing about people's lives."
It's these kinds of small victories that keep Evans going, even during the pandemic where Zoom calls are more prevalent than the more valued face-to-face ENGAGE meetings.
"A lot of my students with disabilities have doubts about their worth, their ability to fall in love or be loved. I definitely have shared a lot of those stories about my dating history or how to disclose those things," Evans said on a Zoom call. "They see that I have something that sets me apart, and if I can still go to college and get my degrees, have a family, drive and have a cute little house on the lake, then any of them can do it, too."