Over at least the past three decades, Lucky the Squirrel has become a legend for the University of North Texas in much the same way Lassie was for TV.
For the uninitiated, Lucky is an albino fox squirrel living on the UNT Denton campus.
While there are varieties of squirrels with white fur that aren't albino, Lucky is a true albino, meaning he has distinctive pink eyes and no non-white fur.
Much like Lassie, who was played by nine dogs over his/her decades on screen, Lucky has been embodied by various albino squirrels, though the exact number is unknowable.
His — and Lucky is most often identified as a male by onlookers — mythos has remained broadly unchanged since the early 1990s. Essentially, a sighting of Lucky on the way to important exams will help the viewer make good grades.
A petition even made its way around UNT in 2003 to make Lucky the university's official secondary mascot.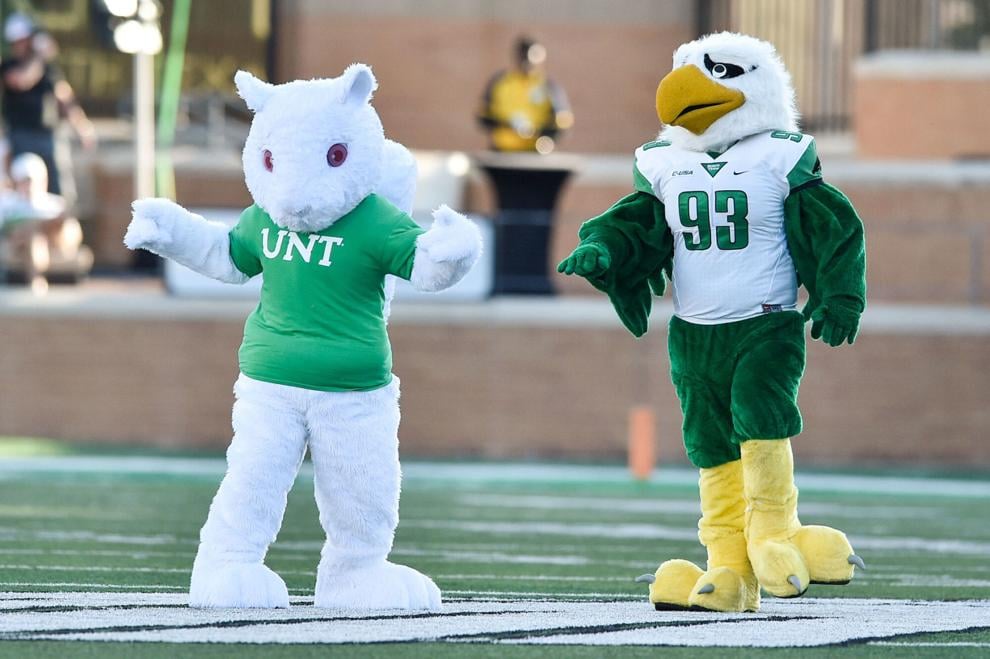 Brian Wheeler, assistant director of the Elm Fork Education Center at UNT, started as a student at the university in 1989 and started working at the university a few years later.
"I remember Lucky in the early '90s," he recalled. "Or a Lucky, I should say."
Like each of the roughly half-dozen people interviewed about Lucky, Wheeler didn't put much stock in a sighting providing any sort of supernatural luck in exams — but that doesn't mean a sighting isn't helpful.
"I do believe that people going into a test with less anxiety is definitely helpful, so if seeing a white squirrel reduces your anxiety, and you feel lucky because of it," that's great, he said.
While people talk about Lucky as if he's a constant on UNT's campus, it's likely students over the years have been observing generation after generation of albino fox squirrels.
Fox squirrels in the wild live six or seven years on average, with albino squirrels being at a distinct disadvantage when avoiding predators.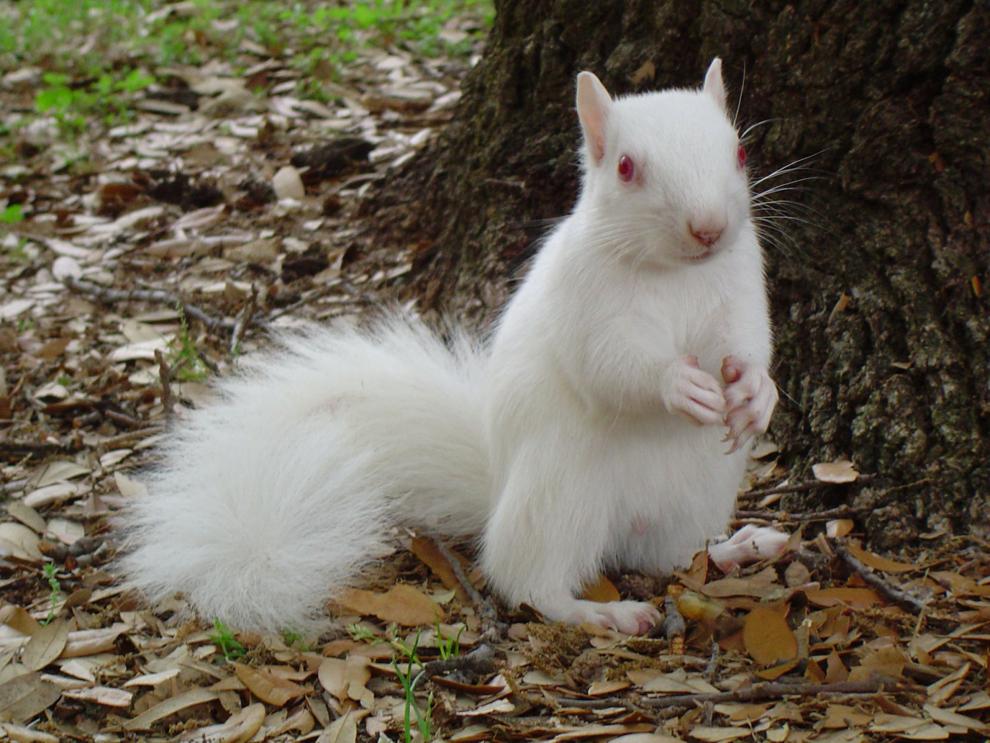 "Certainly there have been many a Lucky, and I think since the sightings aren't constant, it appears to people there's one white squirrel, and it's lasted forever," Wheeler said.
Savannah Thomas, a UNT senior and president of the UNT Society for Ecological Restoration, said it's always exciting to catch a glimpse of Lucky on campus.
She even said she has probably been late to class because of a sighting.
"You can't take your eyes off him," she explained.
She estimated she'd seen him two or three times, but that his supposed superpower to bestow luck during exams didn't exactly work out for her.
"I've done well on my exams, but I think the actual legend is that you get A's on your exams," she said.
UNT President Neal Smatresk, reached for comment in late January, said he hadn't seen Lucky since being back on campus for the new semester, but he hadn't gone out looking for him, either.
"We all miss Lucky," he said.
A sighting is always an event, he said, with people gathering around to take pictures and shouting for their friends to come see the miniature celebrity.
"It's a lift," Smatresk explained. "It's a lift for the whole community when we see Lucky."
The iteration of Lucky who gained the most attention recently was the unfortunate squirrel who was struck by a vehicle while crossing Highland Street around the time of 2016's fall semester final exams.
Jim Kennedy, regents professor and director of the Elm Fork Education Center, recounted that a UNT staff member saw the accident and rushed the squirrel to a veterinarian, but Lucky died before receiving treatment.
"Now, most squirrels pass away unnoticed, but this Lucky's death did not go unnoticed," Kennedy continued.
News outlets across North Texas announced the squirrel's passing.
Calls were made, and somebody eventually asked Jaime Baxter-Slye, a UNT instructional lab supervisor, who then called Kennedy, to find out if Lucky's corpse might make a good research subject for the mammalogy lab.
Kennedy said it isn't uncommon for roadkill to be brought for study in mammalogy or ornithology classes, but people started thinking there might be a better use for this particular specimen.
The body found its way to Kennedy's desk, who then put it in one of the Elm Fork Natural Heritage Museum freezers until he could find a way to have it professionally mounted by a taxidermist.
The financial hurdle presented by professional taxidermy led to Lucky sitting in cold storage for roughly two more years until a system of acquaintances and barters landed Kennedy with a deal.
As he remembers it, a graduate student knew somebody who would be willing to subsidize his taxidermy services to settle an unrelated debt. Kennedy said that cut the cost down, but he still paid a few hundred dollars for the job.
Lucky the Squirrel then found a permanent home inside the Elm Fork museum on UNT's campus shortly before the ongoing pandemic forced most would-be onlookers off campus.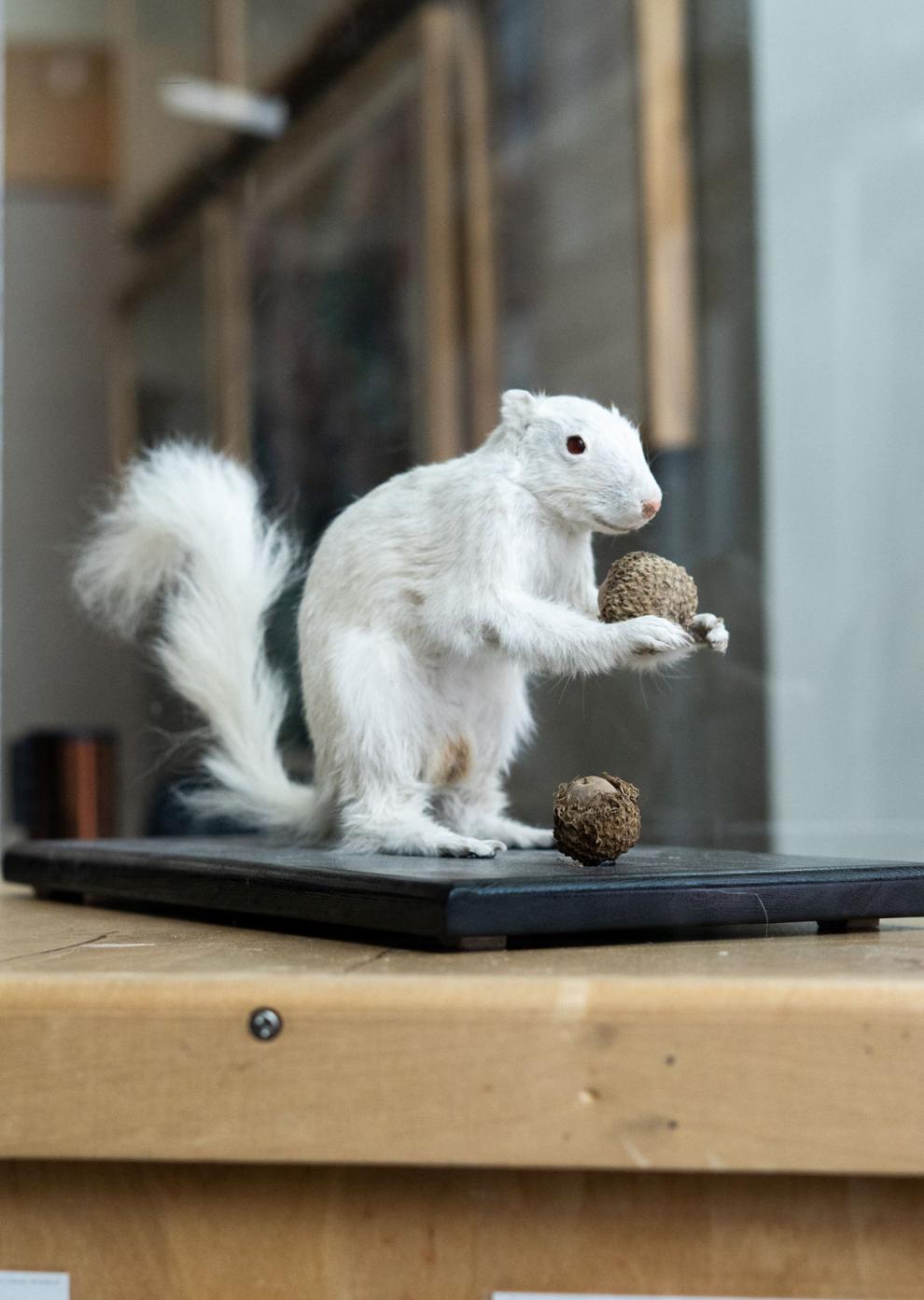 Unfortunately, Wheeler said, the squirrel was in the process of losing its winter coat, so its fur was pretty scraggly by the time it was hit by the car.
Kennedy said he hopes Lucky's new place of prominence brings more attention to the museum and provides a connection for students to the current Lucky's predecessors.
Kennedy started working at the university in 1987, and he remembers seeing white squirrels and witnessing the campus's fascination with them before too long. He couldn't say for sure when albino fox squirrels started popping up on campus, but he said it most likely predated his time at UNT.
Despite Lucky's new place of honor on display in the museum, that particular Lucky wasn't the first such albino squirrel to meet an unfortunate end.
"Every Lucky the Squirrel since I've been here just disappeared or was taken out by hawks or met some sort of untimely death," Kennedy said.
Another albino squirrel named Baby was memorialized with a display in the Willis Library Cyber Cafe after it was killed by a hawk in August 2006. Students at the time said that particular squirrel first showed up in 2004.
Despite the many deaths of Lucky, or Baby, the squirrel, new versions always seem to pop on campus. That led to some speculation among members of the UNT community that employees were covertly importing albino squirrels to keep the myth alive.
In an attempt to verify or put those claims to rest, the Denton Record-Chronicle submitted a request under the Texas Public Information Act for "any and all receipts that show the purchase of albino squirrels by or for the University of North Texas," as well as "any and all contracts detailing the purchase, lease or UNT-sponsored care of albino squirrels on the UNT Denton campus."
A university spokesperson, in an official response, confirmed on Jan. 29 that no such records exist.
Baxter-Slye said it is incredibly rare to find true albino animals in the wild. That said, she and several others interviewed said UNT's campus provides a special environment for the animals.
Roadways divide the campus from other parts of Denton, and the university upkeep on trees ensures future generations will have habitat in which to live.
Additionally, discarded and sacrificed snacks from students provide bountiful, if not entirely healthy, meals for all manner of animals living on the campus.
Wheeler said albinism is incredibly rare the first time it shows up in a population, but then the chances of it being passed to an offspring make it markedly less strange going forward.
"All it needed was to happen once in the last 100 years," he speculated.
Baxter-Slye's expertise is in aquatic insects, but she sees how Lucky and other fox squirrels can be an entry point for students to connect to nature more broadly, whether they realize it or not.
Much like monarch butterflies serve as a great mascot for all pollinators, Lucky the Squirrel helps to increase interest in natural habitats on the campus, she said.