Two University of North Texas professors, along with a small but dedicated workforce of graduate students, are building a car of the future.
Qing Yang and Song Fu have worked on the project for roughly three years, and they have three vehicles, hundreds of thousands of dollars in research grants and stacks of research to show for it.
One of their ultimate goals, beyond the self-driving car itself, is a system of interconnected cars communicating about potential hazards in real time.
The vehicle sits at the far end of a long concrete hallway at UNT's Discovery Park in Denton. A relatively small garage-like space enclosed with chain-link fencing holds two gold carts fitted with sensors and a larger white vehicle that looks somewhere between a high-end golf cart and a stripped-down Smart car.
There are no doors on the vehicle, and the floorboards hold processing equipment.
Yang and Fu said the vehicle is essentially composed of three systems: perception, computing and control.
Pointing out the set of cameras and laser system mounted to the car's roof, Yang said the system is great at detecting most everything, but the focus of their research is in cooperative perception: getting vehicles to communicate with each other to get a fuller picture of their surroundings.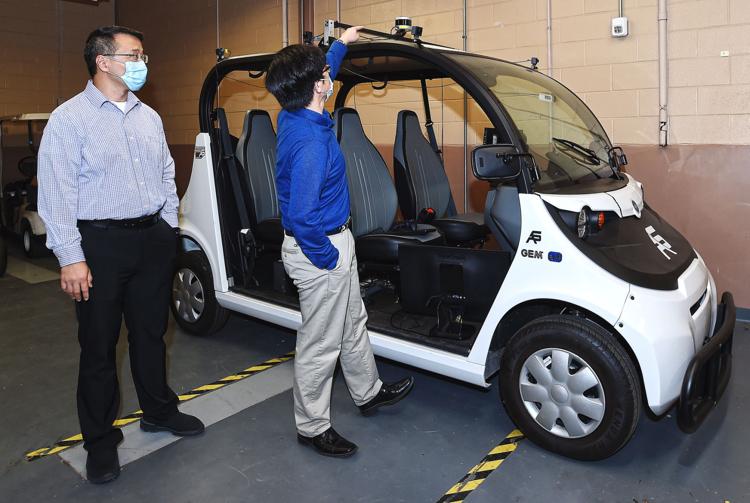 "The reason is, if you think of the sensors like our eyes ... it's the objects that we cannot detect that bother us," he said.
For example, the car you're driving wouldn't have to see the person about to step off the curb into traffic if another car could relay that information to other vehicles nearby.
So far, the researchers have a car that "sees" its surroundings well, but the car will simply stop when it notices an obstacle. Programming it to move around the obstacle will be one of the next steps.
The extra safety of vehicles communicating also comes with privacy concerns, with countless cars monitoring their surroundings in 360 degrees at all times, the researchers said.
Part of their research is focused on making sure the information vehicles are transmitting doesn't fall into the wrong hands.
Perhaps the most important part of their work on the vehicle is the fact that they allow others to learn about their work.
They've had to rediscover some of what they've uncovered over the past few years because industry leaders in connected and autonomous vehicles have kept a lid on their work.
Researchers believe that serves to hold the entire industry back. By allowing outside voices and letting others learn what they're working on, the UNT researchers hope to advance the development of these technologies more quickly.
Neither professor wanted to guess how far away the average consumer is from having a fully automated car. Yang said it's likely the technology will exist well before the market is ready to fully embrace it.
Beyond that, Fu said there are many considerations that need to be worked out legally before it would be practical to have them on the road, such as whose insurance pays for damage caused by an autonomous vehicle.