As students entered North Central Texas College's new Denton campus Monday morning for the first day of classes, staff were positioned throughout the first floor to help direct students to classrooms.
Class schedules with room numbers were printed and taped to the walls, and First State Bank employees tabling in the lobby helped direct first-time students to the right spots.
Formally called the First State Bank Exchange at NCTC Denton, the new 45,000-square-foot campus in the Denton Record-Chronicle's former building hosted classes and students for the first day of school Monday. This semester, more than 560 students have registered for classes at the campus — a number that could continue to rise this week, said Jessica DeRoche, senior director of the campus.
"We're looking forward to working and meeting the students," she said. "Each of our campuses has different personalities and different types of students, and we haven't gotten to meet our students until today."
The Denton campus offers many basic core requirement classes and pathways to degrees in education as well as associate degree programs in arts and science.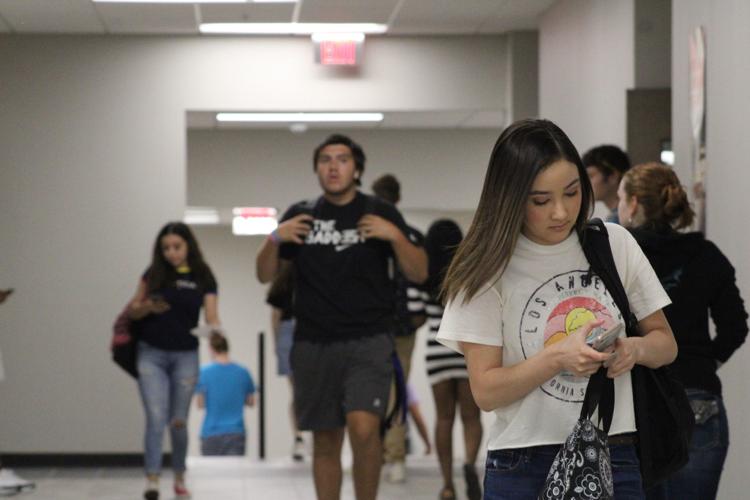 Gilianna Vega, a freshman from Corinth, said she chose this branch of NCTC because of the clear track to get a degree in education.
"I want to be an elementary school teacher, and I saw this campus specialized in education, so I was interested because of that," she said.
While hanging out in the lounge area, she said she really liked the building's interior and the advanced classroom technology that enabled her to follow every step of the lesson during her college algebra class Monday morning.
"The technology is pretty advanced, so I understood what I was being taught because it was all on the board," Vega said. "It was a really good first experience."
In addition to the classroom tech, NCTC Denton also has information technology support on-site and the Mane Stop — a student service center with all of the in-house support services from advising to financial aid. There's also a lounge area, which DeRoche thinks will help students connect more with the campus.
"When we were looking at the space and designing it, that front area toward Hickory Street is very open and can be more multipurpose," she said. "Students feel like they can stay on campus; they don't have to get up and go."
A few classic college campus staples are missing, though. This campus doesn't have a bookstore or library, but NCTC has partnered with Denton's nearby Emily Fowler Central Library and the bookstore at Texas Woman's University. Students can order books online to be delivered to their homes or TWU, and the city library's resources are available to NCTC students.
Classes at TWU and the University of North Texas also kicked off Monday, marking the first day of school for all three of the higher-education institutions in town.