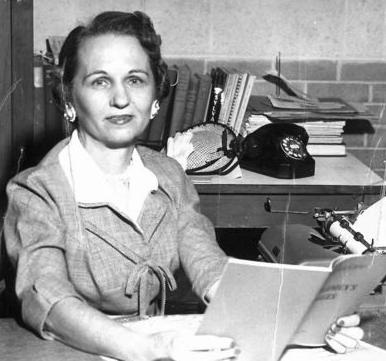 Caro Crawford Brown "has a seeing eye and a portraying hand, and she believes in something," according to novelist J. Frank Dobie. Some of Denton's strong women were in the area only briefly, which was the case for Brown.
But her accomplishments were amazing enough to list her with a handful of other notable Texas women like Barbara Jordan who changed Texas history.
Brown studied journalism in 1925 at the College of Industrial Arts, now Texas Woman's University. She must have been a good student, because she became the first female journalist in Texas to receive the Pulitzer Prize for local reporting on deadline. TWU inducted her into the Texas Woman's Hall of Fame in 1986.
While Brown was a student at CIA, she served as editor of The Lasso student newspaper. She also got into trouble for attending a party off campus out of uniform. In fairness to CIA, all colleges had strict rules because they were expected to act in loco parentis, or in the place of parents, policies that didn't change until Vietnam veterans arrived on college campuses in the late 1960s.
Brown was born in 1908 in Baber, a tiny sawmill town near Huntington in East Texas. Her father worked the mill and moved the family to Beaumont when timber depletion forced the mill's closure. She was 15 when the family moved, and she attended high school in Beaumont.
Because the start of the Great Depression interrupted her education, she moved to Conroe, where she met and married her husband, Jack L. Brown. They moved to Duval County for his job with Texaco and had three children by 1945.
Caro Crawford Brown took a job as a proofreader with the Alice Daily Echo in 1947, quickly progressing to columnist, society editor and courtroom reporter. She was asked to investigate George B. Parr, a powerful political boss in Duval and Jim Wells counties.
Duval County was a notorious South Texas boss-rule county, where Archer Parr and son George B. Parr's control of the economic and political landscape covered four decades. They often served as county judge or sheriff. Parr and his father both were called "The Duke of Duval," but the people called them "El Patron" because they operated similar to Mexican patrons, financing funerals or weddings for impoverished Mexicans in return for political loyalty to the boss' candidates. Bucking the system resulted in serious consequences, including physical harm or death.
George Parr was convicted of tax evasion in 1932, and he served nine months in federal prison. After some political maneuvering, his civil rights were restored in 1946, when President Harry S. Truman pardoned him.
Returning Hispanic World War II veterans, dissatisfied with the racially discriminatory, patriarchal South Texas boss rule, formed the Freedom Party that supported several candidates in 1952. Two members of the Freedom Party, and the son of a third, were murdered in a wave of violence historians attribute to an effort to preserve the Parr family rule.
George Parr's later political career was punctuated with a series of scandals involving election fraud, graft on a grand scale and violence. His most celebrated scheme decided the outcome of the 1948 U.S. Senate race between Coke R. Stevenson and Lyndon B. Johnson.
When Stevenson was the likely winner, Jim Wells County election officials, who historians believe acted on Parr's instructions, reported 202 additional votes for Johnson a week after the election. The tally sheet was apparently altered, and ballot box 13 disappeared and was never found amid charges of voter fraud. Johnson won his second bid for the U.S. Senate by 87 votes for the entire state. He likely wouldn't have become vice president or president of the United States without the narrow 1948 victory.
State officials handed down more than 650 indictments in their investigation of the Parr dynasty. Brown became an Associated Press reporter for Duval and Jim Wells counties. She tirelessly attended trials, made public records requests and sifted through legal documents. Brown paid her own travel expenses, writing a series of stories on tight deadlines. She was known for her scrupulous ethics.
Brown stayed on the job even after Texas Rangers warned her life was in danger. In 1949, Bill Mason, a radio personality, criticized an Alice dance hall and prostitution on air, and Deputy Sheriff Sam Smithwyck, Parr's close associate, shot Mason to death on a street in town. Smithwyck was convicted and sentenced to life in prison. He was found dead in his jail cell shortly after agreeing to talk about the ballot box 13 political scandal. His death was ruled a suicide, but he may have been murdered to keep him from talking to Texas Gov. Coke Stevensen.
While Brown covered George Parr's legal hearings in 1954, a scuffle erupted in the hallway outside the courtroom between Texas Ranger Alfred Y. "Cap" Allee and Parr, after Parr attempted to take another Ranger's gun. Allee stuck his gun into Parr's ribs. Brown later said, "I thought I was going to see a killing." She stepped between the men and begged Allee not to shoot. Her screams attracted officials, who broke up the fight. Although Parr escaped with minor injuries, he filed an attempted murder charge against Allee, later dropping it "for the good of the community."
Parr later credited Brown with saving his life.
Brown's investigative efforts and articles helped authorities' criminal cases. Parr avoided conviction, but Brown's stories pointed a national spotlight on the Parr dynasty. She is credited with unraveling Parr's political machine, which no longer was in control by the 1970s.
In 1955, Brown became the first woman in Texas to receive a Pulitzer Prize in journalism for local reporting on deadline. The committee noted she received the award for "a series of stories dealing with a one-man political rule in neighboring Duval County, written under unusual pressure both for edition time and written under difficult, even dangerous, circumstances. Mrs. Brown dug into dramatic daily events, as well, and obtained her stories in spite of the bitterest political opposition, showing professional skill and courage."
Brown's daughter, Caralou Brown Mitchell, of Fort Worth, said her mother's career lasted only five years because she retired from journalism shortly after winning the Pulitzer Prize. Mitchell said she remembers her mother carrying a handgun in the glove compartment of the family car.
The law finally caught up with Parr. He was convicted of income tax evasion for a second time in 1974. He was sentenced to 10 years in prison. Parr died of an apparent suicide on his ranch in April 1975.
Brown died at the age of 93 in Boerne, in 2003. The national spotlight she cast on the Duval dynasty changed the lives of many South Texans.
Annetta Ramsay, Ph.D., has lived and worked in Denton for many years. She is an OpEd Thought Voices Fellow.