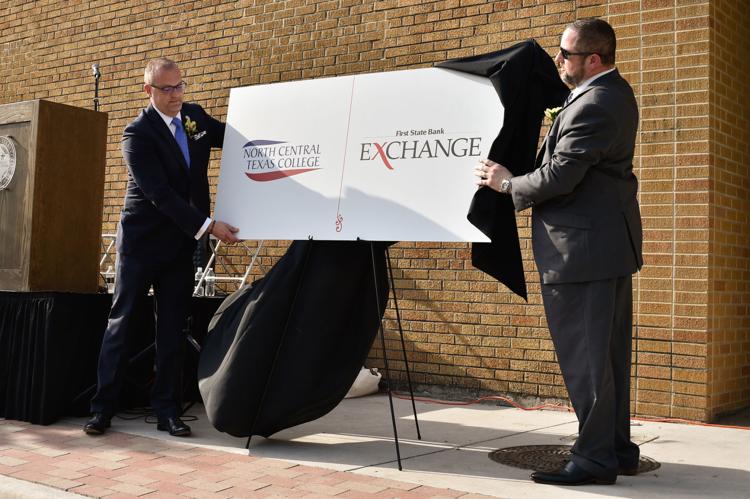 First State Bank CEO Ryan Morris announced Thursday the business will give $1 million to North Central Texas College to expand its school and use a repurposed building in downtown Denton during a reutilization and naming ceremony for the campus.
Morris said the $1 million is the college's "largest corporate gift ever." He said First State Bank and NCTC have been partners for more than 40 years.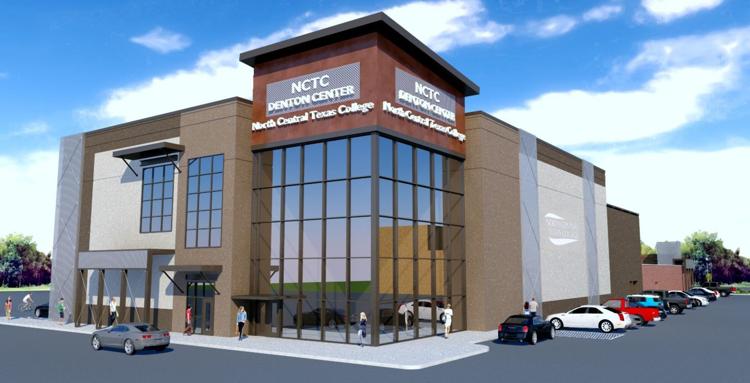 "First State Bank invests in education to invest in these students because it can dramatically alter the quality of life that those students and their children and their families can enjoy," Morris said. "And because it's the right thing to do in demonstrating support to friends and neighbors."
NCTC officials revealed the new downtown Denton campus will be named The First State Bank Exchange at North Central Texas College. It is located at 314 E. Hickory St., the former location of the Denton Record-Chronicle. The Record-Chronicle moved to its new location off South Loop 288 in August.
The crowd of about 100 gathered in front of the building Thursday morning. Attendees included officials from the city of Denton — including Mayor Chris Watts — NCTC, the University of North Texas, Texas Woman's University and Denton ISD.
Welcome remarks came from John Maduko, NCTC's vice chancellor of external affairs. Speakers included Watts, Morris and NCTC Chancellor Brent Wallace.
"This facility will serve as a community nucleus, where higher education, industry, community and business can come together for exchange of ideas, not only empowering our students, but empowering the community we call home," Wallace said.
There were 10,533 students enrolled total across NCTC's five campuses and online in 2017. This was an 8.4 percent increase from 2016. Enrollment has doubled over the past decade, Wallace said.
Courses at the Exchange campus will focus on Associate of Arts, Associate of Science and academic transfer courses. The transfer courses will allow students to be enrolled in classes at NCTC and UNT or TWU.
NCTC regents approved a resolution in May authorizing the lease-purchase contract for their use of the building as an educational facility. They announced intent to expand their services to downtown Denton in October.
"We all know that education changes lives, so thank you so much in looking forward to the addition and looking forward to the partnerships we can create and maintain with the city and the community college," Watts said.
The campus is set to open in fall 2019.