As the University of North Texas nears the completion of a fall semester laced with challenges stemming from the ongoing COVID-19 pandemic, upcoming graduates were able to attend an in-person commencement ceremony Sunday at Apogee Stadium.
In lieu of the standard graduation ceremony, typically held at the university's coliseum, Sunday's event had students and their guests stay put in socially distanced seating throughout the stands and on the field. That meant no crossing the stage, a graduation tradition, and masks were required throughout.
UNT made it no secret that this year's ceremony would be anything but traditional, but students who attended were able to flip their tassels nonetheless following mass conferrals for doctoral, master's and bachelor's degrees. A total of 2,694 people attended, including students and their maximum two guests each. The commencement was also livestreamed via YouTube.
"When you started your journey at UNT, no one anticipated a pandemic that would transform the way your courses are taught," university President Neal Smatresk said, addressing students. "It wasn't easy. Your fortitude helped you persevere, and you've completed one stage on your path to success."
Prior to Sunday, Smatresk said the university decided on this year's format because many students said they were disappointed in virtual events and wanted a live ceremony. He said the safety measures and restrictions put in place were necessary to minimize risk at such a large-scale gathering.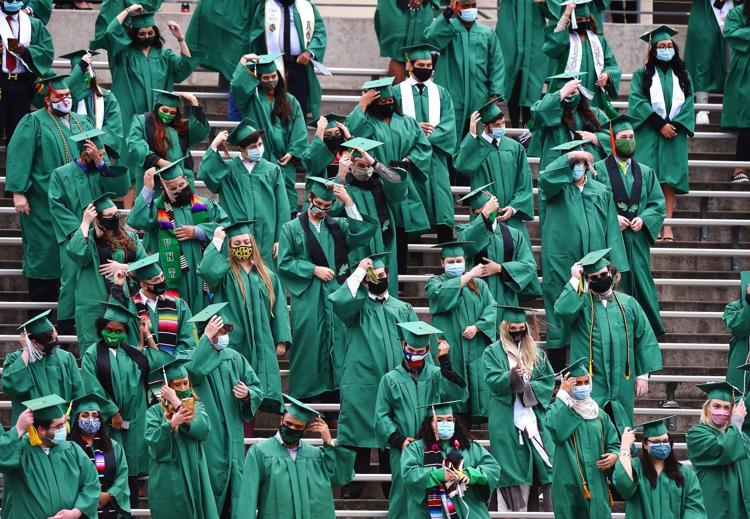 "We hope that students recognize their safety and the safety of the broader community is of critical importance right now, and we can't run a ceremony that would compromise that," Smatresk said. "We're all hopeful it will give students a special moment in the time of COVID."
Commencement participant Colleen Khatemi said that while she's disappointed she didn't get the chance to cross the stage, she's grateful the university was able to host a ceremony at all given the circumstances — and didn't think twice about coming.
"I put my kids through college and now I'm graduating," Khatemi said. "It's been a lifelong pursuit of mine. I wouldn't miss it for anything."
Virtual ceremonies will be held for each of the university's colleges Dec. 11 and 12, as the semester officially wraps up. At those ceremonies, deans will address students and each graduate will have their name read.