Disney writer Tom Rogers cast a spell over Newton Rayzor Elementary School students on Wednesday morning.
He didn't use magic, but he did use a pair of magic markers and stories about his path to one of the most productive and successful companies in the world.
Rogers is a writer with Disney Animation credits the students recognized: Secret of the Wings, Tinker Bell and the Legend of the Neverbeast, The Lion King 1½ and Elena of Avalor. Right now, Rogers is co-writing the television adaptation of the book series The Chicken Squad.
Rogers, a Dallas native, held court with two sessions of Newton Rayzor students on Zoom, a videoconferencing platform.
First, Rogers talked about cartoons.
"How many of you know what animation is?" Rogers asked. "Animation is where you use one drawing at a time to bring a story to life. You do one drawing, and then you do another where the figure moves a little. Then you do another drawing, and the figure moves a little more."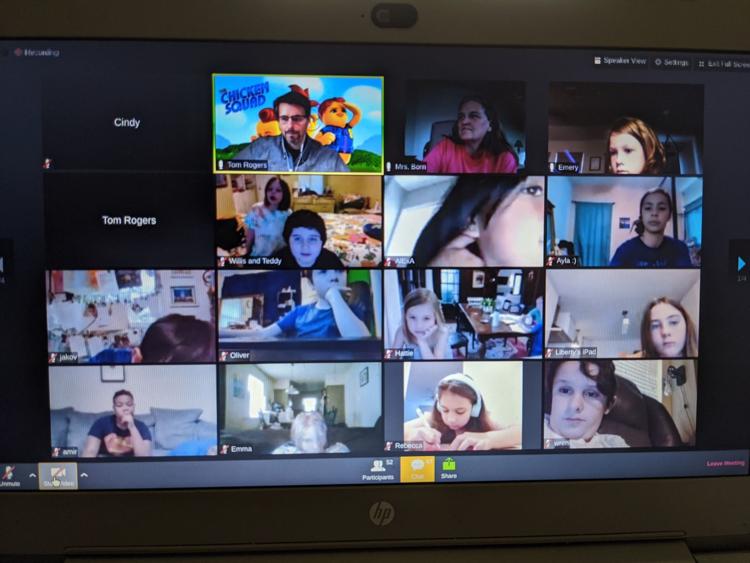 When Rogers asked if anyone knew what stop-motion animation was, a chorus of gleeful answers got everyone's computer microphones muted, and students took turns sharing their stop-motion animation projects. One student held her characters — critters made with purple pipe cleaners and other craft supplies — up to the camera.
"I can move them," she said.
"Oh, that's great!" Rogers said. "So creative."
While visuals dazzle all ages — something Disney knows well — Rogers championed his part of the process, and reminded students that before there's a Sully and Mike to scare little children in Monsters Inc., there's the story.
"I've taken some drawing classes, and they were fun, but unfortunately that's a skill I will probably never master. I'm really a writer," he said. "You might not realize it, but everything starts on the page. It all starts with the writing."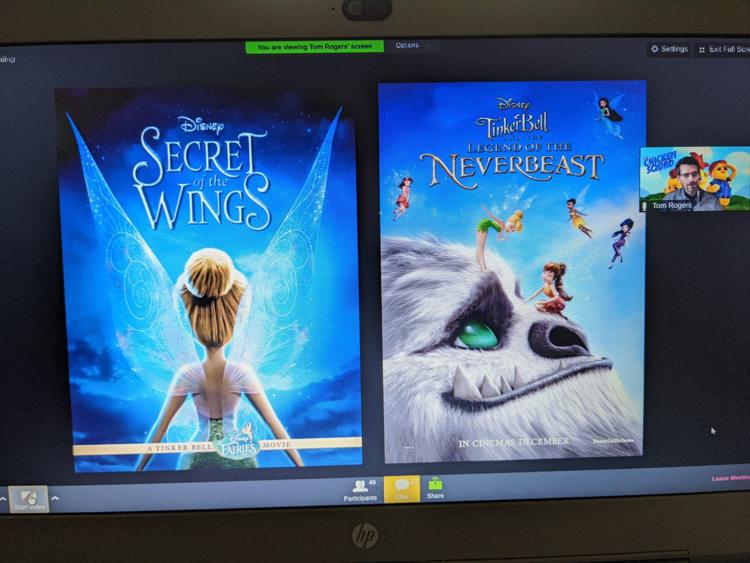 Rogers shared a page from an Elena of Avalor script and read through some of the directions. Then he showed black-and-white sketches of a fictional sporting match, with players running toward a referee.
Then Rogers taught the students to make their own animation with a Post-it notepad and markers. He started by making a stick figure wave on 16 Post-it notes. Then he took the students through adding another stick figure throwing a ball to the first figure. Switching to a blue marker, Rogers ended the animation lesson by adding a water balloon that drops and drenches the waving figure.
During the session, teachers and students posed questions to Rogers: What's your favorite movie you've ever worked on? What book inspired you the most? And you know in that Disney movie about Rapunzel, Tangled? Was the town she lived in really called Corona?
Rogers gamely answered: He doesn't remember all the details of Tangled, but the movie came out before Corona ("which means 'crown,'" he said) took on an ominous connotation; he still cherishes the children's book Where the Wild Things Are; and Legend of the Neverbeast has a special place in his heart.
"What's my favorite movie that I've ever worked on? I love Neverbeast," he said. "It's about someone who is misunderstood because of the way they look. And I love that Fawn [a fairy in Tinker Bell's Pixie Hollow] stands up for what she believes in and knows that the Neverbeast isn't bad. I tear up at the ending every time, even though I know the ending."
Rogers ended the session by urging the students to keep reading, and to reread their favorite books.
"Pay attention to how the writer gets you excited," he said. "How she makes you want to keep turning the pages."