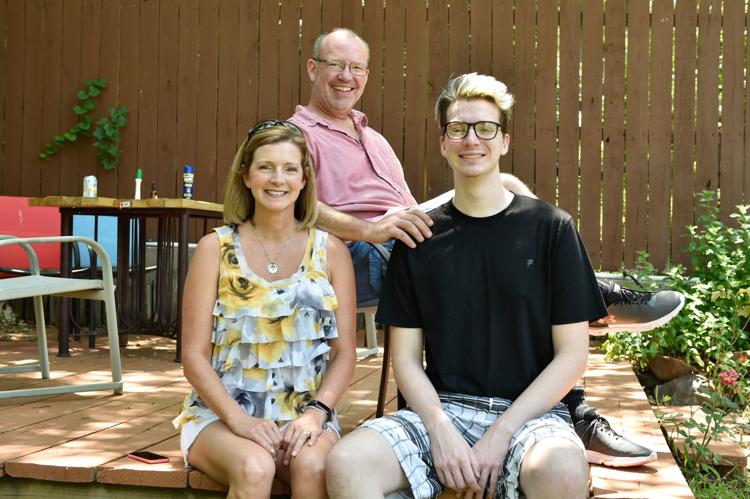 The Deans have some tough decisions to make this summer: ship, store or sell.
Scott and Jessica Dean weave through boxes in their south Denton home as they stare at the effects of "forced downsizing" and try to figure out how to fit 17 years' worth of memories into a handful of suitcases.
"It's funny how things have moved," Jessica said. "I'll think I want to take something with me, and then a month later, I'll think I don't really need it."
The couple left their jobs in Denton ISD — Scott a math teacher at Guyer High School and Jessica a counselor at Houston Elementary School — at the end of the school year.
They'll fly to Malaysia on July 30 to help open an international school in Forest City, a $100 billion project being built by Chinese developers on four artificial islands in the Malaysian Peninsula.
"I guess it's our empty-nesting adventure syndrome," Scott said.
But their nest won't be completely empty. Their son Jackson, a recent Denton High School graduate, will take a gap year before college and join his parents in Malaysia to help with the school's fine arts program. His older sister, Chandler, a Frisco hair stylist, will stay behind in the United States.
"The hardest part will be leaving our family," said Jessica, holding back tears as she thinks of leaving the place she was born and raised. But it was time to take a leap, she said.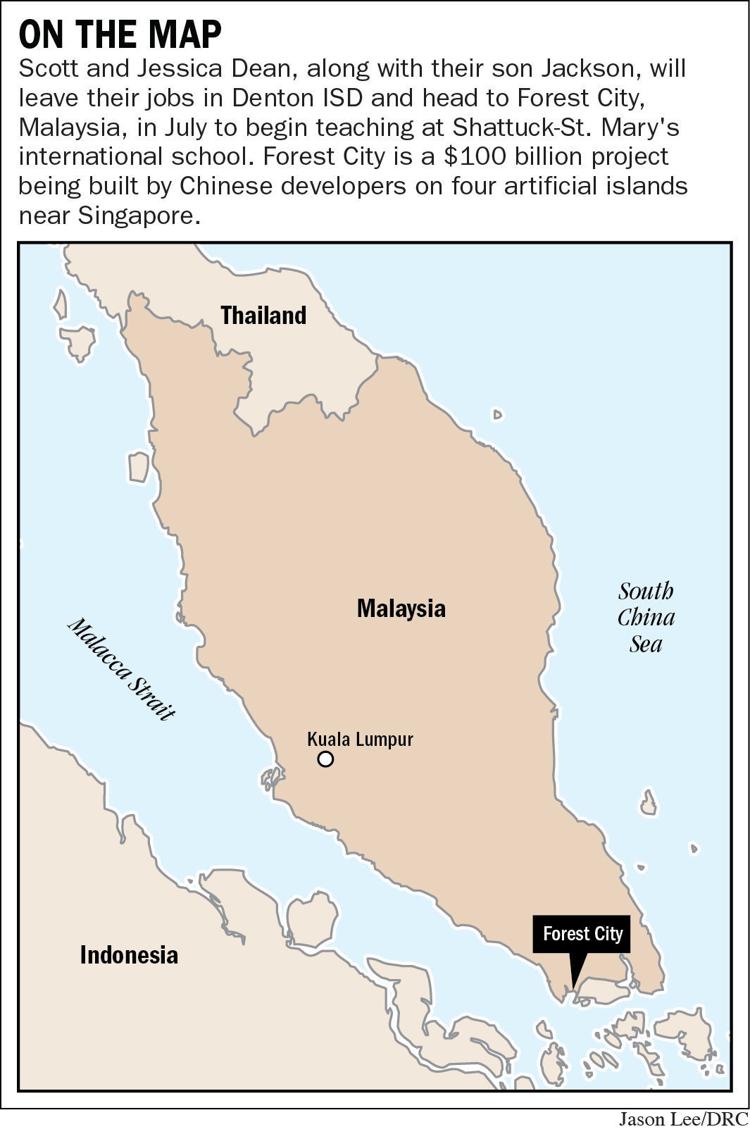 As Jackson's graduation date neared, the Deans decided they wanted a change from the traditional school system. They filled out an application with International School Services and soon were matched with administrators at the Minnesota-based Shattucks-St. Mary's boarding school.
The school was launching a new international college preparatory campus in Malaysia for kids in preschool through high school and happened to be looking for a math teacher and counselor.
The Deans interviewed over Skype, got the job and signed a two-year contract.
Based on pictures from its website, Shattucks-St. Mary's will be made up of several multi-storied buildings surrounded by greenery. Framed by the cranes still building the city around it, the school features a pool, an auditorium and living space for boarding students and faculty.
If the Deans peer across the Johor Strait from their campus apartment, they can catch a glimpse of Singapore.
Scott and Jessica said they were drawn to international education because it lacks high-stakes testing, a common subject of criticism from both parents and teachers in Texas.
Even so, the pair said they're eager to build on the foundation they formed in Denton as they establish the curriculum for Shattucks-St. Mary's.
Jessica said she expects counseling to be a little different in a foreign country, but luckily for Scott, math translates easily.
"The Forest City math curriculum will probably look a lot like Denton ISD's math curriculum, just because it's me and I know this one so well," he said.
But it won't be all work in Malaysia. The family plans to explore Thailand, Vietnam, Cambodia and Australia. They'll try new food, learn about new religions and become immersed in new cultures.
"We hope to learn how to meditate better," Scott said.
"Or just how to meditate," Jessica added.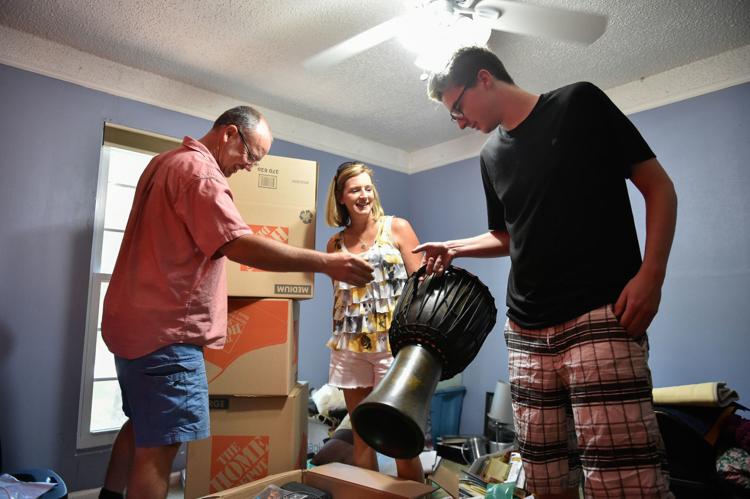 Although the overseas move is an effect of the "empty nest syndrome," Scott said he wished the family went earlier when their children were younger.
"If we had to do it over again, we probably would've gone when our kids were in the first or second grade so that they would've grown up internationally," he said.
Jackson spent his whole life in Denton and said he enjoyed his childhood but knows it's time for a change of scenery.
"I'm just ready to get out of here," he said. "I'm tired of being in the same place."
As the family checks off boxes on its to-do list before stepping onto a 20-hour flight, a layer of trepidation settles over the enthusiasm.
"I'm feeling scared to death at this point, but we're doing it," Jessica said. "You have to be brave and have courage, and you can't let fear be the thing that stops you from doing something you think you might like."