Most of the speakers during Denton ISD's Tuesday board meeting spoke passionately in favor of a districtwide mask mandate in defiance of Gov. Greg Abbott.
No school board member spoke publicly in favor of defying the governor, though no formal time for such a discussion was scheduled.
Speakers advocating for universal masking in Denton ISD were more fiery than their unmasked peers. Voices rose or quavered, and appeals were made to science, compassion and safety as the coronavirus continues to spread.
One speaker even slammed his fist into the lectern to accentuate his point when declaring his eighth grader "has a right to attend a safe school."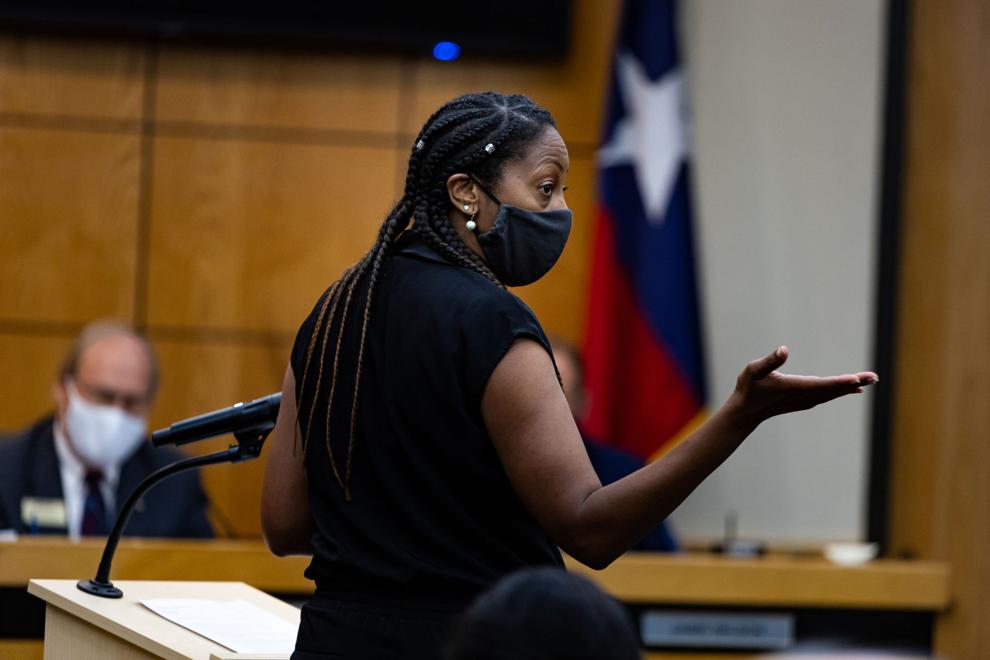 Jim Alexander, the longest tenured board member, having served since 1993, took time to explain why he felt the district had its hands tied.
Alexander, who is a professor emeritus of government and former chair of the Texas Woman's University Department of History and Government, said Denton ISD is simply "a creature of the state of Texas," meaning it can't operate entirely independent of the state government.
Audience members in the nearly full meeting room began grumbling at this point. Five people had already spoken in favor of a mask mandate before Alexander spoke.
While he expressed frustration about Abbott's executive order preventing local governments from instituting mask mandates, Alexander said there really isn't anything Denton ISD can do about it.
"If that was true, we would still be British," one member of the audience said.
Alexander said the district must operate under the confines of the law, and those frustrated should direct their opinions where they are most effective.
An audience member shot back that many of them were doing exactly that by speaking at the board meeting that evening, and several asked Alexander how he would explain Dallas ISD's recent move flaunting the governor's order.
As of Tuesday night, Dallas, Houston, Austin and Fort Worth ISDs had some form of mask mandate planned for the beginning of the 2021-22 school year.
"They are acting outside of the law," Alexander said before Denton ISD attorney Deron Robinson asked the audience to be respectful and wait until the next open forum to voice their opinions.
Audience members largely acted within district protocols, but a handful of speakers went past their allotted three-minute window. The first speaker ignored repeated reminders that she was out of time.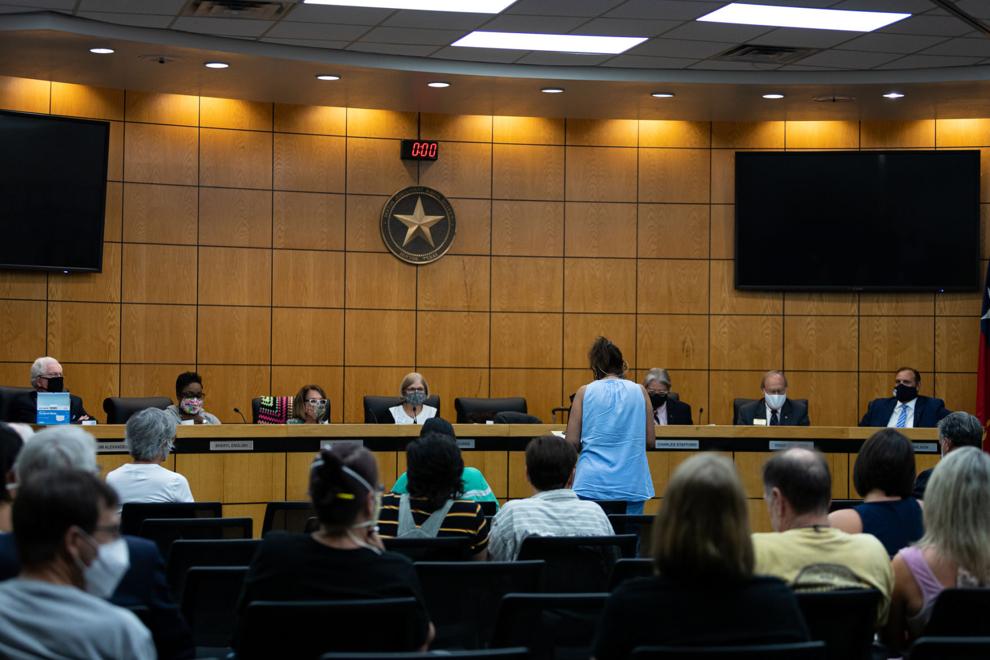 Area Superintendent Jeff Russell and a police officer were walking to the first speaker when she relented and took her seat. She apologized after Superintendent Jamie Wilson explained they were trying to be respectful of everybody's time.
Wilson later told those in attendance that even direct defiance of the governor's order wouldn't go smoothly. The district would then have to figure out how to enforce its mandate when parents and students who don't want to wear masks would be fully aware Abbott is on their side.
Four of the 15 speakers addressed board members from the lectern unmasked to request the district stay its course and not require masks be worn on its campuses.
Among them was Amy Bundgus, who ran unsuccessfully to take the school board seat currently held by Sheryl English. Bundgus received about 40% of the vote.
She was one of two unmasked speakers to thank board member Mia Price for her earlier comments about the pandemic.
Those comments came during a board discussion with Juan Rodriguez, chief epidemiologist with Denton County Public Health, about the current state of the pandemic.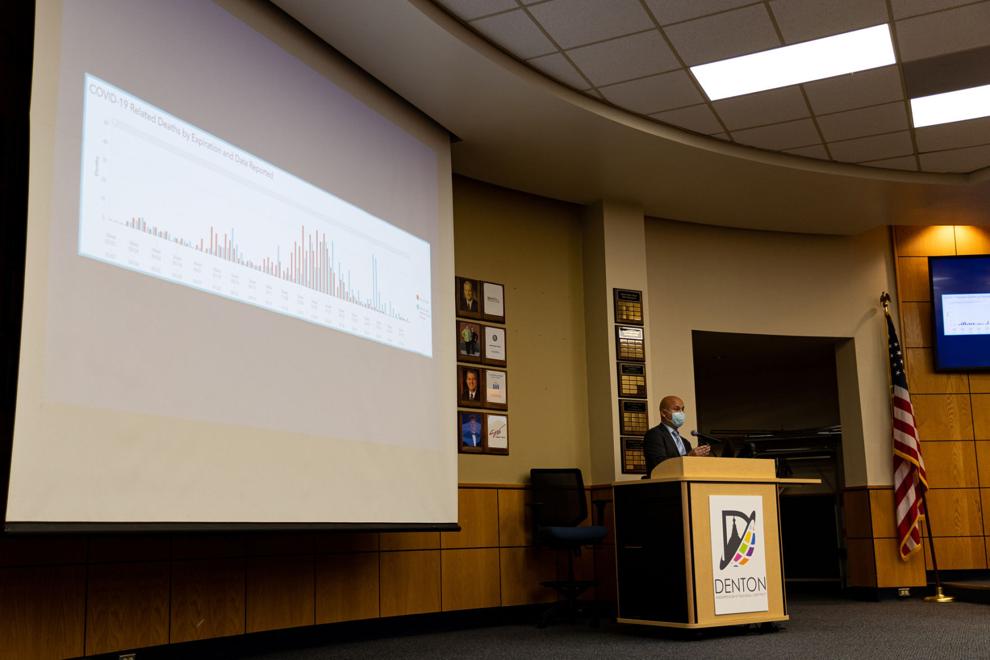 "Do we ever see this virus going away?" Price asked after saying she would play the devil's advocate.
She twice referred to it as a genetically engineered virus that keeps mutating, thus preventing a more thorough understanding of it. Researchers have been unable to ascribe a definite origin to the current pandemic.
Price said our current situation can often feel hopeless and unending: "Just throw us a bone here or something," she said to Rodriguez just before laughter from those present.
Rodriguez pointed to the various COVID-19 vaccines as the rays of hope that will help us through this.
Despite science to the contrary, some speakers — Bundgus included — argued masks aren't effective at reducing the transmission of the coronavirus responsible for COVID-19.
The Centers for Disease Control and Prevention have reaffirmed time and time again the efficacy of mask-wearing to save lives.
Others spoke to the trauma caused to children over the past year and a half and exclusively attributed that trauma to mask-wearing.
Drew Christ was one of the last speakers to address the board Tuesday night. He began his three-minute allotment by holding up a picture of his 1-year-old niece, Palmer, on his phone.
He told board members she tested positive for the coronavirus in January and was later sent home from the hospital with an oxygen mask.
Christ said his niece still coughs from the infection, so he doesn't agree with arguments that COVID-19 isn't a danger to children. He spoke in favor of universal masking in Denton ISD, and discounted the arguments about personal choices amid the pandemic.
"Palmer didn't get the choice," he said.