Football stadium tunes and the hum of a bus engine shook the front lawn of E.P. Rayzor Elementary School as Denton ISD's library on wheels began its debut tour Tuesday morning.
Music came courtesy of Guyer High School musicians, but the bus was the culmination of countless hours provided by community members, spearheaded by district librarians.
The Library2Go program opened for business just after 8:40 a.m., and made four additional stops across the school district before turning in for the day.
Lisa O'Rear, Adkins Elementary School librarian, sat aboard the monolith commemorating the efforts of a community at Tuesday's first stop. Students brushed past wearing their summer uniforms of swimsuits and sandals.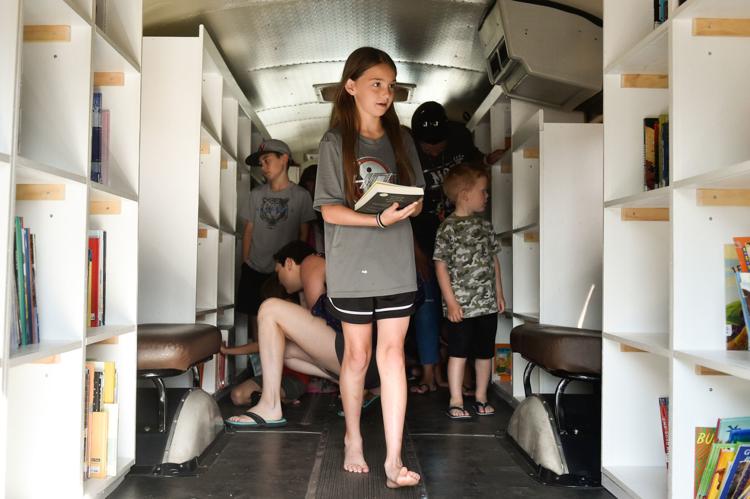 Copies of Never Touch a Shark!, Pinkalicious, Dogman books and more flew from the shelves two at a time.
"It happened; we did it," O'Rear said. "I don't think I could smile big enough."
Community support flooded into the project to combat the increasingly infamous "summer slide," which serves to widen the achievement gap between students. It boils down to this: Students who read over the summer do better in school than their non-reading peers, but those who don't read regress and spend the first part of each school year covering lost ground.
For now, that effort means that students across Denton ISD will have access to books free of charge every Tuesday and Thursday, excluding the Fourth of July.
After more than two hours spent stocking the library with books Monday afternoon, a small fleet of librarians turned out and accompanied the fledgling library along its maiden voyage.
Despite the fanfare, students were combing the shelves of a work in progress.
"It's not a finished product," said Lara Isbell, librarian at Savannah Elementary School.
Two walls were fitted with wooden shelves stocked from top to bottom with books suited for high school, middle school and elementary students.
Less than 24 hours prior to Tuesday's ribbon-cutting, workers with the district transportation department installed the last of the bus's bookshelves. That meant librarians could finally stock it for the morning's kickoff of a summerlong trial run.
Very few racks had anything to keep books from tumbling to the ground while in transit, but organizers were experimenting with heavy dowel rods mounted to shelves to solve the problem.
No books fell between Tuesday's first and second stop, but a few titles were injured in the line of duty en route to E.P. Rayzor that morning.
One vital feature that made it on board by Tuesday was a wheelchair lift. In addition to serving its intended purpose, it might also be used as a back-saving way to load boxes of books.
With temperatures peaking near the 90s, those aboard the bus were surely happy that air conditioning was in place. Even that wasn't always a certainty.
"[Librarians] would have done this without the air conditioning," said Barbara Burns, president of the Denton school board.
In the not-so-distant future, librarians hope to have a full-bus wrap in place with Denton landmarks to distinguish the roving literacy advocate from an ordinary yellow school bus. As of Tuesday evening, the project was less than $2,000 away from being able to afford the wrap, said library coordinator Donna Kearley.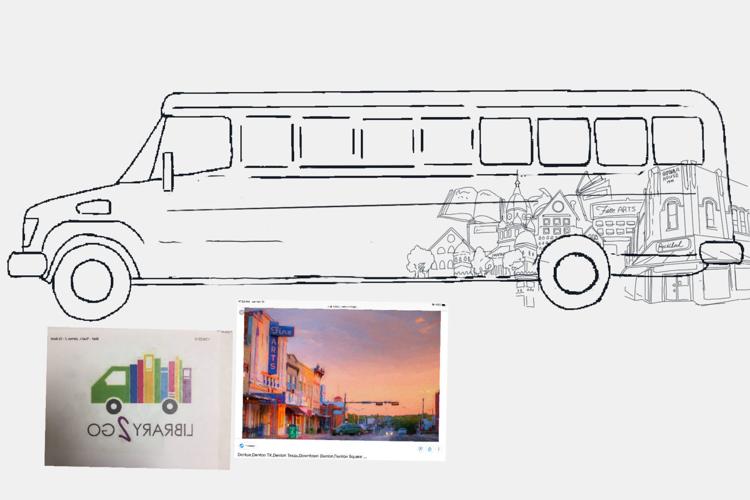 Additionally, the prospect of public Wi-Fi has been tossed around so parents could enroll their kids in classes while they pick out their books.
Ultimately, Kearley said, they want a similar bus in each of the four high school attendance zones across the district.
Before the inaugural tour had ended Tuesday, she said the program had already generated several requests for special appearances at school events.
"It wasn't ready this year, but we would be happy to do that next year," Kearley said. "We've even thought of bringing the bus to Arts & Jazz [Festival] or have a stock-the-bus night. But these are all ideas right now."
Once school starts back up, the mobile library will be stored at the district transportation center when not making appearances.
For the time being, the summer budget allows for only one paid bus driver and one paid librarian. That means most of the workers you might see this summer are working on a strictly volunteer basis.
Kearley said they're already asking for a place in next year's budget for at least two paid librarians for four trips a week, as well funding to cover lost books, "because we don't want parents to worry about paying for a lost book."
Each student was allowed to borrow only two books each, and the bus had checked out 80 books less than two hours into its maiden voyage.
Jenifer Hamilton, Pecan Creek Elementary School librarian, said 4,973 titles were processed for the program before Tuesday morning, with several more boxes waiting to be checked in.