Within the next few months, the doctor's office will expand to screens across much of Denton ISD.
Beginning early next year, the district will run a pilot program to bring medical professionals to seven schools remotely via tablets.
Evers Park, Ginnings, Borman, Newton Rayzor and McNair elementary schools, as well as both Bettye Myers and McMath middle schools will participate in the district's pilot program of School-Based Telehealth.
The pilot is the product of a partnership between Denton ISD and Cook Children's Healthcare System and Children's Health. Currently, the program serves more than 10,000 patients spread across upward of 100 schools in 16 school districts, many of which are located in and around the Dallas-Fort Worth area.
After filling out the requisite forms and consulting with parents, school nurses will be able to connect students to healthcare providers through a specialized tablet.
Kathy Malmberg, coordinator of health services for DISD, said that many of those on the other end of the tablet are semi-retired doctors, physician assistants and nurse practitioners.
Using wireless otoscopes, stethoscopes and other tools synced to the tablet, the pros will be able to diagnose rashes, ear infections, flu symptoms and more.
"We should be able to get a good enough view that a doctor could tell us, primarily, if it needs to be treated, if we need to wait it out, if [the students] can be in school, that sort of thing," Malmberg said.
Before a student complaining of allergies or an unpleasant rash can bill mom and dad's insurance, several boxes need to be checked off.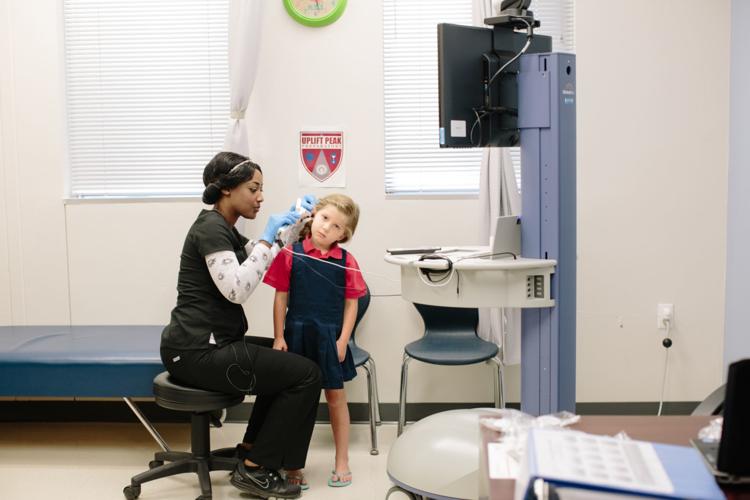 First, parents or guardians need to sign off on a consent form ahead of time. They'll also be called before a Telehealth appointment is arranged. Nurses can then reach out to the online clinic through Children's Health to set up an appointment, which is often arranged within an hour but can sometimes be much quicker depending upon the time of day.
For example, it seems the online clinic experiences a surge of requests toward the end of the school day when sick pupils are shepherded to the nurse's office.
Once that's arranged, the nurse on-site conducts the examination with the medical professional on the other end. If they want, parents can call and listen to the exam via speakerphone or attend in-person. Depending on the diagnosis, the student might be prescribed medication, which can be picked up from their pharmacy of choice.
A summary of each exam is sent to the child's regular doctor, and follow-up visits will be through that person.
McKenzie Heard, a nurse at Newton Rayzor, said the maximum cost for the session will be only $50, and it's billable to some insurance plans and Medicaid. The district has been working with a local non-profit in hopes of securing funds for families unable to foot the bill in the event their child would need the service.
Heard was a major influence in securing the partnership, something she's been pushing for over the past few years.
Nurses from the seven schools will begin training on the new system shortly after campuses open back up next semester. The pilot program will officially roll out shortly after that.
Beyond simple convenience for working parents, district officials hope the program will provide more accessible healthcare for students, thus getting them back to class sooner.
Cecilia Holt is head principal at Newton Rayzor, one of the seven pilot programs. She said the decision to participate was simple: It would meet the needs of the children.
"Sometimes our kids will go home sick and stay there and not go to the doctor," Holt said. "So this way, at least they'll get treated, they'll reduce the time they're at home ... and then they'll be back at school learning," Holt said.
Pending an assessment of the pilot program, Heard, Malmberg and Holt expect an expansion to the rest of the district over the next several semesters.