LITTLE ELM — Calls to eighty-six the potato salad came between bass pulses of "Ice Ice Baby" that shook the floors Tuesday afternoon.
The fully equipped, student-staffed Bus Stop Bistro opened its registers for the first time Tuesday morning.
Students from the LaGrone Advanced Technology Complex did the brunt of the labor required to get the bus to that point, administrators said.
Along with six other food trucks, the bistro on wheels served around 100 orders Tuesday, some with multiple orders, outside Braswell High School in Little Elm.
Marcus Bourland, principal at the ATC, said he first thought about the idea for a food truck classroom roughly four years ago. With help from culinary arts teacher Tonya Tivis, the project was born.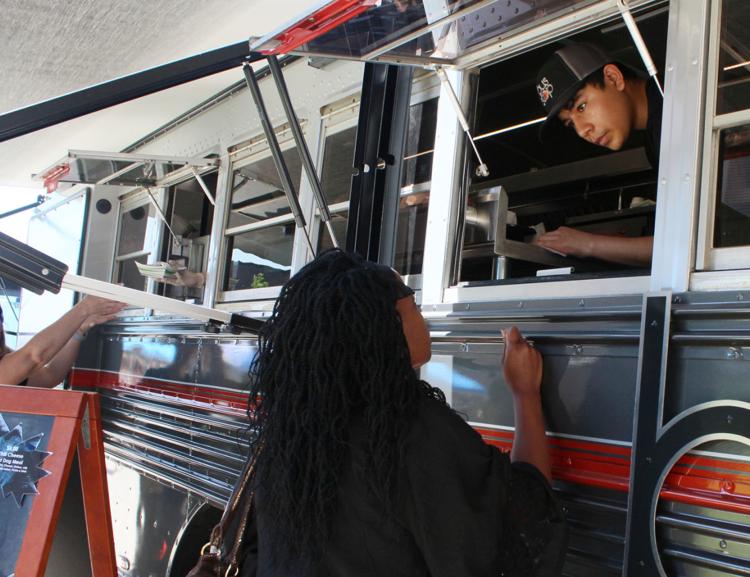 The interior, once reserved for rows of seats, now houses a full-service kitchen.
"Since we're a classroom, we didn't just want to be a taco truck," Bourland said.
For that reason, the truck has multiple refrigerators and freezers, an oven, stove, deep fryer and more at students' disposal.
Tivis said the bus is also a roving testament to what the district has to offer its students.
"Look at this prime example — we are on it," she said between lunch rushes. "We taught a bunch of 16- to 18-year-olds how to run a business."
A sound system plays music through twin sets of speakers outside the bus. Flat screens display a photo montage of the food truck's creations on either side of the service windows.
Tivis said only incoming seniors enrolled in the class — a culinary arts practicum course — will run the truck. The class has already hit its cap of 12 students.
It doesn't serve cafeteria food, either. Potential menu items had to be pitched, cooked, tested, tweaked and approved before making it to Tuesday's menu. Pork tacos, grilled cheese panini and cheeseburgers served with potato salad were the signature dishes on Tuesday.
"The menu becomes more elaborate as the year goes on because [students] learn more," Bourland said.
The three seniors working alongside teachers Tuesday have all been studying culinary arts through the ATC for a while, so don't expect your grilled cheese panini to come out burnt.
While the schedule hasn't been finalized, Tivis and Bourland expect the truck to eventually venture out a couple times each week to serve meals around the district, with aspirations to eventually sell food at festivals and other catered events.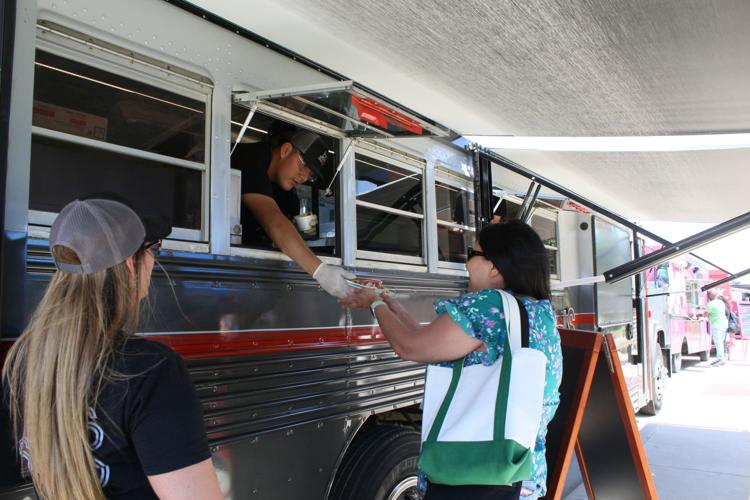 Tivis said she's even fielded a few initial requests to have the truck out for events.
Efrén Cadena, 17, was one of three students working Tuesday. He'd helped prep food for the truck before, but he'd never taken orders from customers and he'd never worked in a restaurant.
"I thought it was fun and it was going to help me run a business," Cadena said.
He said he hopes to one day run his own restaurant, but he's not sure exactly what that entails yet. He's thinking about going to college in a year to learn more. For now, his time with the Bus Stop Bistro is good experience.
"You've got to take the orders fast so the people won't leave, so the line can get short, so they don't have to wait," he said during a late-lunch rush Tuesday.
Bourland said that money made through the food truck will be funneled back into the program and will go toward student fees around the campus. For example, the fee for any culinary class is $100, Tivis said. That pays for uniforms, food costs and more.
The Bus Stop Bistro will be open from 11 a.m. to 1 p.m. Wednesday outside Braswell High School, 26750 E. University Drive.