For the fourth time in a week, Sydney Reinacher enters the empty dance studio, props up her phone and takes a deep breath. She is trying to embrace what appears to be her new norm.
The studio is quiet. Her only companions are the music and the blinking red light on her phone as she begins to record. With no studio to go to on the University of North Texas campus, the member of the North Texas Dancers is warming up in the empty studio she teaches at near her home in Flower Mound. She is preparing to teach herself a new routine.
"I'm really doing everything possible to find the good in things," says Reinacher, a senior at UNT and captain of the university's dance team.
After a lifetime of dancing, she is finding herself feeling prepared for a show but no place to perform.
Across the country, college dance competitions have been cut short by the COVID-19 pandemic. The University of North Texas suspended all athletic activities March 12, just weeks before Reinacher and the team were set to compete at the National Dance Alliance Collegiate Championship in Daytona Beach, Florida.
Reinacher is now using apps like Instagram and Zoom to stay virtually connected to her team and her passion.
"This was my last chance," Reinacher says. "Last year was my first year to compete and it was really tough for me going through that nationals season."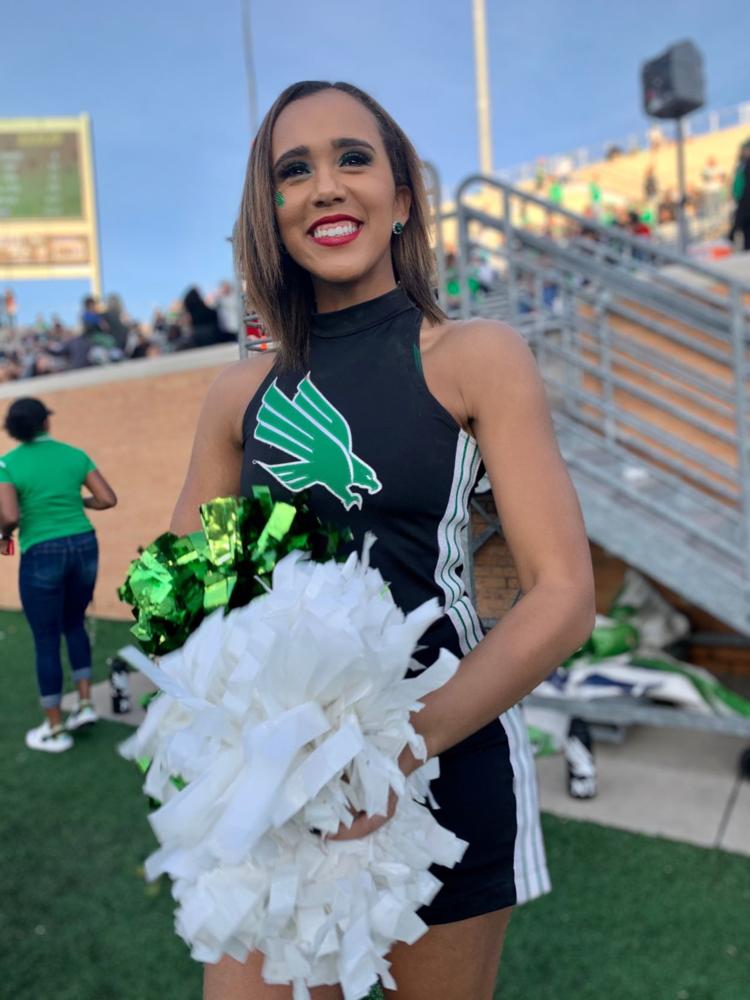 Reinacher, 22, transferred to the University of North Texas in the fall of 2018 from Texas State University, where she held leadership positions on their official dance team, the Strutters. She started attending UNT at the beginning of her junior year, hoping she would have two chances at a national championship title before graduation. Now the pandemic has canceled that dream.
"This year I grew so much and found myself feeling like I was on a different level of mental toughness and ready to take on Daytona," Reinacher says.
The North Texas Dancers returned to the national championship in 2017 after a seven-year hiatus. Coach Brittani Richards had a vision to rebuild the squad into a competitive dance team, rather than just a sideline addition for football and basketball games. In 2019, the team advanced to the final round of the Division IA Jazz national championship for the first time in program history, placing 16th overall and further raising organization standards.
Reinacher and the team were preparing to return to Daytona for another shot at the national championship title, with preparation beginning as far back as summer 2019. After tasting the victory of advancing to the final round, they felt there was something to prove. The squad attended National Dance Alliance's summer camp, held multiple choreography workshops, and completed countless workouts ahead of the competition.
"We don't get to feel the reward of all of our hard work," Reinacher says. "We put a lot into practice and sacrificed a lot of time and energy and it feels a bit like it was all taken away."
Fortunately, apps like Zoom and Instagram have made staying connected and active easy for the North Texas Dancers. In addition to their Zoom team calls at 8 a.m. every Monday and Wednesday, Richards provides each dancer opportunities to speak with her one-on-one, making sure to attend to the needs of each individual.
The North Texas Dancers have also implemented virtual challenges on their Instagram page, making it easy for members and fans to stay engaged, connected and active. These challenges include team workouts, sharing favorite memories of the season, and even short dance combinations to learn.
Reinacher helped kick off this series by teaching her own choreography March 26 on the team's IGTV. While she missed teaching in the same room as her teammates, she was grateful to be dancing with them at all.
Back in her studio, she concludes her stretch just as the sun begins to set. The time has come for her to learn a routine, but she soon finds it much harder to refine her skills and technique while constantly looking at her phone for guidance. This virtual process quickly appears more time consuming than her normal session in the studio, but there is work to be done.
The program's annual competition wasn't the only dance-related aspiration Reinacher looked forward to for the spring. Upon the completion of her 2019-2020 collegiate season, she planned to audition for the Dallas Cowboys Cheerleaders, one of the most famous professional dance teams in the country. Now, with the try-out date looming and local stay-at-home mandates still in place, her plans are becoming even more challenging.
"For a bit, I was considering not trying out because of how confusing and stressful it all is right now," Reinacher says. "It is hard to feel as prepared as I possibly can be but I'm just taking it one step at a time."
Like the North Texas Dancers, the Dallas Cowboys Cheerleaders have utilized social media during COVID-19 to stay connected to their fans and hopefuls. They have moved their May auditions online, making the try-out process easily accessible from home. With collegiate competition no longer an option, Reinacher's sights have focused on her professional goals.
She notices the night has settled once she wraps up her workout. Sweat drips down her face. She makes her way to the lone water fountain in the empty hallway. Usually, she'd be surrounded by many young dancers, their parents, and her fellow instructors following a class.
She turns off the lights to the studio and locks the front door. She wonders how long her workouts alone will last. She looks forward to performing one day in person again.