Denton ISD officials put together another balanced budget for the upcoming school year, but they'll have to rely on increased local revenue to make up for a projected $15 million loss in state funding.
At Tuesday's regular meeting, the school board is expected to adopt its 2018-2019 budget, which is made of two parts: the operating fund that pays for daily costs like salaries or supplies and the debt service fund that can be used only to pay down bond debt.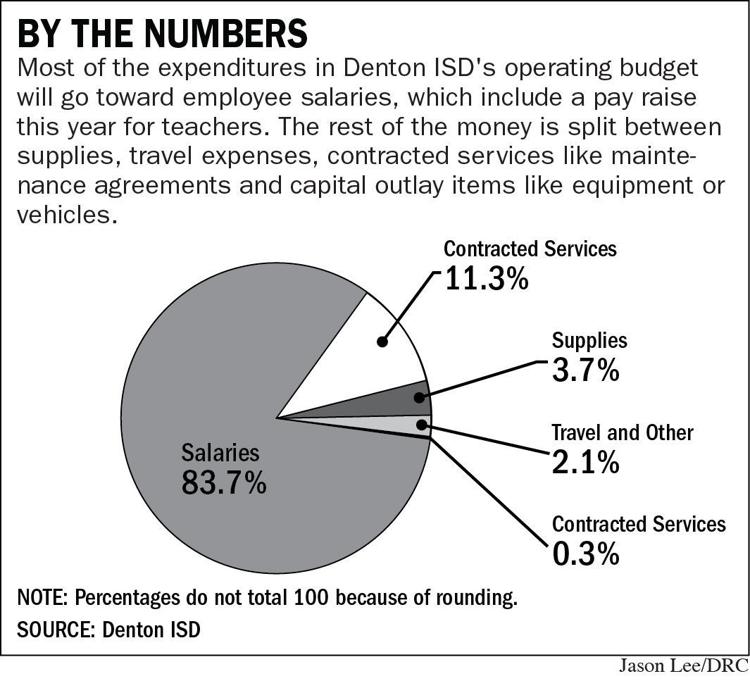 This district's $263.8 million operating budget increased by $7.4 million, or 2.8 percent, from last year's budget. That includes salaries for 73 new employees and a 2 percent raise for all employees from the midpoint salary.
That means a staffer earning the median pay will see a 2 percent raise while those below the median will see a larger raise and those above will see a smaller raise. Teachers will see at least a $1,200 yearly boost to their paychecks.
Property owners in the district continue to shoulder the majority of the cost of schools, even more so this year.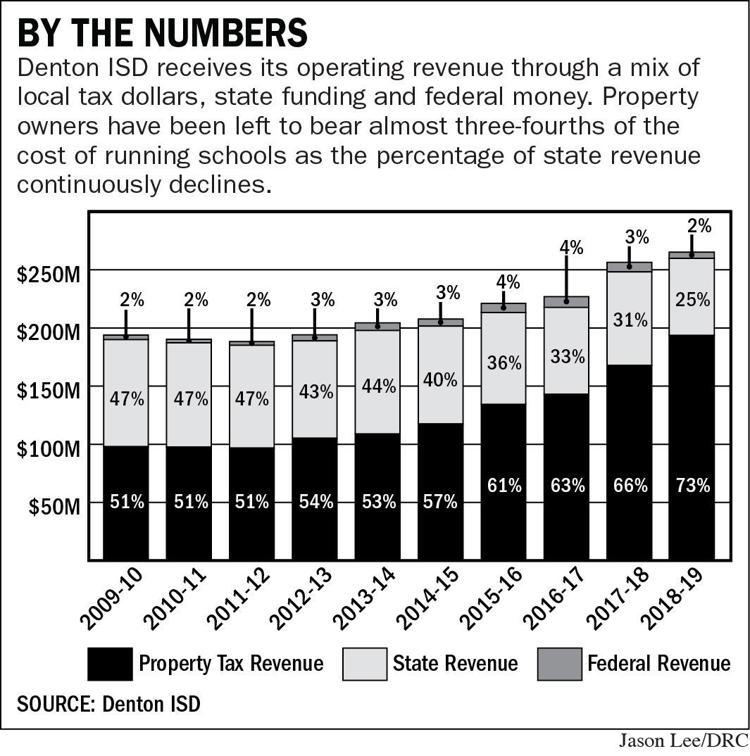 Because of rising property values set by the central appraisal district, property owners paid more in taxes this year despite a stable district tax rate of $1.54 per $100 valuation.
Denton ISD reported a $20 million growth in property tax revenue this year, which triggered a $15 million decrease in state funding. Local revenue made up roughly 73 percent of the budget this year compared to 66 percent last year. The state's share decreased six points to 25 percent, while federal funding made up the last 2 percent.
"We had to shift $1.5 million out of the federal side of the budget to the local side of the budget because of reductions at the federal level for special education," Superintendent Jamie Wilson said. "But the important part is that it's balanced. We have revenue projections and expenditures that are right in line with each other. That's with adding in some safety and security things."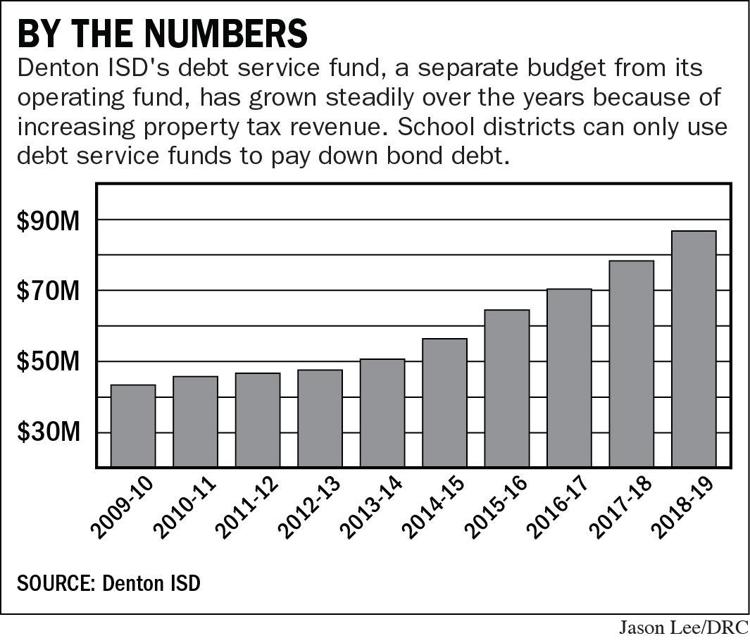 On the debt service side, revenue generated almost solely from local funds (97.7 percent) increased by $9 million to $86.5 million.
According to the Texas Bond Review Board, the district had $1.4 billion in bond debt, including interest, during the 2017 fiscal year.
One of the major factors in state funding formulas is a district's enrollment.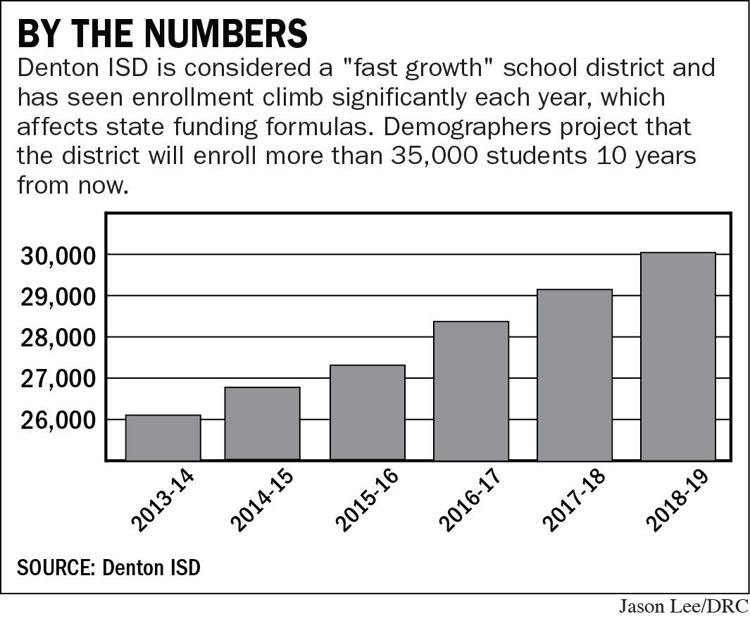 Denton officials are budgeting an enrollment increase of 663 students in the fall, a 2.3 percent growth that would push the total enrollment over the 30,000 student mark. Demographers expect the district to enroll more than 35,000 students by 2028.
The enrollment growth is an extension of the area's booming real estate market and economy, something the district says they've had an impact on.
The Fast Growth School Coalition, a group of 75 Texas districts in areas with rapid population growth, recently commissioned a study from Angelou Economics to measure the impact of schools on the state economy.
From 2000 to 2014, the study found Denton ISD created 9,000 jobs and injected $1.6 billion into the North Texas area from labor income and economic activity.
Wilson, who serves as president of the Fast Growth School Coalition, said the district was proud of its contribution, not only to the economy, but also to the quality of education in the area.
The school board hosted a public hearing on the proposed budget during its May 22 meeting, but no one went up to speak.
If anyone in the community would like to share their thoughts on the budget, they will have one more opportunity during a regular open forum at Tuesday's board meeting.
The meeting is scheduled to start at 6 p.m. at the Stephens Central Services Building, 1307 N. Locust St. in Denton.