Braswell High School senior Jessie Rowland knew she had an impossible task ahead of her when she was asked to write down what her English teacher, Sara Zimmerman, meant to her.
"You are so many words and expressions wrapped into one," Rowland wrote in letter Braswell principal Lesli Guajardo read during Denton ISD's Educator Spotlight. "Your presence in this world is so much more than this one single letter can emphasize. Even with a billion pages, I will still lack the ability to spotlight your impact on so many people's lives. I can, however, attempt to thank you for the positive impressions you've made upon my heart, one that will last forever."
More than 40 of the district's honor graduates gathered Thursday night to try to find words that expressed their gratitude to their favorite teacher, but the event was just the capstone to a week's worth of heartfelt tributes.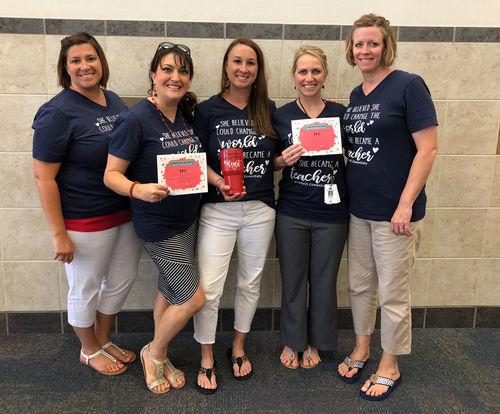 Denton County teachers were showered with gifts, food and the popular "jeans all week" pass as parents and students found a way to turn Tuesday's National Teacher Appreciation Day into a weeklong celebration.
"Teachers spend more time with our kids than we do as parents," said Kari Conner, the president of the Denton Community Council of Parent-Teacher Associations. "They're the ones who help mold our kids into the people they'll become."
In Denton schools, teachers and staff members were treated to lunches and snacks from places such as Cartwright's and Sonic. At Providence Elementary, PTA volunteers relieved teachers of their recess duty so they could rest or catch up on work. Navo Middle School brought in massage therapists from Horizon Massage and Wellness who gave teachers 15-minute chair massages.
"I set this up for my teachers because they are so giving of their time and energy, that often times they forget to take time for themselves," Navo principal Beth Kelly said. " Honestly, this is just a fraction of what I wish I could give to them because they are all so deserving of much more for their dedication to our students."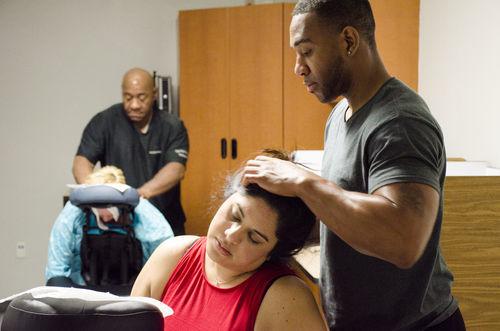 The Lake Dallas Middle School Student Council went from classroom to classroom with a shopping cart full of snacks while the elementary school PTAs set up food bars and kept the teacher's lounge refrigerator stocked with drinks.
In addition to meals and new t-shirts, Aubrey ISD teachers received $40 gift cards for classroom supplies.
The festivities weren't limited to public schools. At Liberty Christian in Argyle, the National Honor Society provided breakfast while the Partners Through Faith parent group made lasagna for lunch. Throughout the week, students and parents sent cards, flowers and supplies to individual teachers.
"If food is the measure of appreciation, we are greatly appreciated here at Liberty," joked Bible department chair Rick Allen.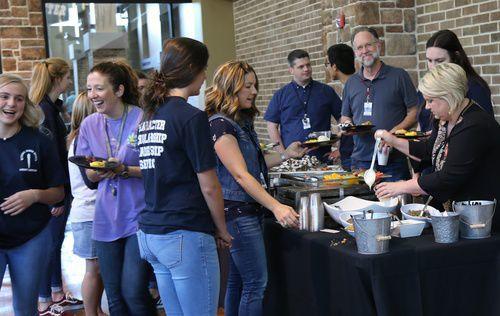 But anyone in the classroom will tell you teaching isn't all hugs and free food.
The profession has made headlines this year as thousands of educators across the country staged walkouts to protest low pay and poor benefits. A 2016 study from the Learning Policy Institute estimates about 8 percent of teachers nationwide leave the profession once they start, and the number of students enrolled in teacher education programs has dropped 35 percent.
The U.S. Bureau of Labor Statistics estimates 1.9 million job openings for teachers by 2024, but local educators remain optimistic about the ability to fill them.
"Teaching is one of the hardest professions to be in," Liberty Christian math teacher and soccer coach Krissy Stoner said. "I think if we continue to recognize the hard work and dedication of teachers, it will inspire others to enter the profession. We are highly educated professionals and recognizing the qualifications it takes to be a teacher will help the recruitment of new ones."