Area
Gloria Liu, an 8-year-old Cross Roads resident, was recently named one of three winners of the first Live & Breathe Texas Kids Poster Contest.
The contest, sponsored by the Automotive Service Association and Advance Auto Parts, asked students in kindergarten through 12th grade to design a poster encouraging Texans to stop the spread of harmful emissions and advocate for cleaner air.
The home-schooled third-grader drew a group of people carpooling together with the phrase, "Cars have passenger seats for a reason." Her entry was chosen as winner of the kindergarten through fifth-grade category.
She was formally recognized at a luncheon earlier this month in Fort Worth and received a $500 prize.
Aubrey ISD
FFA quiz team advances to state-level contest
The Aubrey High School Future Farmers of America Quiz Team will compete at the state Leadership Development Contest after finishing second at the area event.
The team of four — freshman Sydney Blankenship, freshman Heather Hough, senior Brenden Hough and freshman Maddy Hill — also won the district contest to get to the area level.
The quiz event tasks teams with answering questions about agricultural education, current agricultural events and parliamentary procedure.
The state contest will take place Friday and Saturday at Sam Houston State University in Huntsville.
Denton Christian Preschool
New Horizons to perform at benefit
The Denton New Horizons Band will take on some Christmas classics at their holiday concert next week.
New Horizons began in 1998 at the Denton Senior Center and is comprised of senior residents playing instruments used in traditional wind ensembles. They are under the direction of University of North Texas professors and music students.
The concert will begin at 7 p.m. Monday, Dec. 3, at First Presbyterian Church, 1114 W. University Drive. Admission to the event is free and donations will benefit Denton Christian Preschool.
Denton ISD
Students get field trip to sea turtle preserve
Sixth-graders at Strickland Middle School won a field trip for their entire grade to Sea Life Grapevine after participating in a Sea Turtle Rescue contest.
The contest corresponded with America Recycles Day and the aquarium's new exhibit that rehabilitates sick or injured turtles and releases them back into the wild.
Students were asked to create an art project made from reused materials that are considered harmful to sea life.
Strickland's entry was a collaborative effort between sixth-grade science teacher Jessica Bejarano and art teacher Esther Bourgeois.
During the field trip, students will get a behind-the-scenes tour and participate in workshops. Their artwork will also be on display in the aquarium lobby.
District sets schedule for holiday concerts
As the holiday season approaches, fine arts groups in Denton ISD are practicing for their semester-end winter concerts.
The following is a schedule of upcoming high school performances. Parents with students in lower grades can contact their individual campuses for holiday performances.
Monday, Dec.10, at 7 p.m.
BHS Orchestra Winter Concert
Tuesday, Dec. 11, at 7 p.m.
BHS Band Winter Bliss Concert
Thursday, Dec. 13, at 7 p.m.
Saturday from 9 a.m. to 4 p.m.
DHS Band and Orchestra Concert
Tuesday, Dec.11, at 6:30 p.m.
Thursday, Dec. 13, at 7 p.m.
GHS Holiday Dinner Theater
Saturday, Dec. 8, at 12:30 p.m. (matinee) and 6:30 p.m. (evening)
GHS Holiday Mosaic Concert (band and orchestra)
Thursday, Dec. 13, at 7 p.m.
Monday, Dec.17, at 7 p.m.
Lake Dallas ISD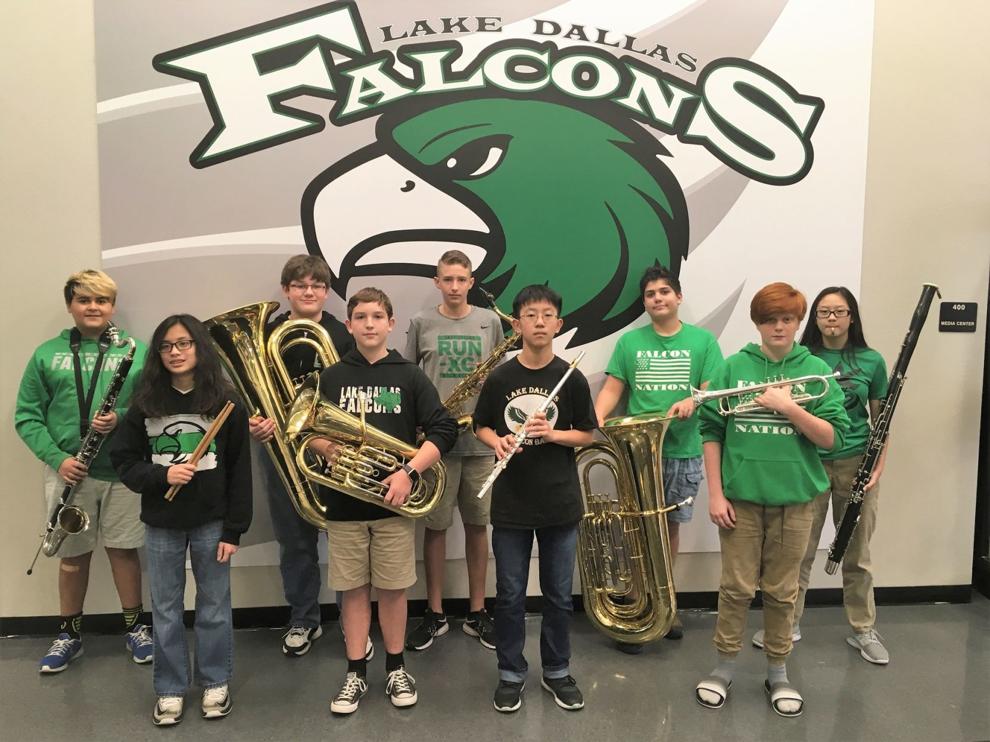 Board recognizes students for November
The Lake Dallas ISD school board spotlighted several students during its November general meeting.
At Lake Dallas Elementary, board members honored Safety Patrol students Aily McDowell, Robby Bene, Tyler Orosco, Reed Vanzura, Edwin De La Rosa, Monserrat Ulloa and Zues Alonso.
Lake Dallas High School cross country runner Sam Dao was recognized as a district medalist and regional contest qualifier.
Head volleyball coach Jason Roemer got a shout-out for his new position as the president of the Texas Girls Coaches Association this year.