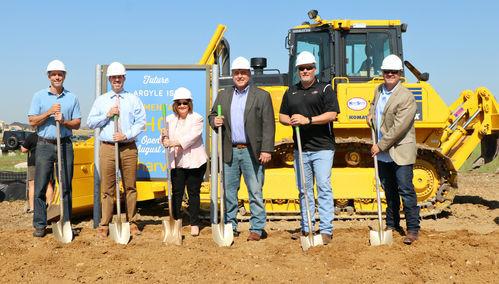 Denton ISD
E.P. Rayzor wins NASCAR reading contest for fourth year in a row
Every student at E.P. Rayzor Elementary met their reading goals at each leg of the Texas Motor Speedway's Speeding to Read contest, a feat that pushed the school into the top spot.
E.P. Rayzor, along with B.B Owen Elementary in The Colony, won the championship title for the contest, which aims to promote reading in 64 schools across North Texas. This is the fourth consecutive year E.P. Rayzor has won the contest and the second consecutive year to post a perfect score.
The winning schools and individuals will be honored at an assembly at the speedway this week and receive congratulations from IndyCar and NASCAR drivers.
Aubrey ISD
Enrollment open for tuition-based pre-kindergarten
Families in the Aubrey area can start enrolling their little ones in the Aubrey ISD Early Bird Learning Center pre-kindergarten program for the upcoming school year.
The tuition-based program is open to students between ages 3 to 5 and enrollment is limited. District officials say there are still a few spots in the daycare center, which takes care of children starting at 6 months old.
The pre-k program teaches students the alphabet and numbers, expands vocabulary, develops awareness of language sounds and builds social, emotional and motor skills. Registration for state-funded pre-kindergarten will take place from noon to 6 p.m. July 26.
Registration packets are available at the learning center, located at 415 Tisdell Lane in Aubrey. For questions or more information, call the center at 940-668-0066.
District hires two additional police officers
Two former Little Elm police officers will join the Aubrey ISD police department for the upcoming school year.
Jimmy Lewis and Brandon Kennedy will assist AISD Police Chief Scott Collins in patrolling and monitoring the district's five campuses. Kennedy will handle the district's new K9 dog Maya.
Prior to joining Aubrey ISD, Lewis spent seven years with the Little Elm Police Department, serving as lieutenant for five of them. He also oversaw the Little Elm ISD school resource officer program.
Kennedy spent two years with Little Elm police before coming to Aubrey and served as a patrol officer, canine handler and field training officer. He also spent three years with the Addison Police Department.
Education Foundation awards thousands in grant money
City and school officials, local business leaders and volunteers surprised Aubrey ISD teachers earlier this month by handing out more than $22,000 worth of grants for classroom technology and programming.
Representatives from the Aubrey Education Foundation, Aubrey ISD, CoServ and the city of Aubrey gave out 11 grants that will help fund things like robotics teams, class iPads and a Google smart speaker.
The teacher grants go to teachers or librarians who bring in innovative programs, while the technology grants go to district technology staff members or campus principals who want to use technology to enhance classroom learning.
Winners are selected by a committee of administrators and grants are funded by the Aubrey Education Foundation, CoServ Charitable Foundation, Boeing and the Aubrey ISD Employee Giving fund.
Immaculate Conception
Lake Dallas ISD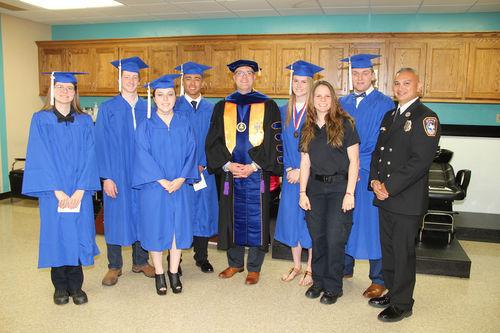 Middle school inducts new honor members
The Lake Dallas Middle School chapter of the National Junior Honor Society inducted 28 new members into its ranks earlier this month.
To join the organization, students must meet high grade point average requirements and exhibit characteristics of leadership and service. New members include:
Eighth grade — Mandi Bailey, Maria Gallardo, Lexi Junior, Grace Lee, Chloe Taylor, Presleigh Thiessen and Anastasia White.
Seventh grade — Paulina Chavez, Evan Fraser, Hana Hassanipour, Austin Marcotte, Lexie Martinez, Nya McDowell, Linda Nguyen and Camryn Richardson.
Sixth grade — Travis Brewer, Amia Dhadda, Anna Garza, Harlie Hicks, Benjamin High, Lauryn Jones, Naomi Kitamura, Katelyn McCurdy, Brenna Pope, Mya Reichert, Hannah Rogers, Georgia Stinson and Ayla Thomson.
Middle school student council wins third sweepstakes award
The Texas Association of Student Councils recently recognized the Lake Dallas Middle School Student Council as a Sweepstakes-winning council for the third consecutive year.
The Sweepstakes Award is one of the highest honors given to school student councils and can only be won by being recognized for outstanding programming in four areas: community service; drugs, alcohol, safety and health; energy and environment; and pride and patriotism.
This year's student council officers include president Britton MacDougall, vice president Jasmine Vega, historian Abbi Schropp and parliamentarian Lilly Dao. Advisors include Theresa Pierce and John Fabro.
Liberty Christian
Academic, theater students take fourth at state meet
After competing in 19 academic and theatrical categories, Liberty Christian came in fourth overall at the Texas Association of Private and Parochial Schools state contest last month.
Students traveled to Waco in April to compete against 21 other schools from across the state. The school's individual winners include:
Science: Braedon Lindsey, sixth place.
Prose: Sierra Cothes, fourth place; and Sammie Wuensche, sixth place.
Persuasive Speaking: Trevor Jones, eighth place.
Yearbook: Team, second place.
Advanced Math: Braedon Lindsey, fifth place.
Solo Acting: Sophie Steffey, first place; Peyton Jolley, second place; and Lindsey Meath, eighth place.
Literary Criticism: Cameron Keller, fourth place; and Savannah Holmes, eighth place.
Social Studies: Kathy Li, seventh place.
Duet Acting: Lindsey Meath and Sophie Steffey, fifth place; and Trevor Jones and Barrett Kelton, sixth place.
Poetry Interpretation: Peyton Jolley, first place.
Mathematics: Christian Cobos, third place; McLaren Wang, fifth place; and Ryan Holmes, sixth place.
Lower school students place at state contest
Five Liberty Christian students brought home awards after competing in the Private Schools Interscholastic Association's state contest last month.
The contest invites students in the first through eighth grades to compete in academic and art contests at the district and state level. Hundreds of students traveled to Liberty Christian in March for the district contest, where 11 Liberty students qualified for the state contest at Texas Christian University in April.
State winners from Liberty include:
First Grade Creative Writing: Bailey Robinson, third place.
Eighth Grade On-Site Drawing: Colin Park, second place.
Fifth Grade Poetry Interpretation: CJ Witten, fifth place.
Fifth Grade Ready Writing: Thandi Gwelo, sixth place.
First Grade Storytelling: Danica Hermann, fifth place.