No cars ripped across the Texas Motor Speedway Thursday evening, replaced instead by snaking lines of red-robed teens in their final moments as high schoolers.
Fred Moore, Braswell, Guyer and Denton high schools will follow with ceremonies of their own on Friday. In total, 32 local high schools will have conducted similar ceremonies by May 31 — less than one week away from the IndyCar season opener on June 6.
The ceremonies are the school district's way of having commencement in person during a time when large gatherings are an increasing rarity the world over.
Parents, family and friends were parked in the arena's in-field, where they could watch the proceedings from the 12-story, 218-foot-wide TV dubbed "Big Hoss." Stadium speakers blasted speakers' voices across sections of the arena, and those out of earshot could tune in via radio station 97.7.
Ryan High students wore masks cast in school colors and emblazoned with its logo. They took their seats, which were appropriately spread out, across the track itself before accepting their diplomas on the start/finish line.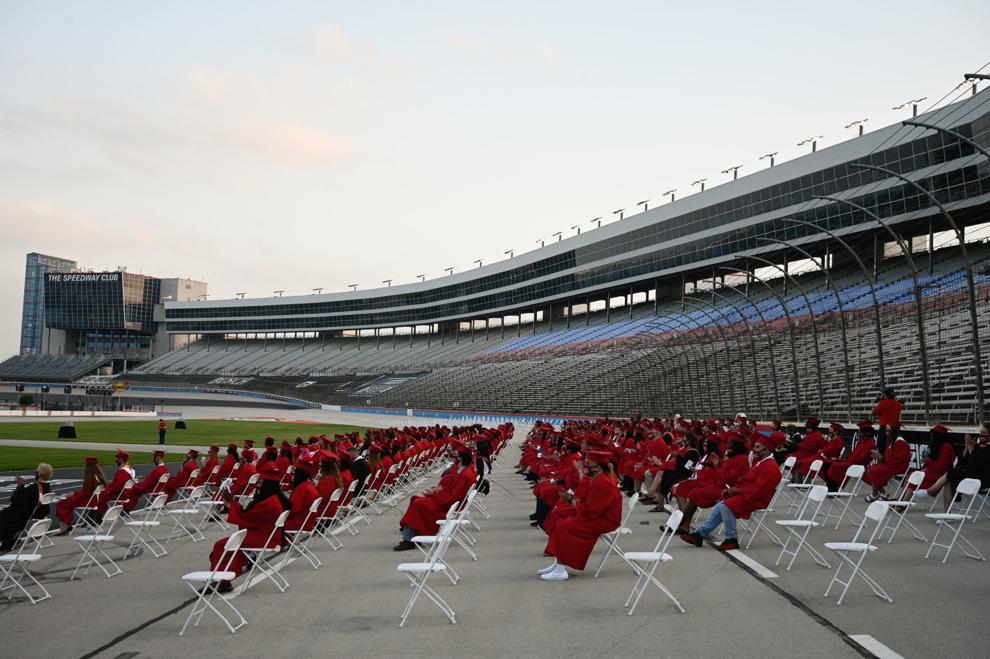 Other than those three differences — venue, masks and social distancing — the ceremony and its participants felt far more familiar than most aspects of daily life for the past couple months.
Eyes smiled above masks more than brows furrowed.
Speeches from Principal Vernon Reeves and several graduates hardly referenced the novel coronavirus that causes COVID-19 or any of the changes it had forced upon them. They instead opted for more universal appeals to future success and reminiscences of good times had.
Mundane problems that have inevitably sneaked into graduation ceremonies since time immemorial mixed seamlessly with newer obstacles.
Students passed through metal detectors before lining up under a concrete roof, arranged alphabetically from Abrams to Zubieta. Shoes ranging from formal to Crocs, matched by anything from black dresses to slacks to shorts, poked out from beneath red robes.
Somebody dropped her tassel.
The perennial blaring of air horns accentuated the more constant blasting of car horns from parents parked beyond several sets of fences.
Faculty and staff routinely reminded students to maintain six feet of distance between them as they walked in, much the same way they might have been told "walk, don't run" in hallways for years.
A few defiant seniors kept their masks around their necks or in their hands while walking toward their seats, but they seemed to diverge from the expected in the same way those wearing Crocs did.
One such student smiled as he approached a masked coach, who told the senior to "put the mask on."
The student barely managed to ask "why?" before the coach responded good-humoredly: "Save a life."
A smile accompanied the student's compliance.