Chad and Susan Chance remember their daughter Vail Johnson as a singular little girl — she'd practice running bases in softball wearing jeans, get exceptionally dirty playing in a creek near her Pilot Point home and never get tired of reading. Susan said Vail and her big sister, Jade, grew up with their parents reading stories to them at bedtime. Both girls ended up with a love of reading.
"Vail would have three books going at once," Chad Chance said. "She'd have a book down here, and one going on her reader upstairs. She always, always had books."
Susan Chance said the night before Vail died — Aug. 31, 2016 — the 9-year-old repeated her hopes and dreams.
"She said, 'I want to be an author and I want to publish my books,'" Susan Chance said. Vail died of a rare form of myocarditis, an inflammation of the heart muscle. The Chances said the illness was undiagnosed, and that Vail never showed any symptoms.
"There was a tiny spot on her heart, right over the spark plug of her heart," Susan Chance said.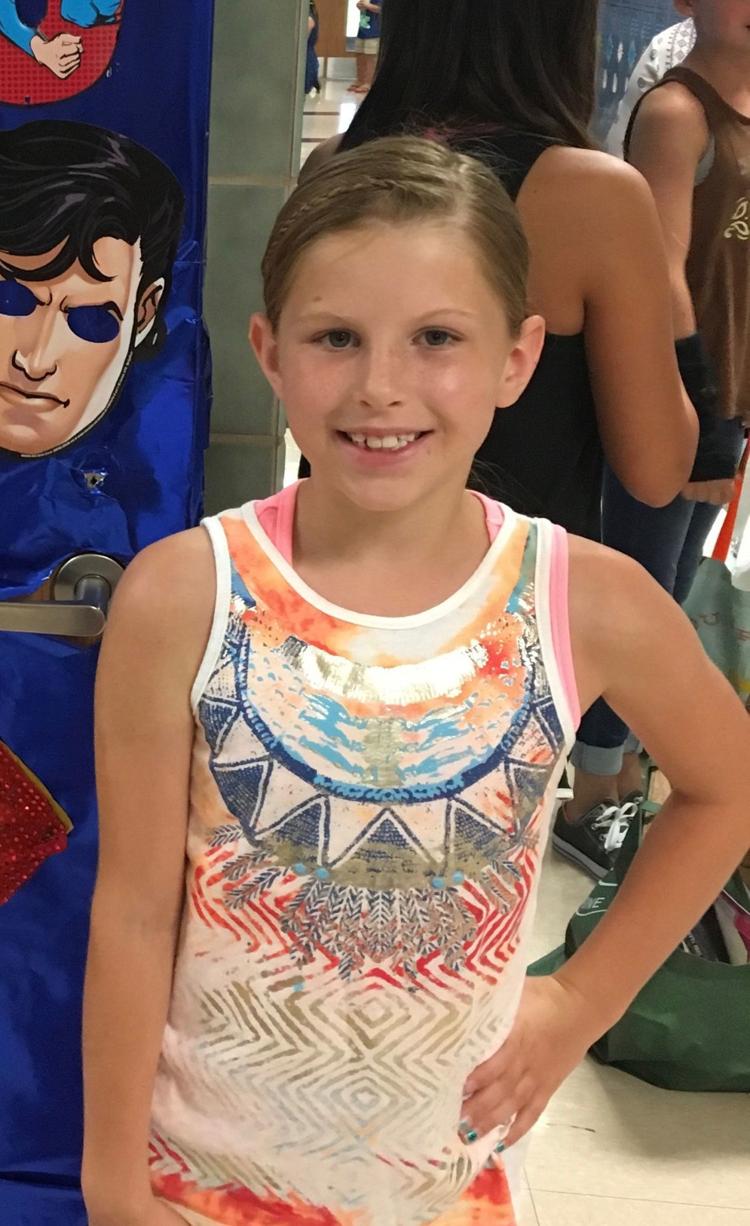 Vail got her wish — posthumously. The first of several illustrated children's books is titled Vail's Tales. The picture book includes four of Vail's 50 stories, each one adapted from her first grade writing.
Vail's Tales reflect her life in Pilot Point. Vail and her sister lived the dream for many a little girl. Their parents board and train Arabian horses at their home. Vail bonded fast with an easily irked horse, Pistol. But they played in the yard, found corners of their house to have fun in. And at age 6, Vail started writing short stories for school, but kept at it at home.
"Her first grade teacher taught the kids in her class how to make a book, and then they made their own," Susan Chance said. "The kids would choose a book to read at the end of the day, and it was always one of Vail's books."
Susan Chance said the family wanted to publish Vail's stories, but weren't sure how to go about it. Susan has a cousin who works for CNN, and her cousin had an idea.
"She said she knew a copywriter who also wrote children's books," Susan Chance said.
That copywriter was Ed Payne, a writer who lives in Atlanta, Georgia. He writes for the digital content center for Gray Television. His children's books are part of a series, The Daily Rounds of a Hound, inspired by Payne's adopted dog.
"We adopted her from the pound and about six weeks later, she surprised us with nine puppies," he said.
The jump from news to children's books wasn't as big of a jump as you might think.
"When you're doing content for television, you're working from the latest murder through what's happening at the White House. What's common is that it's all storytelling," Payne said. "If you're a storyteller, you're a storyteller."
Payne said the Chances had published some of Vail's stories so her friends could read them at the memorial service. Payne talked with Susan Chance, and the family sent him some of Vail's writing.
"Well, first of all, what I was really struck by was the family had given me something really precious," Payne said. "These are the words of their child who is now gone. They wanted to share it with a bigger audience. I had to understand Vail's motivations. There's a story about a stool, a story about a mermaid. A story about a star. I wasn't going to make the stories identical to what their daughter had done. I looked at how to get to the message she wanted to get across."
Susan said she knew Payne was the writer for the job when he brought up using rhymes in the book.
"I was so excited when he mentioned that, because reading to the girls, I always felt like rhyming is the best way to write for kids," she said. "And we were talking and he said he was thinking about rhymes. I was just like, 'Yes!'"
Payne brought the illustrator from his children's book series, Britt Sekulic, on to the project.
Chad Chance said he was surprised at how well Sekulic captured Vail. On the cover, Vail is zipping through the sky on a star. She's dressed in a superhero costume — a white unitard bearing a lightning bolt. Her cape whips behind her. Her arms are in the air, in a sort of victory salute.
"When I saw this, I was like, 'Wow, that's Vail.' We even have this photo of her, with her hair tucked behind her ear and her arms up. It's her," he said.
Susan Chance said she cried after reading Payne's adaptation of her daughter's stories. The tale about a stool turned out to be a message from Vail about how important it is to be of service, and to be humble. A story about a mermaid was inspired by a friend of Vail's who competed in horse shows with her. The tale about the star who follows her everywhere is a message about faith. Vail went to church with her family, and the Bible was the place where she found some of her favorite stories.
"From what I can tell, she was just screaming with life," Payne said. "Every picture I see of her is just this little girl who was full of energy. But you also saw in her writing was that she was thinking deeper for a child her age. She had a story called 'My Little Star.' The star is revealed as the sun. But when you look at how important her faith was her, it's not a stretch from the sun to the Son. It's pretty clear that it was an important part of her life."
For Chad and Susan Chance, Vail's Tales is both a gift to children who need stories and a way to keep Vail's imagination and her dreams alive.
"It never gets any easier," Chad said of the absence Vail left when she died. "We deal with this every day."
"It's hard," Susan Chance said. "We see her classmates growing up, and we wonder what she'd be, and what she'd be doing."
In the first book, Vail is being a builder of her own universe and romping from adventure to adventure. The Chances said more books are to come.